Michael Coren calls Bill Whatcott "a fanatic" and says "he uses language I find incredibly offensive as a Christian!" Coren
further goes on to say "I wouldn't have him on the tv show." The "language" Coren speaks of is my use of the Biblical
word "sodomite." Of course, the outrage Coren and others like him invoke is little more than an exercise in
hypocrisy, especially as they claim to stand for free speech. The word "sodomite" is first and foremost a powerful
Biblical word that invokes God's attitude towards the sin of sodomy. I certainly never used the word to beat down the homosexual
men I cared for who were dying of AIDS when I was a home care nurse. I have used the word and will continue to
use the word in my polemics, especially in light of the fact the Saskatchewan kangaroo Human Rights Commission ruling that
found the use of this powerful Biblical word to be "hate speech" and our debauched Supreme Court upheld this flawed
ruling by the kangaroo commission. Talking about "hateful" and "offensive as a Christian," while I can defend the use of
the word "sodomite" with both Scripture and reason, I wonder how Coren defends his middle finger, while going on about
Muslims? I believe that middle finger signifies a swear word, and while no Scripture discourages the word "sodomite," Scripture
does discourage the word "F---- off," Ephesians 4:29, 5:4.
To see Coren's attack on Whatcott go to the 3:00 minute mark or perhaps listen to the whole thing as David Lynn does make good points about intolerance against Christians who speak out against homosexuality, even though Coren cuts him off a lot.
http://www.sunnewsnetwork.ca/video/3386994589001
Meh... well when Michael the Catholic isn't being "judgmental" and calling fellow believers "fanatics," or shooting middle fingers, he's politely interviewing unrepentant homosexuals and criticizing World Vision (rather than reproving the unrepentant homosexual) for upholding Biblical sexual ethics amongst their self professed Christian employees.
http://www.sunnewsnetwork.ca/video/sear ... 0535855001
Michael, the professed Christian was "shocked" that Christian leaders warned of eternal damnation for unrepentant homosexuals working at World Vision.
Well, unlike Michael, who only has eloquent but vacuous words backing up his contention, the Christian leaders who were brave and morally coherent enough to give such a warning to World Vision had the Word of God on their side.
"

Do you not know that the unrighteous will not inherit the kingdom of God? Do not be deceived. Neither fornicators, nor idolaters, nor adulterers, nor homosexuals, nor sodomites, .... will inherit the kingdom of God

." 1 Corinthians 6:9, 10
Now on to more important news
We Need a Law and Saskatchewan Pro-Life are looking for folks to write the Saskatchewan government in an effort to persuade them to enact legislation that would require deviant organizations like Planned Parenthood to notify parents before sending their minor children off to get aborted.
This weekend I took the time to write a letter to Dustin Duncan, the Saskatchewan Minister of Health. I would encourage my friends to do likewise, as we at SPLA are putting a lot of time and financial resources into this campaign with We Need a Law, but so far the grass roots that we are trying to mobilize seem to be sleeping or playing computer games, rather than taking the necessary 10 minutes or so to let our elected representatives know we want a law that would enable parents to protect their minor children from the harms of surgical and chemical abortions.
Here is my letter, feel free to borrow any part of it.....
March. 30, 2014

Hon. Dustin Duncan,
Saskatchewan Minister of Health
35 - 5th St NE, Weyburn, SK, S4H 0Y9
306-842-4810

I am writing you today to urge you to support the Parental Notification Law initiative being proposed by the Saskatchewan Pro-Life Association and We Need a Law.

It is disturbing and illogical that minors, whose parents are legally responsible for them, are going to government funded clinics and receiving abortion referrals and Morning After Pills without parental notification or consent.

While complications related to this potentially dangerous practice is generally hushed up, we do know of one case where a child was harmed and where the parents were devastated thanks to Regina Planned Parenthood giving Morning After Pills to a minor without parental notification or consent.

The case came to light during my own trial when my nursing association tried to strip me of my license because of my protests in front of the Regina Planned Parenthood clinic. A Registered Nurse by the name of Barbara Ahlquist, who came to my trial to testify on my behalf, testified under oath she had to take her son's 14 year old girlfriend to the Regina General Hospital, after the young girl ingested Morning After Pills given to her by Regina Planned Parenthood.

Neither Barbara, nor the girl's parents had any idea what happened to the young girl after she collapsed in Barbara's house and started crying in pain. They only found out when they got to the hospital and discovered the young girl ingested these pills given to her without her parent's knowledge.

I only know about this young girl because it came to light at my trial. How many more young girls have had complications and have been harmed by this practice? How many parents are out there deeply grieved that a government agency would be involved in harming their daughters, and not notifying them when things go wrong?

Clearly the time has come for the Saskatchewan Party to enact legislation to bolster parental rights and enable parents to protect and support their children, when facing difficult circumstances, such as unplanned pregnancies. Parents should know when their children are being prescribed potentially risky drugs, such as Morning After Pills. For me, the issue of parental rights to know when their children are having abortions committed on them, or are receiving contraceptive/ abortificient pills will definitely be a voting issue in the next election

Sincerely,
Bill Whatcott

Po Box 53
Stoughton, SK
S0G 4T0
Phone: (306) 861-6140
I will be going in person to Mr. Duncan's constituency office to deliver my letter, of course most of you can't do that. I would encourage those of you who choose to write a letter on this important and achievable initiative to send the letter via fax or snail mail if you can at all find the time. I have been told those letters are given way more weight than e-mails. Of course if an e-mail is all you can do, it is much better than nothing.
Saskatchewan Minister of Health, Dustin Duncan's contact info can be found here:
http://saskparty.com/index.php?pageid=M ... tin-Duncan
Upcoming events you can join Whatcott at:
Saskatchewan Pro-Life convention: April 11 & 12, McKenna Hall, 317 3rd St, NE Weyburn, SK
For more info call Weyburn Pro-Life (306) 842-1633
Speakers will be pro-life prisoner of conscience Linda Gibbons, Americans for Truth about Homosexuality President Peter LaBarbara, Theology of the Body speaker Nic Davidson and Guiding Star Project Executive Director Laura Rickets.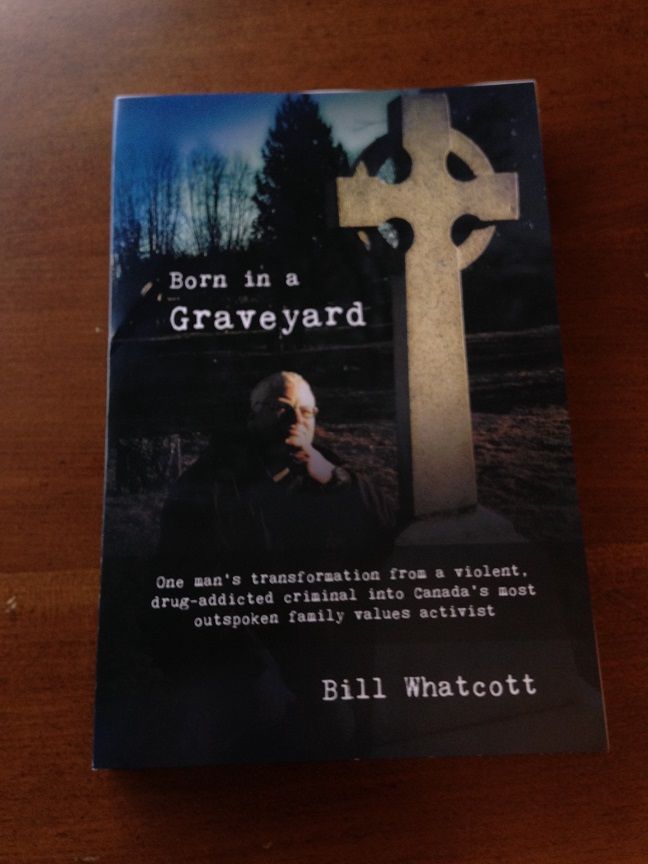 Here is the cover you guys voted for. I will be receiving the first 150 copies of my book "Born in a Graveyard" and will be introducing them to the public for the first time at the SPLA convention, so if you want an autographed one come to the convention and drop by my table....
Peter LaBarbara and I will be going to the University of Regina and University of Saskatchewan to provide students and faculty alike with a Biblical education on homosexuality and the harm caused by embracing the homosexual agenda.
We would be happy if you could join us there:
University of Regina, April 14, 1:00 - 4:00 PM (Main entrance, right east of Kramer Avenue, Dr. William Riddel Centre)
University of Saskatchewan, April 15, 1:00 - 4:00 PM (Main entrance, Bottomley Rd and College Dr, By St. Thomas More College Building
My itinerary to Ontario is filling up and I have a couple nice possibilities, I could use some prayer for:
I will be travelling to Ontario with 200 copies of my new book "
Born in a Graveyard.
"
I believe I will be able to share a table with a friend at the March for Life on May 8th, so if you want my book you will be able to get it there....
I have a possible speaking opportunity in Oshawa and a possible top secret social conservative Gospel literature production session in the works there. I am working out details with a faithful friend who resides in Oshawa. Please pray that God blesses the details as my friend and I successfully work them out.
I have another speaking event in Toronto (tentative May 15) and an opportunity to visit two prisoners of conscience, one at the Vanier Correctional Centre for women and the other at the Lindsay Jail. Mary Wagner is in for a crime I have been in jail for, namely peacefully protesting, trying to save babies. Of course I support her cause 100%. The other fellow Brad Love is not really my cup of tea, I don't think. However Paul Fromm of Canadian Association for Free Expression made me aware of Brad Love and I am horrified if what Fromm says is true. The guy is in prison for 18 months for writing letters to our allegedly elected officials complaining about immigration. No threats of violence, just bombastic letters. Lots of them to all of the Canadian politicians, I understand. I don't have all the details yet, but like the Bereans with St. Paul the Apostle, so I will be with this claim of Paul Fromm's. I will go to the Lindsay jail, share the liberating Gospel of Jesus Christ with Brad Love, and of course hear his story for my self. If it is true a Canadian is in jail for writing politicians and saying disagreeable things about immigration then we are in a fascist state, and even though I have a Filipina wife who I wish I could bring here and indeed I support lawful immigration in general; still I will publish this guy's plight and pox on our lamestream media for overlooking this crime committed by the state. Presumably the media has chosen to cover Russia's jailed P--sy Riot anarchists and ignored Canada's Brad Love and Mary Wagner because political correctness is more important to our media than actual justice and democracy. Of course I ask for prayer for this work as well.
I have an old friend from London Ontario who I will be visiting and I might have the opportunity to set up a top secret Gospel production meeting in London Too. Please pray for this....
Confirmed top secret social conservative Gospel production meetings are:
Ottawa,Ont
Saturday, May 10th
1:00 PM - 5:00 PM
Address is top secret
Wilberforce, Ont
Tuesday, May 13th
1:00 PM - 5:00 PM
Location is top secret
St Catharines, Ont
Saturday, May17
1:00 PM - 5:00 PM
Address is top secret
In Christ's Service
Bill Whatcott
A Whatcott recommended verse to meditate on this Lenten season:
"

But He was wounded for our transgressions, He was bruised for our iniquities; The chastisement for our peace was upon Him, And by His stripes we are healed. All we like sheep have gone astray; We have turned, every one, to his own way; And the Lord has laid on Him the iniquity of us all.

"
Isaiah 53:5-6