A potential voter in Jim Prentice's riding reads "A call to parents to protect their children from state imposed homosexual propaganda"
after receiving it from one of Whatcott's faithful Gospel Jihadists (Holy Warriors).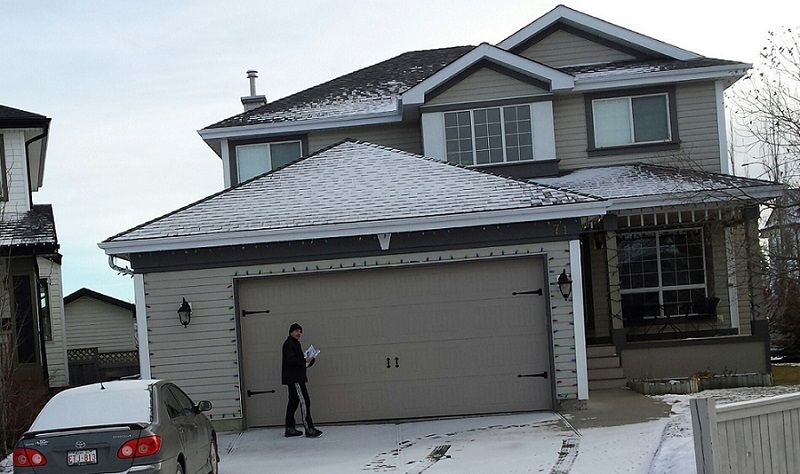 One of Whatcott's holy warriors braving ice, snow, and occasional threats and insults from irate pro-homosexual recipients of the flyer
"A call to parents to protect their children from state imposed homosexual propaganda." Notwithstanding the challenges Darcy continues with
the sacred mission to get truthful information on the homosexual lifestyle, government attempts to impose homosexual activism on Alberta's
children and the invitation to accept Jesus Christ as their Lord and Saviour into the hands of potential voters in Jim Prentice's riding.
Dear Friends,
The Glorious Gospel Jihad in Alberta Premier Jim Prentice's Calgary-Foothills riding is now completed. I am pleased to announce 3000 flyers have been distributed to homes within Prentice's riding and a few of my Alberta friends have pledged to make even more of these truthful flyers to deliver in their local ridings and also mail some to churches throughout Alberta.
For those who wish to join in this effort to inform Alberta parents and other voters about the harmful effects of homosexual activism, the homosexual activist push against parental rights of parents whose children are in Alberta public schools, and to provide someone with the opportunity to call Bill Whatcott so they can receive Jesus Christ as their Lord and Savior download and print the flyer here:
https://docs.google.com/document/d/1VOm ... sp=sharing
I am pleased to announce four activists (3 travelled from out of town) hit the riding and got to work hitting mailboxes all day on Saturday Dec 27th. Between us we got out 2400 flyers by 9:30 PM. I delivered 600 flyers on Christmas and Boxing Day. I am glad I did that as me and the one activist who was still with me at 9:30 PM were dead tired when the last flyer was delivered. One of my activists Steve came and delivered flyers with a knee that was still healing from surgery a week earlier. I was reluctant to give him any flyers, but Steve was adamant he was going to partake in the fight to protect children from homosexual activism in a tangible way. Somehow he put out 200 flyers, hobbling from door to door in considerable pain. Canadians of that sort of grit are a rare breed. Steve sort of reminded me of wounded Canadian soldiers who insisted on going over the trenches in Ypres and Somme rather than going to the back of lines to get medical treatment, arguing they could still fight with their comrades.
One thing I learned about Premier Prentice's riding is that it is a wealthy riding. Many of the houses we hit were houses that are worth a million + dollars. So far I have received a dozen or so e-mails and phone calls. One was a woman with genuine questions about the flyer and issue at hand. She was quite thankful we gave the information to her. The rest of the responses ranged from polite disagreement (a minority) to profanity ridden rants and threats (the majority of e-mails and calls).
When I could calm down these mostly middle aged women and a few men, I would usually ask them "what part of the government has no right to usurp your role as a parent and push homosexual propaganda down your child's throat makes you so upset?" I can truthfully say some would just start screaming F-bombs again and the remainder would accuse me of "spreading hate" or "falsehood." At least the latter two I could respond to, although as of tonight I have not had anyone call or e-mail me with an actual quote from my flyer that is false, nor have I been provided with a correct statistic or statement to correct my allegedly false statistics or statements.
I expect more calls and e-mails to come in tomorrow as not everyone checks their mailboxes over the weekend. The social conservative Christian perspective has been widely distributed in the riding. I firmly believe our perspective is the true one, grounded in medical science, natural law and the Word of God. What the riding does with this information is up to them now. I pray they speak up and banish homosexual activism from their children's schools forever.
In Christ's Service
Bill Whatcott
"

So you, son of man, I have made a watchman for the house of Israel. Whenever you hear a word from my mouth, you shall give them warning from me. If I say to the wicked, O wicked one, you shall surely die, and you do not speak to warn the wicked to turn from his way, that wicked person shall die in his iniquity, but his blood I will require at your hand. But if you warn the wicked to turn from his way, and he does not turn from his way, that person shall die in his iniquity, but you will have delivered your soul.

"
Ezekiel 33:7-9