Support real Human Rights!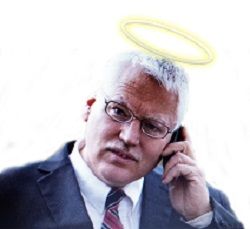 ---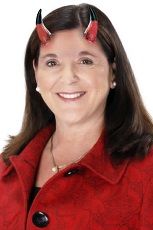 Bill Whatcott (halo) fighting for real human rights, such as religious liberty, freedom of inquiry and freedom of speech on tax funded university campuses. Dr. Vianne Timmons (horns) abused her position as President of the University of Regina by discriminating against Christians like Bill Whatcott in favour of defending homosexual activism and homofascism on the publicly funded campus.
Dear Students,
Bill Whatcott has now won two legal battles with the University of Regina and one defamation case where the University of Regina settled in his favor. In 2002 the U of R had Mr. Whatcott charged with littering in an effort to prevent students from receiving a flyer arguing for the human rights of unborn children. Had Bill's flyer had a picture of an abused chimpanzee on it and an argument chimps should have human rights, no censorship would likely have occurred and some academics who support no rights for the unborn would probably have thought it reasonable chimps should have human rights. Bill was acquitted of the littering charge.
In 2006 the University of Regina settled with Bill Whatcott and paid compensation for falsely accusing him of advocating "all sodomites should be killed" when advertising a pro-homosexual
"I could not speak my heart"
conference.
In December 2014 Bill Whatcott and Peter LaBarbera of Americans for Truth about Homosexuality were cleared of criminal charges laid at the behest of the University of Regina for peacefully protesting abortion and homosexuality on the campus.
All of this repressive, politically correct, and morally wrong censorship is costing taxpayers, the courts and the university needless time and money. In a new spirit of listening and dialogue Bill Whatcott is proposing the University of Regina partner with him in hosting a new conference called
"Everyone can speak their hearts."
Unlike the
"I could not speak my heart"
conference which was marred with defamation and tolerance for only one point of view, this conference would allow homosexuals, feminists, conservative Christians and pro-life activists an equal amount of time to share what is on their hearts. Bill would like to propose pro-homosexual academic Dr. James McNinch and pro-family activist Dr. Scott Lively be speakers for this event. The conference can be wrapped up with a one hour debate between Bill Whatcott, Executive Director of the Christian Truth Activists and Dr. Vianne Timmons, President of the University of Regina. The topic Bill proposes for debate is: "Are university campuses sufficiently welcoming towards Christian activists, ex-gays and their allies?"
If you would like to see such a "Glasnost" moment on this otherwise oppressive university campus contact:
Vianne Timmons, BA, BEd, MEd, PhD, Office: Administration-Humanities Building 514
E-mail:
the.president@uregina.ca
, Phone: 306-585-4696, Fax: 306-585-5200
...and ask her to support the hosting of an
"Everyone can speak their hearts conference."
Let Dr. Vianne Timmons know that by allowing and participating in such a conference in the year 2015, she could help the University of Regina improve its
"F rating"
on the Justice Centre for Constitutional Freedoms
Campus Freedom Index
.
In Christ's Service
Bill Whatcott, Executive Director of the Christian Truth Activists,
Phone: 306-861-6140, E-mail billwhatcott @gmail.com, website:
http://www.freenorthamerica.ca
"

Stand fast therefore in the liberty by which Christ has made us free, and do not be entangled again with a yoke of bondage

." Galatians 5:1
-----------------------------------------------------------------------------
END OF FLYER