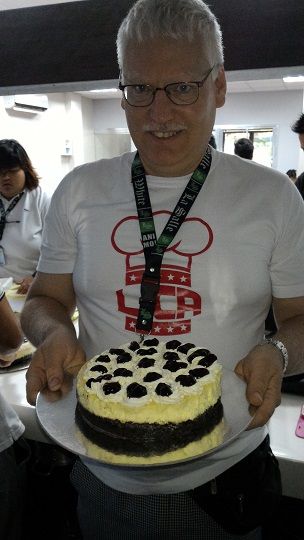 Here is a chocolaite cheese cake me and my team baked during our breakfast cookery.
My role was small (breaking cookies to make the crust) but still this was a delicious accomplishment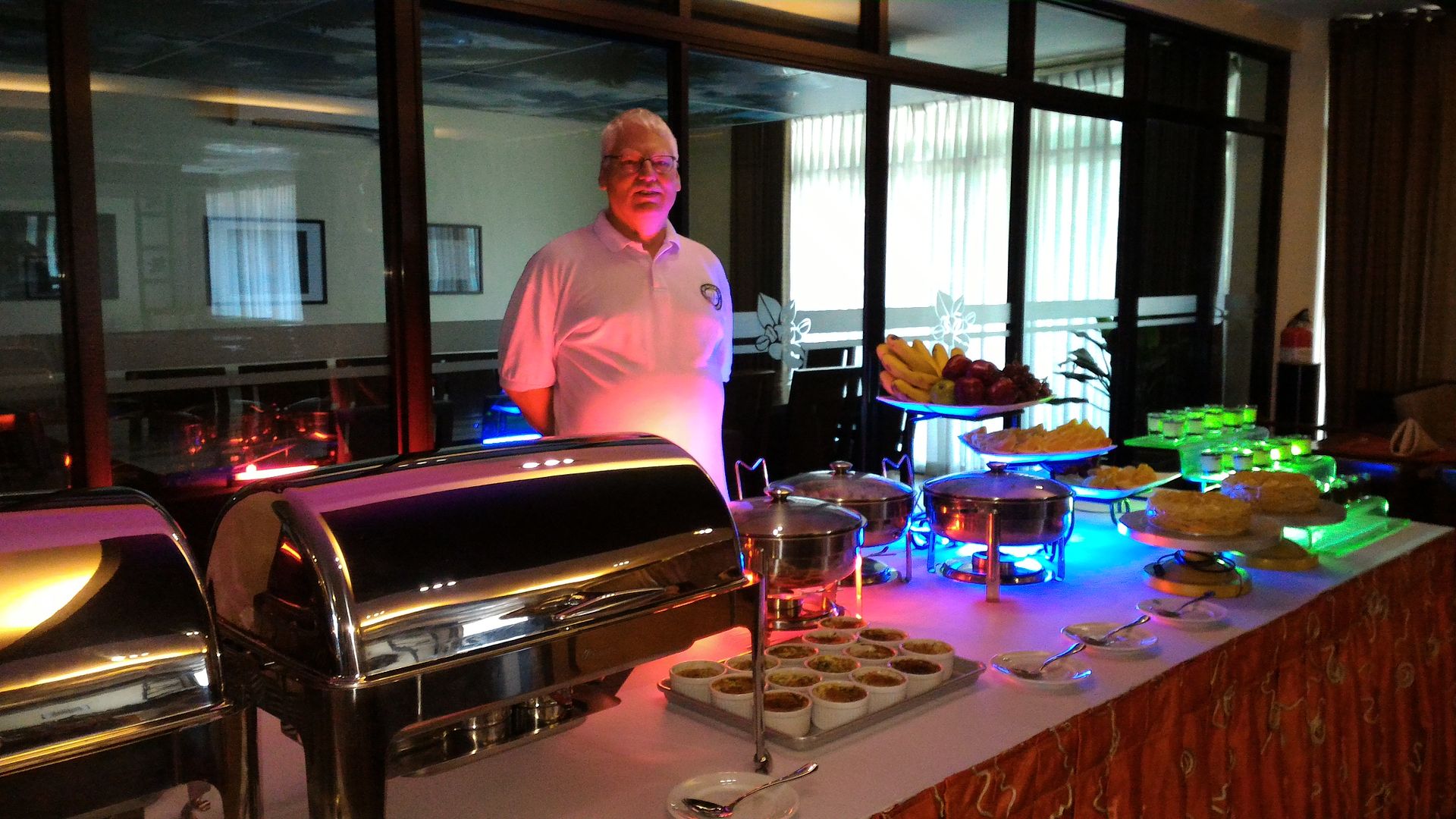 I was serving the breakfast buffet. Here my fellow classmates with Chef Billy's help cooked up ham, bacon, waffles, pancakes, souflettes, frittata's and breakfast desserts. Even though we are only first year students, I believe this breakfast would have passed muster in any five star hotel....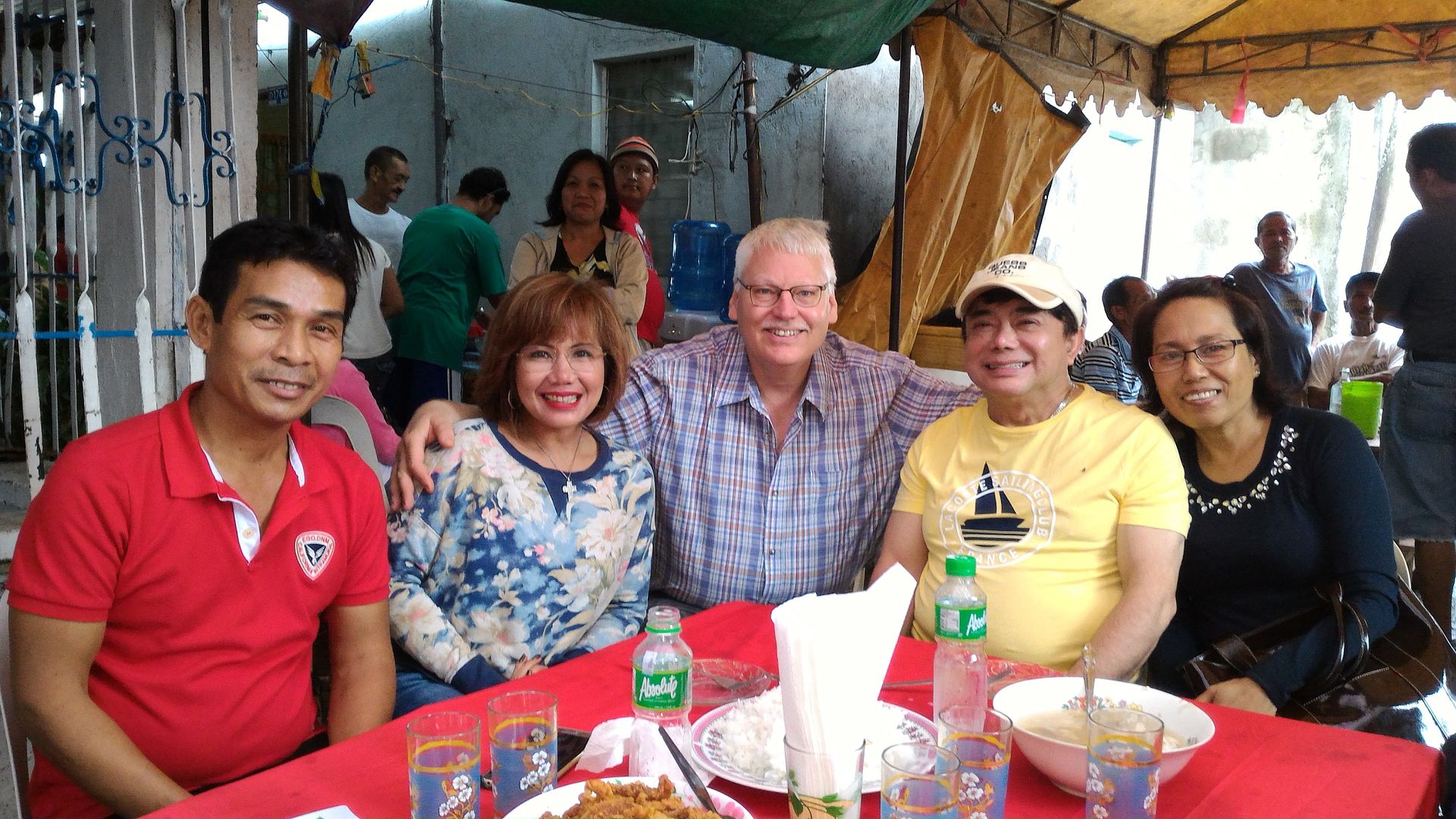 Here I am last week having supper with Meynardo A. Sabili and his wife, Mayor Sabili is on my right and his wife is on my left. My wife Joni Whatcott is to the right of Mayor Sabili. I am pleased to say Mayor Sabili read my book "Born in a Graveyard." He commented the book was "informative and eye opening." I guess God is using the 150 or so copies I have here in the Philippines, but I do feel hurt at what happened to the publishing and distribution of my book in Canada. I am powerless to promote it and in spite of the money I raised from friends and gave to the publisher it isn't being promoted. Pray that God takes over the situation and helps me to let go of it. I can't seem to make an inroad on getting my book published in Philippines either. I guess it is a poor country and even though I am as poor as most Filipinos I am viewed as rich and therefore the default position is everyone here wants to read the book but no one wants to pay me for it or help me in marketing it, so nothing much will likely happen with it while I am in Philippines. Maybe God will use it after I die. I think Karl Marx died in obscurity and his seminal work the "Communist Manifesto" was "scarce" when he died. Within a couple decades after his death the Soviets came to power and with their resources had that demonic work published all over the world. It would be nice if God in His sovereignty does something like that for my work. Maybe I will even write one more book (God willing) before I die.....
Here are three food critics who were recruited for our first official food presentation. The food critic has my African Peanut Soup to the right of his sleeve. My soup was declared the "best individual dish" out of 32 contestants. I am going to cook it this week at me and my wife's little food cart and advertise it throughout my neighborhood. Please pray that God blesses this endeavour and blesses our business so I can finish my culinary certificate and hopefully work in something meaningful to provide for my family and maybe contribute to a worthy, Christ following, pro-life activist until my retirement. As I get older my energy will not be there to carry on the pace that I carried for the past two and a half decades. I pray God raises up someone to prophetically speak the politically incorrect portions of Scripture to Canada's culture now that I am out of the scene and if I could help with that by attaining some modest prosperity at this phase of my life that would even be better.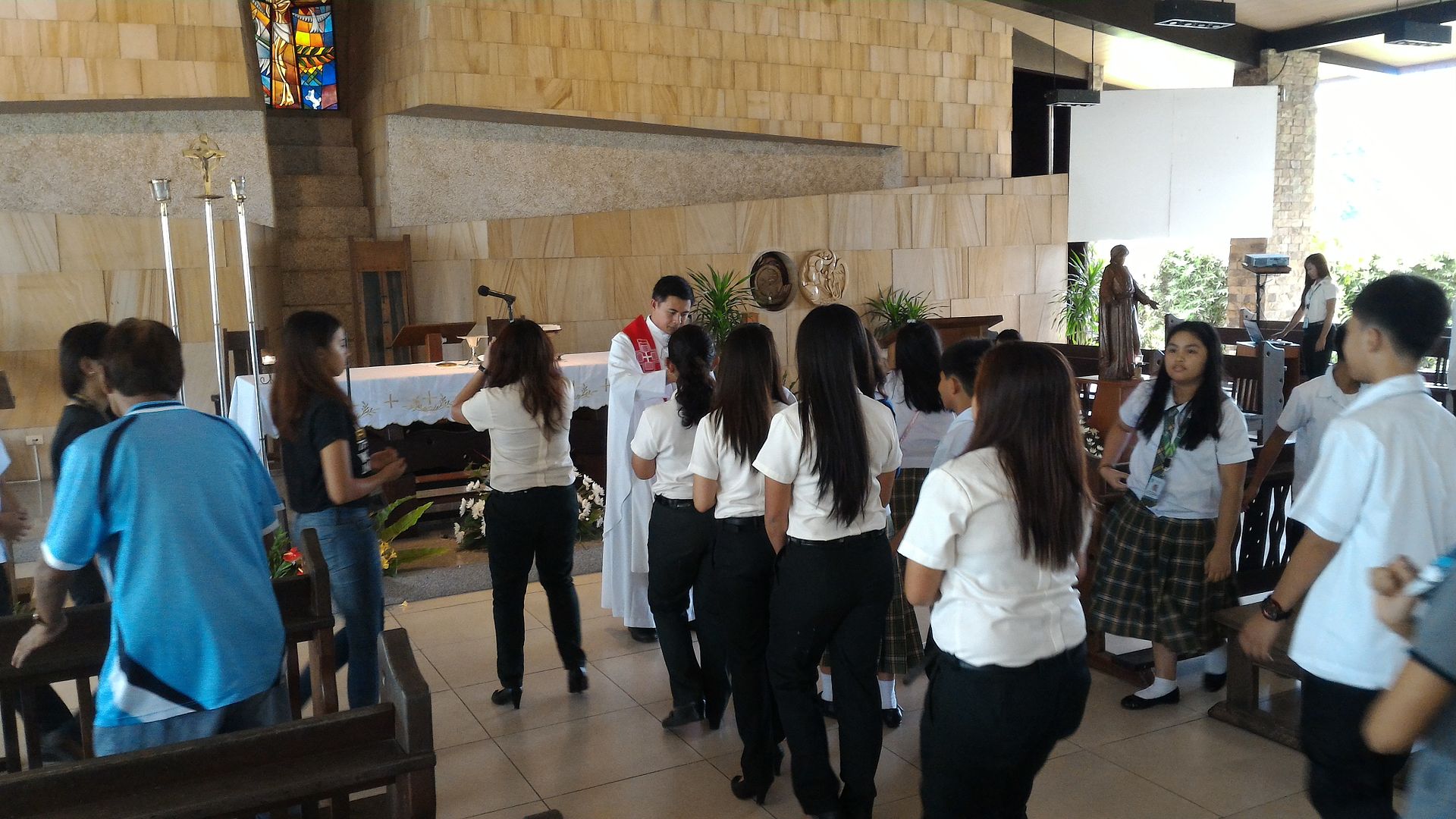 Here is mass at my school. No doubt this picture offends many, and for a variety of reasons, but I have to post it as I do believe I find Christ here and it is He who I have to follow wherever He leads me. I must say when I reflect on my life I sometimes feel sad, but I also believe I was blessed with an extraordinarily interesting life and I think some of what I did will outlive me. I don't think I would change my life for an easier path, even if I could. Nothing is perfect and my life in not perfect here in the Philippines, but being able to go to the Eucharist every day and pray, read Scripture and meditate when no one is at the chapel has been a great source of solace and strength as I put together my life after my huge losses in Canada this past year. I should note while my wife does not fully understand why I tick the way I do and I don't think my stepdaughter likes what I did at all, still my wife has been extremely supportive and while it is difficult to make a small business work enough to get someone out of poverty, she is bearing the bulk of the load while I study and I have to remind myself of that and be grateful.....
On a final reflection after sitting in the culinary program for 3 months now and observing the school and its culture, I see empirical evidence the Catholic Church's teaching on chastity and contraception is correct. While De La Salle is not perfect and there is worldliness amongst some faculty and students for sure, all in all the Catholic culture is intact and some truths are simply understood and accepted by most on the campus.
One thing I know is the concept of chastity was outright rejected when I studied at MacEwan University in 2009 - 2010. Read here to see the infantile madness that gripped faculty and students alike at Mac Ewan:
viewtopic.php?f=16&t=5816
The revealed wisdom at MacEwan was everyone does it and to be so-called "safe" one needs access to contraception and abortion. In my class I believe a full third of the young girls were living common law with their boyfriends and another third or so really made no secret they were sleeping around. Probably 20 - 30 % of the boys and girls in my class had substance abuse issues. I remember two girls calling themselves "sluts" at the front of the class and giggling as they got themselves intoxicated on their lunch break.
In Canada 25% of young women contract genital HPV, another 20% report coming down with genital herpes. Almost one out of three pregnancies end in abortion. The condom while worshiped by western academia really fails to deliver on its promise of "safe sex." Canada's Godless sex ed approach is held up as "progressive" by the media and is called by some the "envy of the world," but a cursory look at the lives of young Canadians who indulge in hedonistic promiscuity as a result of their lack of faith and amoral sex education should be enough to tell you it is a unmitigated disaster. Of course it wasn't always that way in Canada. I have been blessed as a nurse in the 1990s with many elderly clients who would share with me what Canada was like in the 1940s and 1950s. Life long marriage and saving sex for marriage was normative. Those few who found themselves pregnant before their wedding often got married soon after. STIs and abortion (contrary to Planned Parenthood propaganda) was rare. Suicide was also more rare back then.
Here in 2015 I see Philippines is at a bit of a crossroads. Western media and money is having an effect on Manila and on the government there. Where I am in Lipa the Catholic Church is still strong and the preaching from the pulpit is not the leftist gibberish currently coming from the Cardinals in Canada or Rome..... I hear the Gospel clearly at mass and here Scripture being read every day. I note amongst my classmates none are living common law and while a couple of my classmates come from broken homes, married parents is a clear majority.
Of course no one talks to me about about their sex lives and I am not privy and do not want to know details about my classmate's private lives, but you do figure things out as you get to know people and the women in my class here are far more modest than my former classmates in Canada. I think most of the dating going on in my class is clean and most (not all) of the young men in my class treat the ladies with respect. It is clear to me this dynamic in the year 2015 is the direct result of most of these young people growing up in a Christian culture with Christian values being taught to them as they grew up. It would be nice if a social scientist studied what is going on here with De La Salle's young people and look at the fact that condoms and morning after pills are not promoted at my school and compare that to the relationship and health outcomes of any comparable publicly funded post secondary school in Canada where the culture of sexual libertinism is promoted with an evangelical fervor.
In Christ's Service
Bill Whatcott
"

And Peter said to them, "Repent and be baptized every one of you in the name of Jesus Christ for the forgiveness of your sins, and you will receive the gift of the Holy Spirit.

"
Acts 2:38