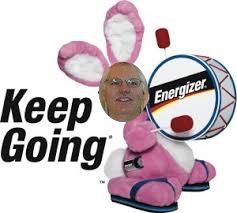 The Energizer Whatcott
Dear Friends,
I have some positive developments to share this week. The University of Regina has decided to give me my table rental after all. To give credit where it is due, the university now appears to be polite and quite helpful. Unlike last time, they even recognized my non-profit status, which in actual fact when one considers I have been thrown in jail more than 20 times, sued three times and sacrificed my nursing career and carpet cleaning business for the cause of Christ and what He teaches in regards to life and sexuality, I suppose I am the ultimate non-profit….
Anyways, before getting too excited or giving too many accolades, we will see how things go on October 18th, when I show up at the University of Regina with my closeted Christians who wish to "come out" and be "proud" of their Lord and Savior Jesus Christ. But so far so good. There is no need to give the university a hard time if they decide to treat us fairly and let us share our point of view on their public property, free from cesorship.
Dates to keep in mind:
It looks like my friend Jesse has done a great job and a nice group of Christians will be showing at the University of Calgary to "come out" and be "proud" of their Lord and Saviour Jesus Christ, in obedience to Matthew 10:32.
University of Calgary, MacEwan Student Centre
402 Collegiate Blvd NW, Calgary, AB
Friday, October 14, 2016,
Time:12:00 - 13:00
Praise God! I talked to a Catholic friend in Edmonton who in light of this lawsuit wants to stand with me publicly. He along with a Baptist friend expressed an interest in joining me in Regina. I think I also have some Pentecostal friends traveling to Regina from Weyburn. Regina's Christians are notorious for being "closeted," but maybe we can help them to "come out of the closet," so students on campus can see the Christian's lights shine and get a wholesome perspective to counter the neo-Marxist and sexually libertine drivel they are normally fed.
University of Regina, Riddel Centre
3737 Wascana Pkwy, Regina SK
Tuesday, October 18, 2016,
Time:12:00 - 13:00
With the potential of speaking to thousands of students at U of C and U of R, volunteers are needed to prepare the literature they need. If you live in British Columbia call Bill Whatcott if you can spare a few hours next Saturday!
Workshop Day
Date: Saturday, September 24th,
Time: 1-4 Pm
Location: A top secret location in Surrey
To reach Bill Whatcott call: 306-861-6140
or e-mail: billwhatcott@gmail.com
"

Everyone who acknowledges me before men, I also will acknowledge before my Father who is in heaven, but whoever denies me before men, I also will deny before my Father who is in heaven

."
Matthew 10:32, 33
Also this week the Janet Meffered Show called me and asked me to come on air to discuss the $104 million dollar class action lawsuit I am facing for infiltrating the Toronto shame parade as a pot smoking, gay zombie, in a tutu….
Whatcott poses with unsuspecting cops who are allowing law breaking and
debauchery to occur around them at the Toronto Shame Parade.
The Janet Mefferd show seems to have a large audience as her show is on 300 regular and internet radio stations across the USA.
This coming Wednesday I will be on the show known as:
"Janet Mefferd Today."
Pray that God blesses my speech and uses me to speak the truth this coming Wednesday.
If you wish to listen to the interview this link will take you to the stations Janet Mefferd is on:
http://janetmefferd.com/2016/08/announc ... ferd-live/
Finally, please pray that God is with my lawyer Dr. Lugosi on November 15th. I've been informed by Dr. Lugosi, the lawyer on the homofascist side, Doug Elliott is seeking an order to compel me to give up the names of those who helped me or contributed to my ministry to the Toronto homosexual shame parade.
Pray that the judge has no appetite for knowing who my friends are and that he tells Douglas to go fry asparagus….
In Christ's Service
Bill Whatcott
"

And do not fear those who kill the body but cannot kill the soul. Rather fear Him who can destroy both soul and body in hell.

"
Matthew 10:28