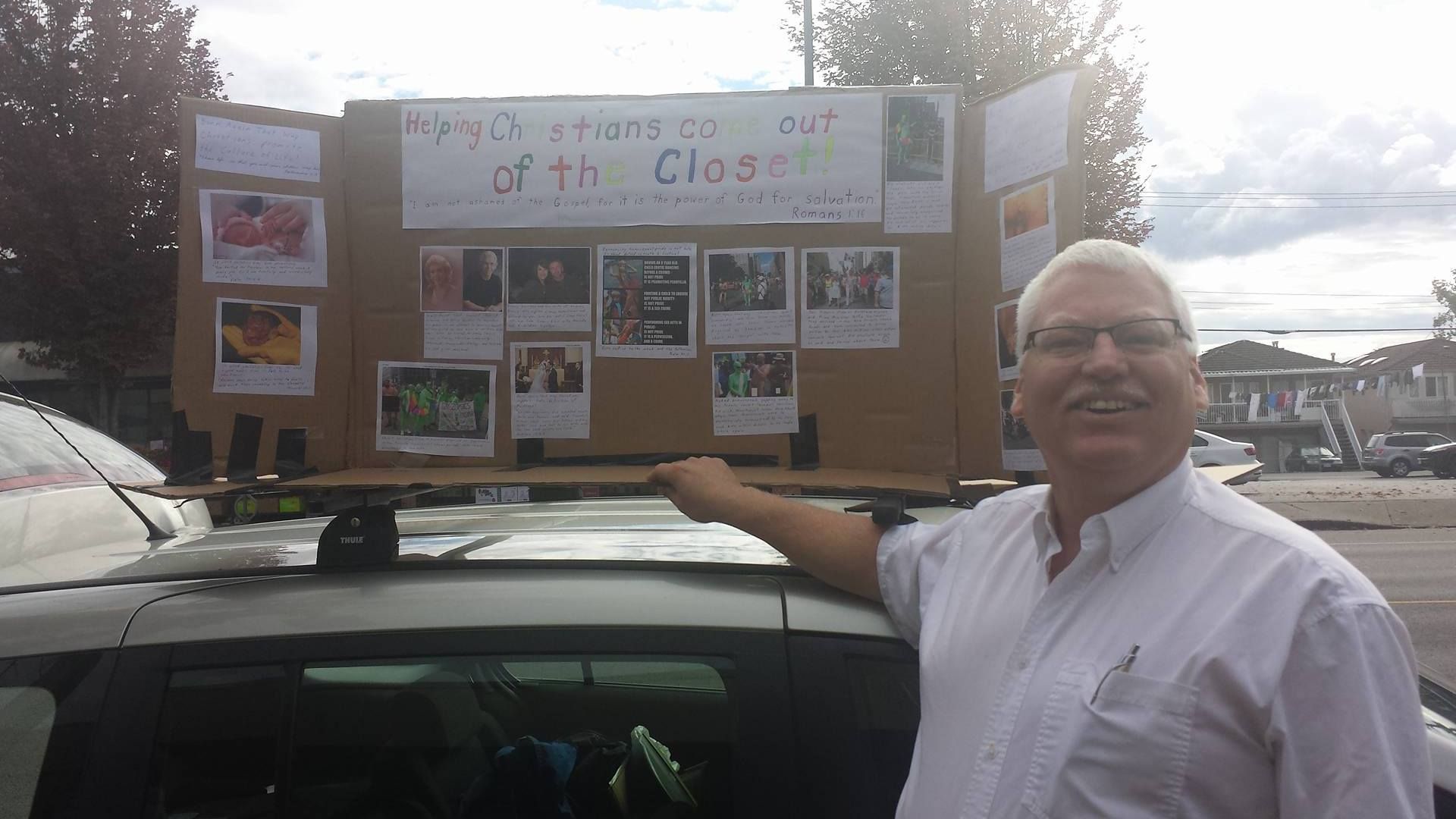 Bill Whatcott's "Christian Come Out of The Closet" Display for the University of Calgary and
University of Regina.
Dear Friends,'
I am not on the road beginning my two campus and three city "Born Again That Way" tour. Before leaving Vancouver I enjoyed an icecream with my "Gay Atheist" friend Nathaniel. In terms of world view we agree on nothing. I believe in sexual restraint and keeping sex in life long heterosexual marriage, Nathaniel believes in sexual liberation. I believe abortion is murder, Nathaniel believes abortion is "wonderful," (his word). I oppose euthansia, Nathaniel supports it. I believe God is real and that He sent his Son Jesus Christ to die for our sins. Nathaniel does not believe in the existance of a God.
I found out today we both share a mutual concern about housing availability and affordability in Vancouver, though even on this topic we might disagree on solutions. I would look to the free market and would get government out of the way from hindering the building of sufficient housing stock in this city. Nathaniel I suspect would look more to government and subsidized housing programs.
Yet Nathaniel and I get along and from my point of view I can enjoy a conversation with him. We are both libertarians on free speech and while he doesn't like theism, he seems to believe in being fair to Christians. Last week Nathaniel bought me icecream, so this time I treated him....
Anyways Nathaniel took the above picture for me. My assessment is he took the picture to be nice to me,
; but he definitely didn't care for the truth laden message. In fairness to Nathaniel he supports my right to protest on university campuses and I don't think he would censor the above billboard, but like any left leaning, "gay," libertarian, steeped in sexual liberation, he did seem to find the message offensive.
On the left side is a premature born baby who was wanted and is therefore being cared for in an incubator at 24 weeks gestation. Below that is the head of a baby who's only crime was being unwanted. An abortionist ripped the baby's head off from her body. She was the same age (24 weeks), as the baby in the incubator.
In the middle is two wonderful testimonies. One of a man who reclaimed his manhood after he mutilated himself with a sex change operation and lived as a pseudo-woman for 8 years. The other is a former homosexual who found Christ and married a woman 3 years after leaving the lifestyle and who now has nine children.
Also in the middle is pics of me and my top secret zombies infiltrating the Toronto homosexual shame parade. I want to talk to the students at the University of Calgary and University of Regina and see if they really think it is a good idea to have a Canada where non-violent activists can be sued $104 million for sneaking accurate information on homosexuality into publicly funded pride parades, where people are marching naked and in some cases displaying offensive messages about Christians.
To the far right is medical pictures of diseases that are not uncommon in the homosexual lifestyle. If the government can use my money to fund public billboards showing diseases related to smoking than surely I need to be able to show diseases related to homosexuality with my own money.
Please pray for travel mercies for me. I am sleeping at one of my friend's house tonight. They have been blessed with a beautiful home and a beautiful view over Salmon Arm....
Tomorrow I will be driving to Calgary and then on to Regina and then Edmonton. Please pray that God keeps me safe on the road and that He blesses these prophetic witnesses.
Stop 1.
University of Calgary
MacEwan Student Centre
402 Collegiate Blvd NW, Calgary, AB
Friday, October 14, 2016,
Time:12:00 - 13:00
Stop 2.
University of Regina
Riddel Centre
3737 Wascana Pkwy, Regina SK
Tuesday, October 18, 2016,
Time:12:00 - 13:00
Stop 3.
Demonstration in support of Brian Coldwell!
Time: 11:00 am - 12:30 PM, Friday, October 21st
Alberta Legislature Building
107 Street and 97 Avenue, Edmonton, AB
In Christ's Service
Bill Whatcott
Truly my soul silently waits for God; From Him comes my salvation.


Psalm 62:1