Bill Whatcott talking with a student who self identified as a homosexual and Pastor Art Pawlowski is talking with an American
student who identified as an atheist
Bill Whatcott and some friends who came out to support him!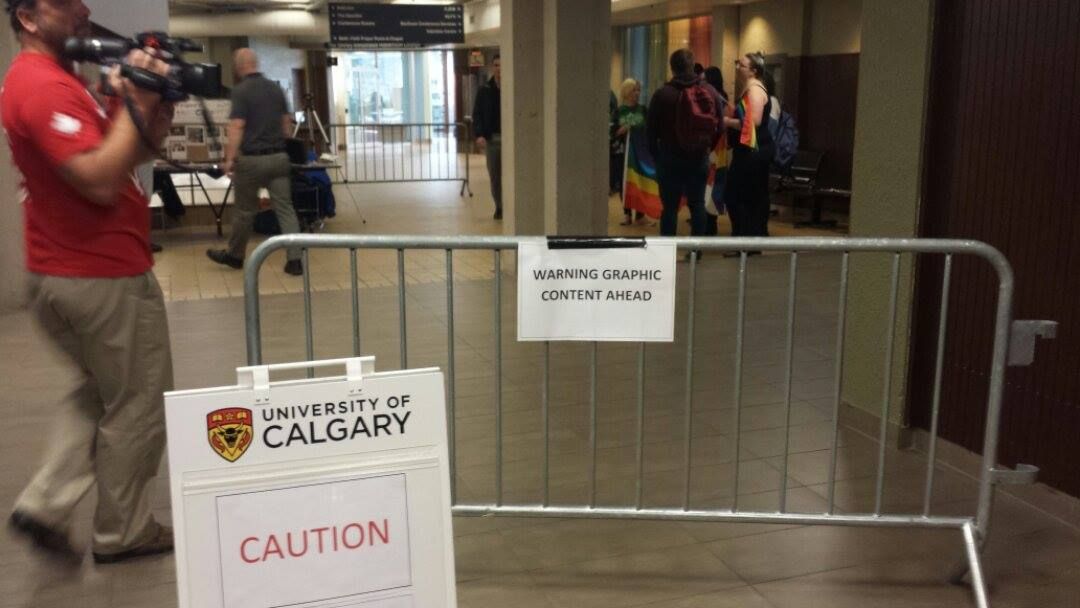 When a small and vocal group of pro-homosexual and pro-abortion students started complaining about us being on campus sharing our message, the University of Calgary responding by putting these warning signs around our display
Here is a vocal student who took it upon herself to warn students about our table. While she didn't strike me as being very fearful or intimidated by my presence, she was a big supporter of "safe spaces." The young lady was certainly unhappy with the expression of my views, and she was clear that she thought I belonged in jail.
Reporter for

The Gauntlet

student newspaper talking to me about our prophetic witness at the University of Calgary. I am showing him the premature born wanted baby who is alive at 24 weeks and the unwanted pre-born baby who was murdered at the same age.
A Godly older fellow in a tie came out to lend his support and he was quickly surrounded by a half dozen or so students and took up some of the slack by sharing the truth with them. There was also a middle aged lady and a young fellow who appeared to be Pastor Art's friend who came and shared with some of the students and supported our display.
Here are some counter protesters from "Queers on Campus." A couple of the students from the pro-homosexual and pro-abortion side were nasty and disrespectful and whined that mine and Pastor Art's message was hurting them and should therefore be censored. I believe the narrative that adult, publicly funded, campuses need to be "safe spaces" where only pro-homosexual and pro-abortion views are allowed to be expressed needs to be challenged and defeated. The one student on the right wearing a brown sweater and glasses, named Matthew impressed me fairly early on. His tone was initially hostile, but he was polite and asked fairly intellegent questions. In his own words he wanted to see what we were about before protesting us. As one can see from the picture above Matthew disagreed with our views enough to join the "Queers on Campus" protest. Matthew is a homosexual, however for the entire time Matthew was protesting us he was polite, articulate, and he acknowledged (unlike some of the others) that university campuses need to be open to views he may not share. I do pray Matthew repents and finds Jesus as his Lord and Saviour one day, as his sharp mind and ability to think critically and disagree respectfully would be a real asset in the Kingdom of Heaven.
Both before and after the barricade and warning went up it seemed the students weren't too badly traumatized by mine and Pastor Art's so-called "hate speech." A huge crowd of students along with a few faculty gathered around us to challenge us on various topics, ranging from abortion and rape, to evolution vs creation, to does God make "gay" people, to homosexuality in the animal kingdom, to hate speech vs free speech, to can I offer proof for the existence of God, and much, much more... Pro-homosexual pride protesters (see in background) protested our presence on the campus.

While those demanding I be arrested and either removed from campus or charged with so-called hate speech were vocal, I was pleasantly surprised by how many students actually agreed with us or at least respected our right to be there. I would estimate between Art and I we had close to a dozen students openly say they agreed with some or most of our views, especially on abortion, and a couple even on homosexuality. While they were a minority they were brave to counter the prevailing narrative of their university and one student even jumped into the debate and took on some of the students which freed me up to respond to other students.

Of course most students disagreed with me, but at least even in this group many and possibly even more than half at some point agreed we had a right to express our views. This was truly encouraging as much of my life work has been countering politically correct censorship on publicly funded campuses and I pretty much thought (I have been arrested twice and had to go to trial twice to fight for the right to speak on this campus) the University of Calgary was a hotbed of left wing censorship by students and faculty alike. While some of what I saw today is discouraging, some students used swear words and resorted to personal attacks rather than deal with the issues, one student stole my basket of Gospel condoms and robbed his fellow students of the opportunity to get one for themselves, security did nothing to protect our private property when it was being stolen, nor did they protect Pastor Art when one student was physically aggressive and tried to block him; still compared to other visits there was things the university did well and there was much to be grateful for too.

Faculty and management was polite and they did not shut us down. Most students respected the property (which was free and available to all of them) and limited themselves to taking what they wanted to read and left the rest so their fellow students could have some and make up their own minds. The majority of students did not demand our arrest, behave rudely or aggressively, and many challenged us with really thoughtful and tough questions and arguments, which was what we signed up for when we went there.
This young Muslim lady spent quite a bit of time arguing with me. She did get a little hot headed. To my surprise she didn't seem to mind my views on the Divinity of Jesus Christ too much. She really got worked up over my opposition to abortion and homosexuality. Notwithstanding her choice to wear a hijab, her views on sexuality and the sanctity of human life are extremely secular. The one thing I appreciated about her is even though she yelled at me and got mad she spoke up and said she did not agree with the person who stole my Gospel condoms.....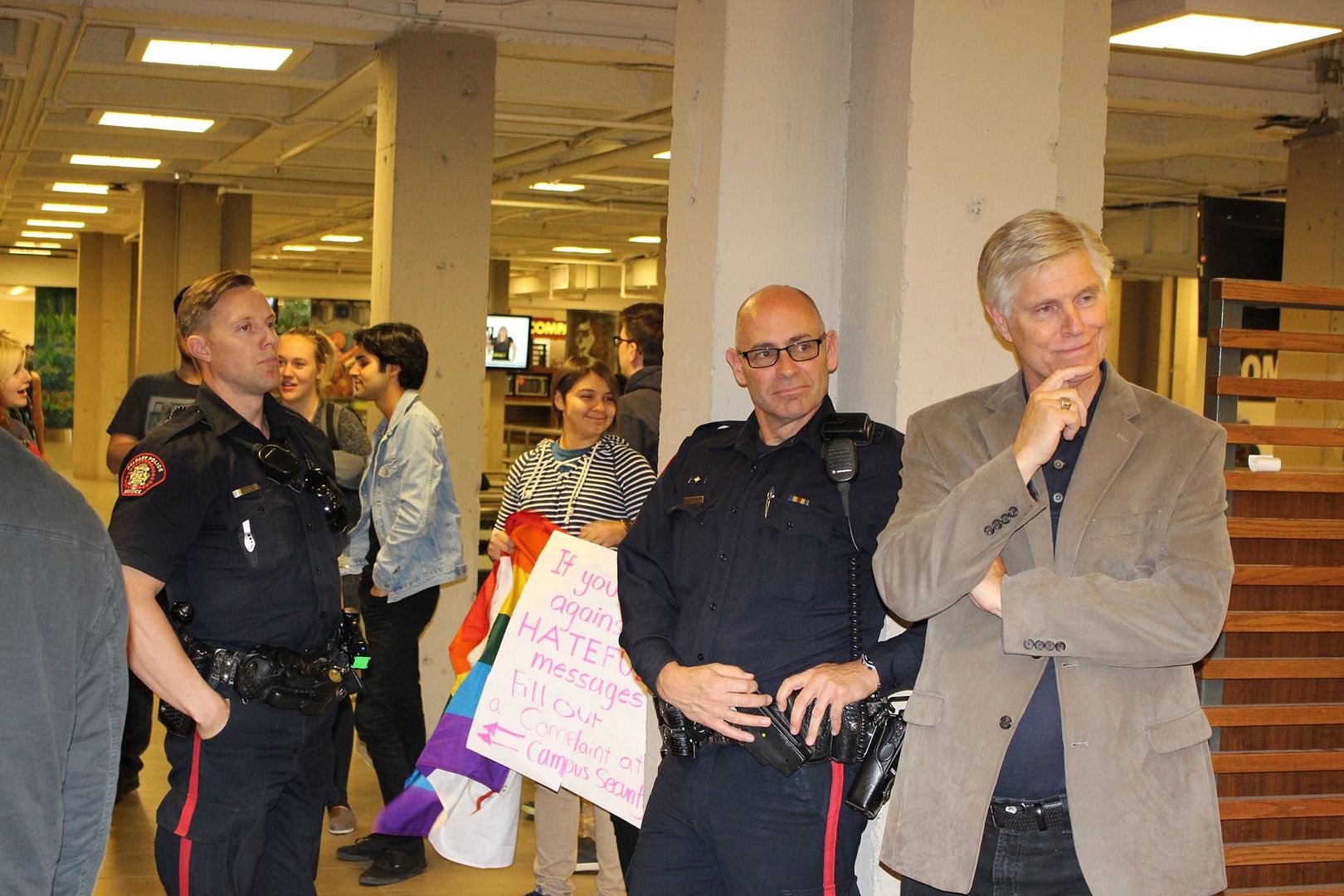 Two police officers and a university administrator present towards the end of our presentation and debate with the students. A sign with an arrow directing students to where they can fill out a complaint to have me barred from the campus.
Police, students and university employees crowded around our table as our presentation ends. At 4:30 pm Pastor Art and I wrapped up and while the session was not perfect, I had to take a moment and thank the administrators who were present for being so accomodating of us. One professor who was present and observed a lot of the debate was really unhappy with us and he told me the expression of my views and belief in a 2000 year old book was rubbish. There is no question our public expression of our beliefs in what we know to be true is hard to accept for many faculty who are use to working in overwhelmingly secular campuses where very few challenge their prevailing left wing narratives. I challenged the Professor that when I went to post secondary I certainly heard proselytizing from left wing professors in favour of homosexual rights, abortion, their belief in the superiority of secularism, and on more than one occassion even outright politicking; calling on the students to support and vote for the NDP. I found all of the above to be offensive and believed some of those presentations to be wrong. If I had to pay both tuition and taxes to listen to that, even though it had nothing to do with my course content, then indeed I should be able to talk about my God and moral values on Canada's publicly funded campuses.
A security vehicle follows Pastor Art and I off of campus
"

For I am not ashamed of the gospel of Christ, for it is the power of God to salvation for everyone who believes, for the Jew first and also for the Greek. For in it the righteousness of God is revealed from faith to faith; as it is written, 'The just shall live by faith.'

"
Romans 1:16, 17