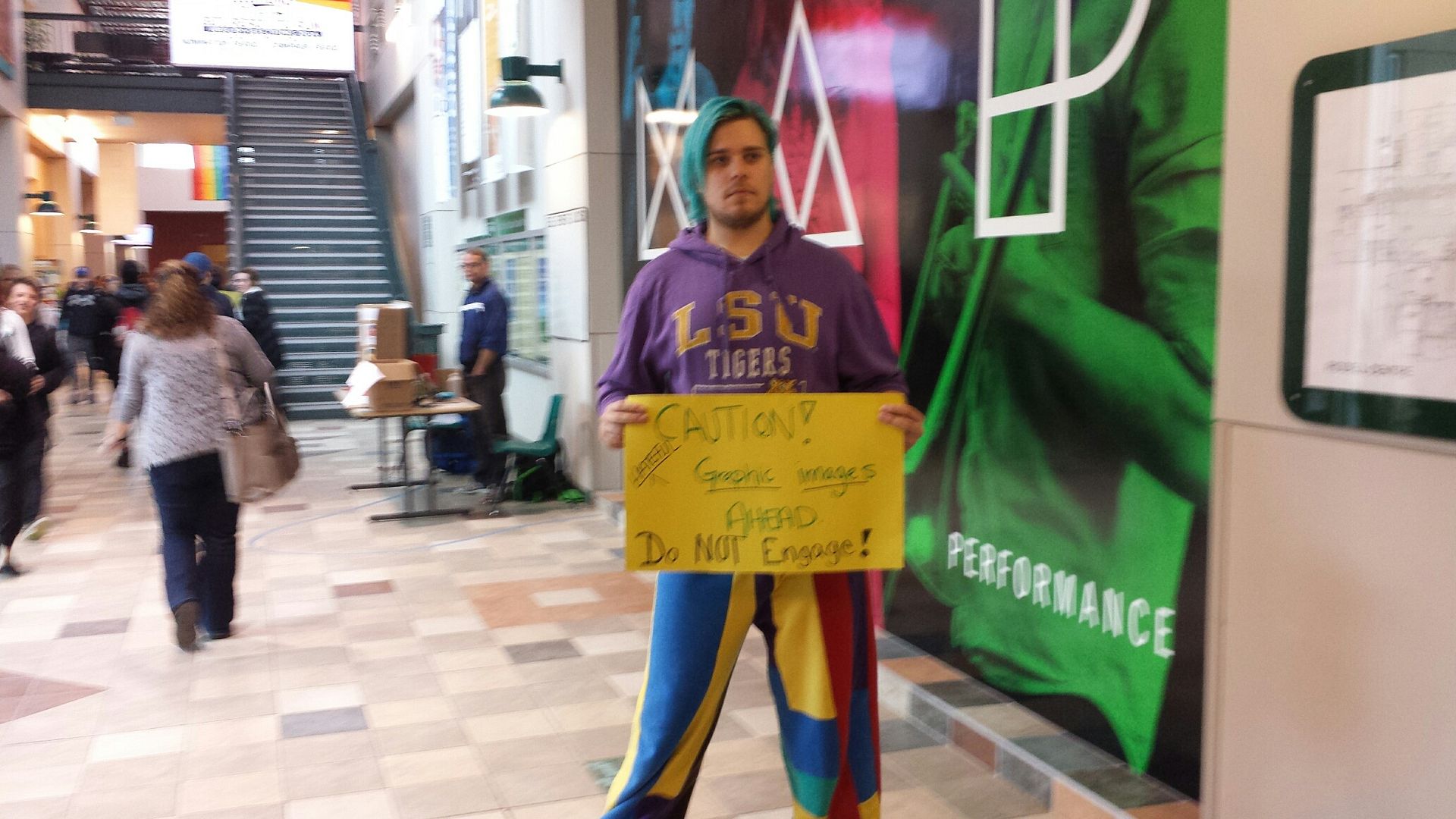 Pro-homosexual activist encouraging passerby at the University of Regina to not engage at my table.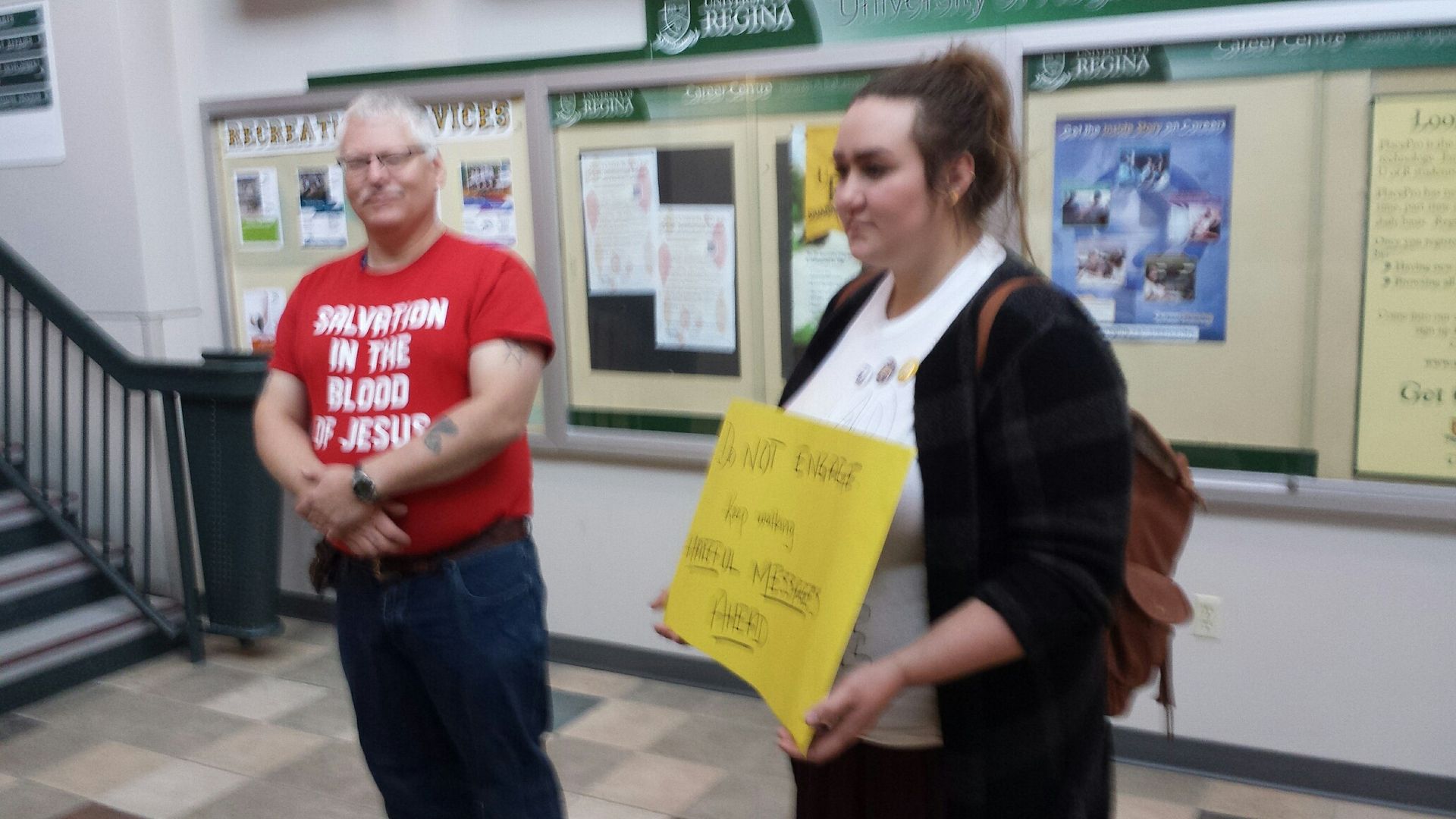 Another student accusing my table of "hate" and encouraging people to not engage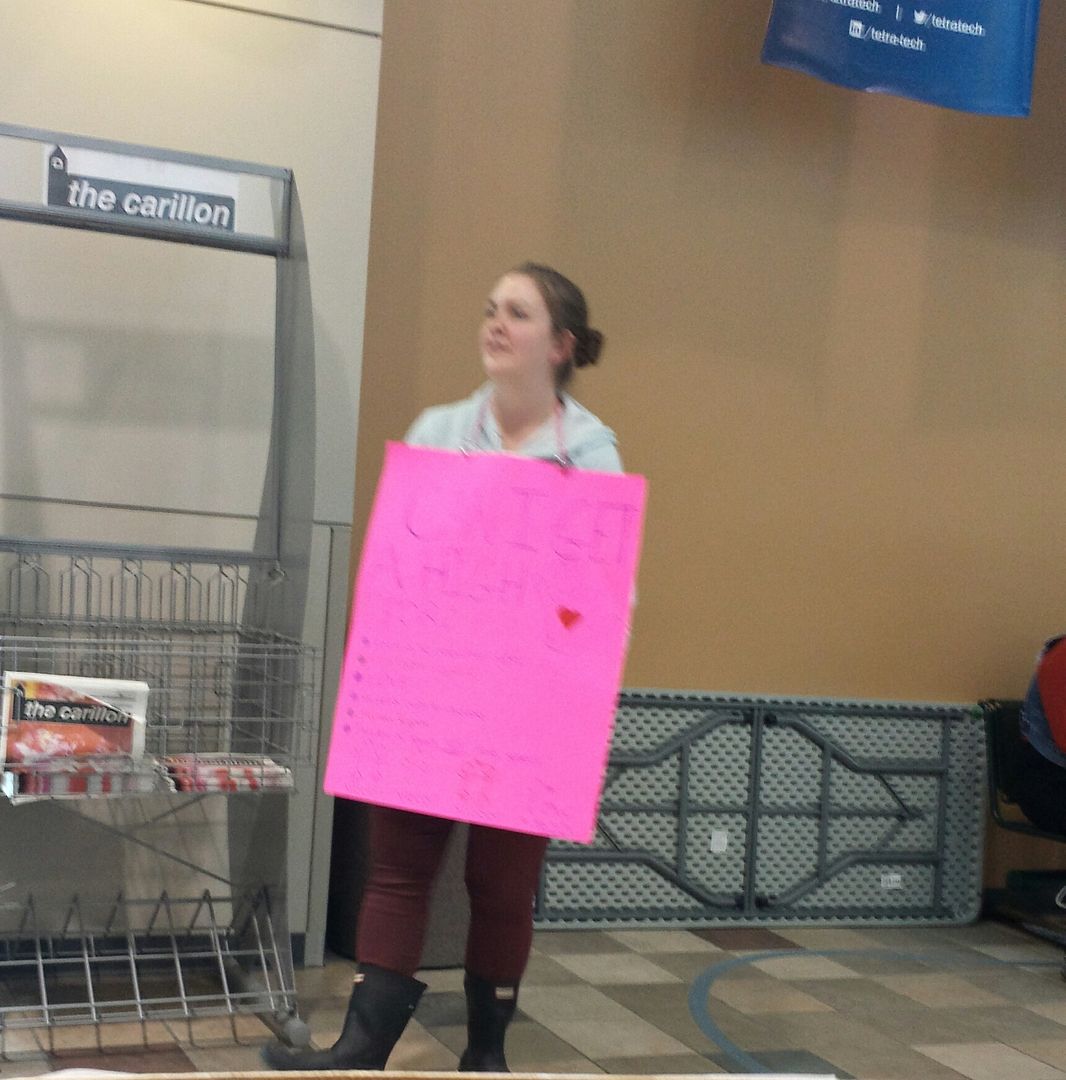 This anti-Whatcott protester's sign is an interesting sign. Unfortunately, my phone seems unable to take a clear picture at the moment. This girl is asking for "high fives" for "women's reproductive rights" AKA abortion, homosexual and transvestites and a whole bunch of other preferences "equality," a "high five for love" whatever her definition is, "human rights" and "freedom of speech but not hate speech" presumably meaning I should not be allowed to speak, and then a bunch of stick figures at the bottom depicting two women and two men as good and then a stick image of male and cat with words to the effect that love is good so long as it is "platonic." The woman was not cooperative in letting me get all the information on her sign, but I think I got it pretty good. Basically she can judge bestiaphiles, but I am not allowed to comment on homosexuality.....
My faithful activist Darcy manning our booth as lots of students walk by.
Me and my friend Darcy and our table
One of the pro-homosexual/anti-free speech activists invited me to their announcement at 3:00 PM by their table which was 100 yards or so from my table. Due to a fairly important discussion with an inquiring student, I was a little late for the announcement; however, I got the tail end of it. It seems they were announcing what they thought was successful fund raising for the homosexual cause on the U of R campus due to my presence (I think that was the gist of it???) Even though I got invited to the announcement, the anti-Whatcott protesters mostly refuse to talk to me so it is hard to report on their announcement accurately as I am late for it.
Insert:
CBC reported in an article on my witness that the school is wasting $6000 worth of taxpayer's money giving an annual bursary to students based not on financial need, but rather on the self identified perverted sexual preferences of the student."
Today's prophetic witness was more quiet than the University of Calgary's witness. We enaged with a number of students and faculty, mostly between 10:30 am-1:30 pm or so. Two faculty that I know of stopped by the table and took literature, but didn't want to talk. Half of the students who did stop and talked with us were Christians and agreed to varying degrees with us. A number of the "friendly" Christian students were from Nigeria and one couple was from Eritrea. One white male Christian talked to us and spoke from his experience of how many white males are discriminated against on campus. He noted there are bursaries for females and minorities that can even be accessed by recipients who are financially well off, but that poor white males have no bursaries for them. I told the fellow white males need to reject the "white priviledge" label and quit hating themselves and learn to speak out against such injustices.
One Nigerian Doctor stopped by to support us and shared with some of the students. Some hostile folks did stop and take literature, though most declined. Three East Indians (two girls and one male) argued with me and felt that my images of homosexual diseases and murdered children was wrong. The President Vianne Timmons put out a mass e-mail to U of R employees warning them we were coming. She has still refused to really accept that we have a right to speak about moral issues such as homosexuality and abortion on her campus.
We wrapped up at 4:30 pm and are now driving to Edmonton to witness in support of persecuted Christian School Principal Brian Coldwell. Please pray for our travel mercies and that our next witness bares good fruit.
Please stand with us if you are able!
Demonstration in support of Brian Coldwell!
Time: 11:00 am - 12:30 PM, Friday, October 21st
Alberta Legislature Building
107 Street and 97 Avenue, Edmonton, AB
In Christ's Service
Bill Whatcott
"

In You, O Lord, I put my trust; Let me never be ashamed

." Psalm 31:1