Dear Friends,
Life has been pleasant so far here in the Philippines. Other than coming close to getting killed by a speeding truck when I was running on foot down a highway in Shanghai (trying to find a store to get a fridge magnet for Joni Whatcott) my stay in China was otherwise uneventful. Opportunities to share the Gospel were very limited as I seemed to have gotten off the tourist path and almost no one who I met spoke or understood English.
Somehow, I ran into these two police officers while looking for my wife's fridge magnet.
After unsuccessfully attempting to educate the cops on why they should accept Jesus Christ as their Lord and Saviour and forget about communism, I opted for a photo with them instead. They didn't seem to have any idea what I was saying as my mouth flapped, but they seemed to understand and were cooperative when I gave a passerby my camera phone, so I stood with them and got this picture taken and then I bowed to them and said "Xièxiè" (the one Chinese word I know) which means "Thank you" and they let me go on my way.....
Anyways, I eventually got hungry booting around Shanghai looking for Joni Whatcott's fridge magnet, so I found a restaurant with reasonably priced food. The waitress and manager did not know a word of English and I have no idea how to read a unilingual Chinese menu, so I just pointed at a group of Chinese characters on the menu and kept saying "I want that, I want that!" I had no idea what "that" was but given my tolerance for "diversity" when it comes to food, I thought I would probably be cool with whatever came out of the kitchen. Indeed I was not disappointed....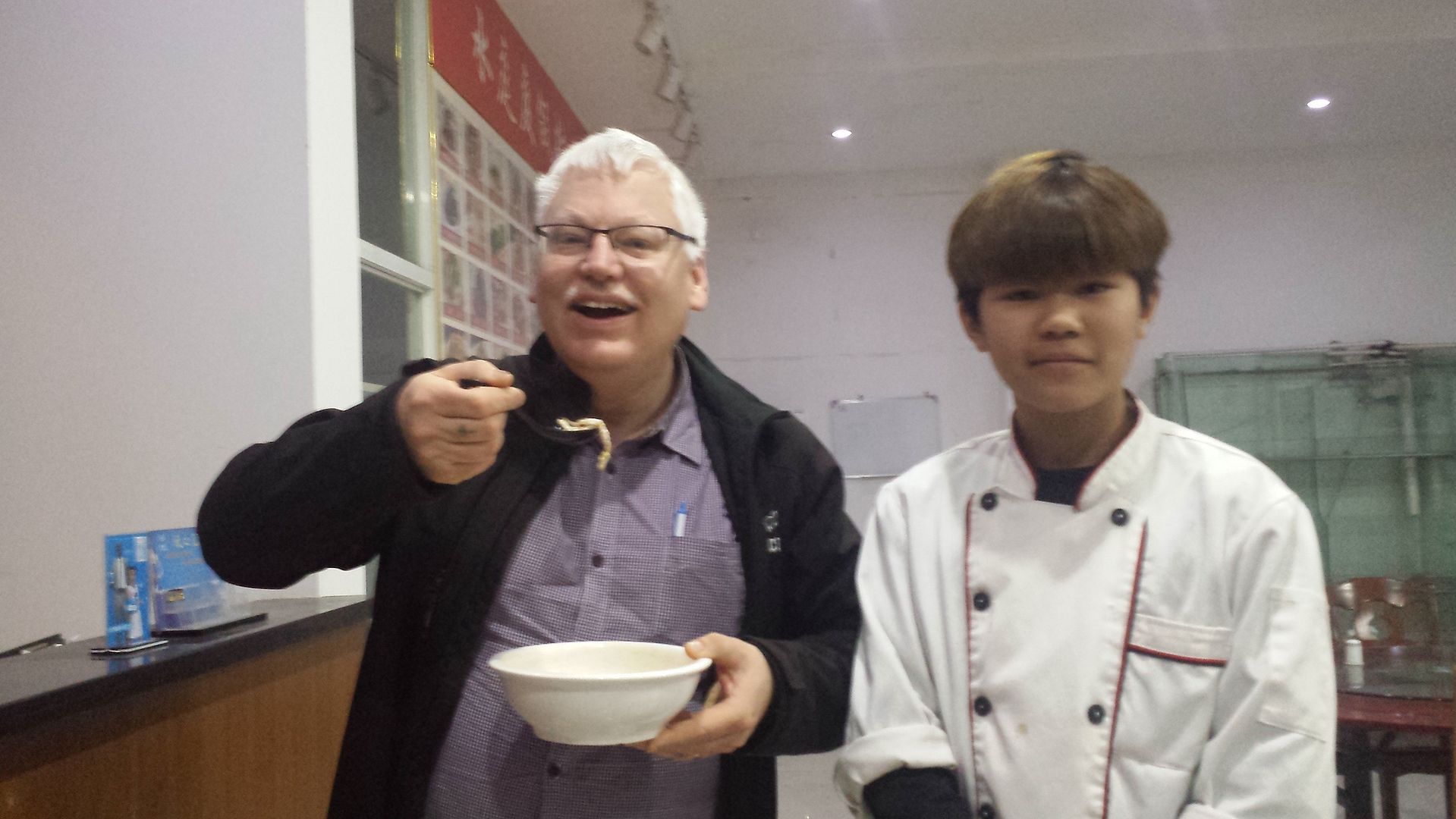 Not sure what it is, but I rather liked it. It cost me 20 Chinese Yuan. I think (but am not 100% certain due to language barrier) this is the chef who cooked up my dish....
Anyways, I did eventually find a store that sold fridge magnets in Shanghai. Here is Mrs. Whatcott's new fridge magnet......
Once, I landed in the Philippines I called Jerome (a homosexual who sent lewd messages to me on the internet, but who didn't realize that I knew where he was living and he didn't realize I was coming to the Philippines and passing through his hometown the month he sent the lewd messages). Anyways, I charitably blackmailed him when he begged me not to let his mother know that he was internet perving after I rebuked him and told him I knew where he was. I made a deal that if he went to church with Mrs Whatcott and I, I wouldn't out him to his family. Anyways, I called him to see if he wanted to go to church and breakfast with Mrs. Whatcott and I, however he seems to have bailed on his end of the deal as I am just getting excuses as to why we can't get together. Well Jesus never forced people to come to Him and the blackmail was only charitable in nature, so assuming Jerome reads this as I know he reads my Facebook, he is released from his end of the deal, though he still has six weeks to reach out to Mrs. Whatcott and I if he wishes...
"

The kingdom of heaven is like a certain king who arranged a marriage for his son, and sent out his servants to call those who were invited to the wedding; and they were not willing to come.

"
Matthew 22:2,3
However, we were blessed to be able to go to church with our friend, the former homosexual who is now a new creature in Christ, Ariel.... who once I found out about him is now my barber. That is Ariel's father in the background.....
Ariel was an open homosexual for a number of years, but now he is an open Christian and indeed he is willing to be a support for Jerome too, if Jerome chooses to keep his end of the bargain and come to church and breakfast with us one of these weekends.....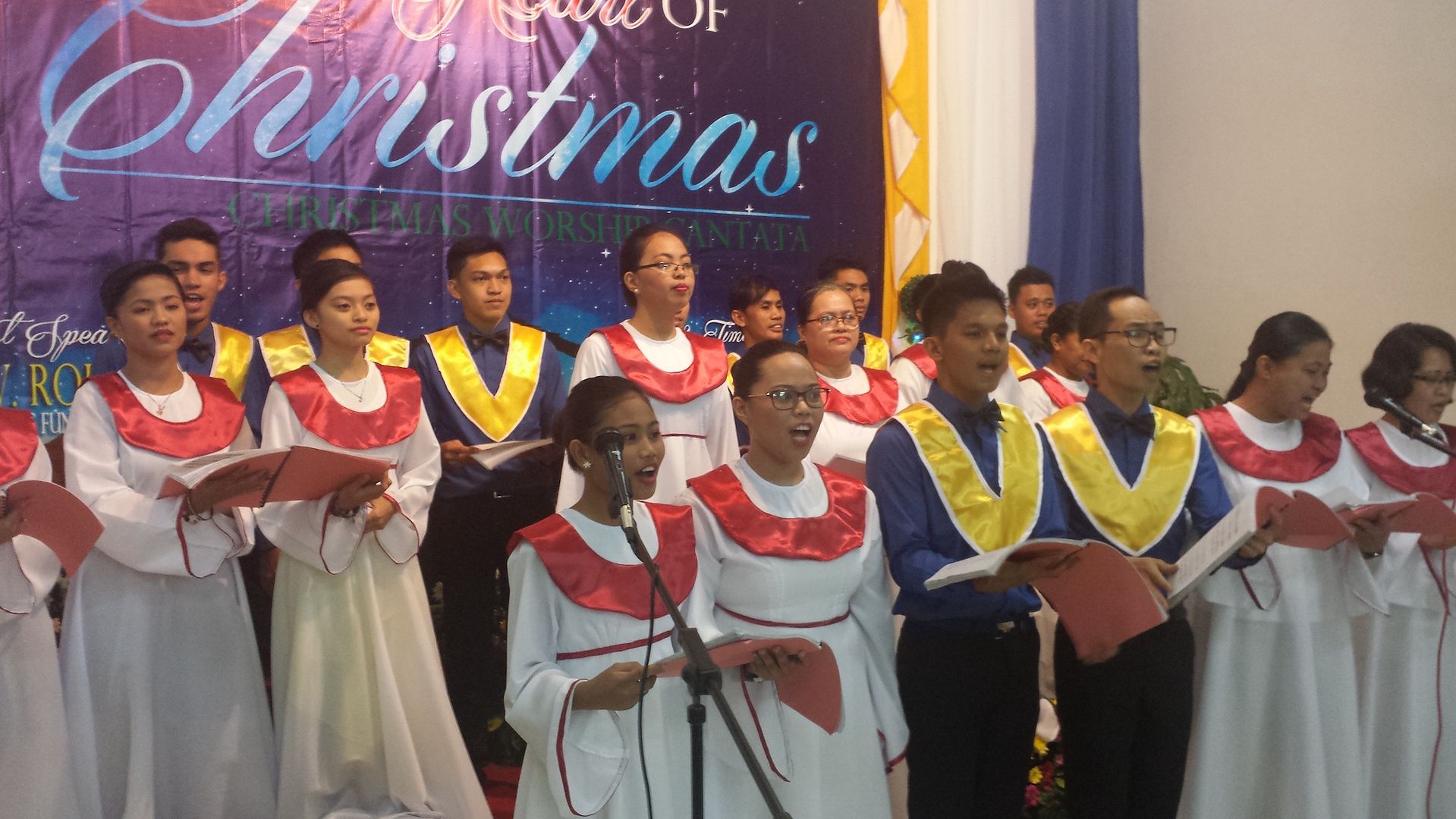 Here is Ariel singing in the choir at his church for their Christmas celebration. Ariel is the fellow with the glasses at the front of the choir (3rd person from the right).
"

Do you not know that the unrighteous will not inherit the kingdom of God? Do not be deceived. Neither fornicators, nor idolaters, nor adulterers, nor homosexuals, nor sodomites, nor thieves, nor covetous, nor drunkards, nor revilers, nor extortioners will inherit the kingdom of God. And such were some of you. But you were washed, but you were sanctified, but you were justified in the name of the Lord Jesus and by the Spirit of our God.

"
1 Corinthians 6:9-11
Anyways, for prayer needs please pray for an effiminent transvestite homosexual who lives on the edge of the Lipa slum, about 15 minutes from where I live. I have been talking to the fellow almost every day, when I walk by his mother's hair salon. They have a half starved dog, so I go over there and feed it. The dog's name is "Acura" and he is absolutely adorable, even though he is also full of fleas; but the transvestite is happy I drop by to feed his dog. I mentioned God to the fellow once and I only refer to him by his proper male pronoun. The nice thing about the Philippines is almost everyone (no matter their sin) is open to hearing about God and because homosexuals are not endowed with special rights and it is acceptable to refer to homosexuality as a sin here, there is absolutely no expectation by homosexual transvestites that you will pander to their gender delusions. So, thanks to Filipino law not being completely insane with "gay" activism as it is in Canada I have fewer barriers to overcome here than I have when ministering to homosexuals in North America. I also note it is refreshing the sodomites in the Philippines have no human rights commissions or hate crimes units to run to when I offend them, so I don't have to deal with lawsuits, human rights complaints, or other forms of government persecution here, unlike Canada, which is in the grip of homofascism at the moment.
Anyways, also please pray for next week as I will be travelling to Mindoro for a three town ministry tour with my friend Pastor Joey. I am hoping to visit the Mamburao Provincial Jail while I am there. I don't know all of the details of the ministry we will be doing yet, but my wife told me she talked with Pastor Joey and I will be visiting the towns of Mamburao, Sablayan, and Santa Cruz, from the dates of December 19-22.... Please pray that God uses me effectively during this time.
For those who don't remember my Mamburao Prison Ministry I think 3 or so years ago, here are a few picture of the Island. It is a relatively undeveloped place, even by Philippines' standards. The Island is on the north east end of the Philippines archipelago, bordering the South China Sea.
Here is the coast when you pull into Peurto Galera
The interior of the island consists of rice fields and sparcely populated mountains. One can hunt wild pigs and small deer in these mountains.
In addition to Tagalog speaking Filipinos, the island has an indigenous population that is seperate and still quite isolated
from the mainstream Filipino population.
Anyways, I am looking forward to touring the Island and will hopefully be used by God to minister the Gospel and minister to practical needs while I am there. Pray also for God to keep me safe while I am there.
As for the $104 million dollar lawsuit that was laid against me for charitably and subversively delivering life saving Gospel literature and accurate information on the downside of sodomy to the Toronto Shame Parade?
A two day hearing will be held in the Toronto Superior Court on

Wednesday, February 8 and Thursday, February 9th

....
I will be literally be flying in from the Philippines, resting one day in Vancouver and then I will flying to Toronto to deal with this abominable lawsuit.
I will be landing in Toronto at 6 am on Sunday, February 5th.
God has already blessed me with my airfare and lodging while I am in the Toronto area. However, I do have a need for a vehicle as I have a number of errands to do and people to meet while I am in Ontario. If anyone could help with a car rental or if any of my friends has a spare set of wheels I could borrow from February 5th - 11th, I would be grateful.
Due to circumstances hindering my ability to organize the sort of demonstrations and truth offensives that typically accompanied my trials, I was worried that no truth offensive or picket was going to bring the Christian pro-life perspective to the public during this hearing and indeed I had to commit the matter to prayer.
Whatcott and Peter LaBarbera picket their trial at the Regina Provincial Court in 2014
Well, praise God, even though I can't organize these sorts of things this time around, God has raised up a Christ loving Serb firebrand who is charitable enough to try to save Canada's democracy from Sodom, even though we bombed her country in a completely uprovoked war of aggression in 1999; and indeed we Canadians, along with the Americans, and European Union have also inflicted sodom parades, pro-homosexual activism, and pro-homosexual laws on her country, just as we have in the Ukraine, where these abominations were completely unkown, until we decided to "help them out."
Anyways, Jadranka and her Serb community has loved us enough inspite of our "humanitarian bombing" of her country, and our direct help in creating a dysfunctional Islamic state (Kosovo) out of what was an Orthodox Christian Serb province for 900 years, the Serbs donated $1300 to my lawyer's legal defense and Jadranka informed me she will be organizing a protest in front of the court house and a massive flyer distribution throughout Toronto informing taxpayers of Prime Minister Justin Trudeau and Premier Kathleen Wynne being named as plaintiff's in this politically motivated lawsuit.
Well, if God put it on her heart to do a great work like this, who am I to discourage it????
"

I must work the works of Him who sent Me while it is day; the night is coming when no one can work.

" John 9:4
Demonstration in front of Osgoode Hall!
Wednesday, February 8 & Thursday, February 9, 2017 from 9 - 10 am
Osgoode Hall, 130 Queen Street West, Toronto, ON
The trial will be from 10:00 am to 4:00 pm both days and the hearing will apparently be taking place in the Osgoode Hall Courtroom
I can't formally sanction it but I was also asked to encourage my friends in Ontario and bordering US states to please consider helping Jadranka out with delivering the flyer she is coming up with. I have no precise details on what exactly the flyer will say (I believe Jadranka and Kari Simpson might be working out details.) I can only say thousands are going to be hitting the streets and certainly while I can't actually lead such an effort, as a free citizen I can certainly be a moral support and say I appreciate the delivery of these truth and freedom affirming flyers. I invite my friends who care about our religious liberty and free speech to help Jadranka and her friends to go door to door and deliver our perspective on this political lawsuit. We can if we work at it, bypass the media and let people really know what is going on with malicious homosexual activism in our courts. I urge you to consider donating a few hours of time and energy to help with the effort and to stand up for the not only our's, but also our children's future and freedom.
"Many hands make a lighter workload"
While I have not seen the text, I believe the editorial cartoon below will be part of the brochure that will be delivered door to door in Toronto. I believe Kari Simpson commissioned the creation of this editorial cartoon.
Trudeau the Chopper of Rights
Prime Minister Selfie Zoolander is the guillitine operator. The homosexual activists who launched the lawsuit against me are bottom left. Yours truly and Professor Jordan Peterson are in the execution line to the right.
The dates of the flyer delivery will be
February 5-10
. If you can only help for part of one day or for all of the days, please give Jadranka a call! I will not be leading this effort, but I do support the effort in principle and I will be certainly be on hand thanking and supporting my friends who donate their time and energy to this important mission!
To contact Jadranka
Phone number: 226-581-2456
E-mail: jaurys76@ gmail.com
In Christ's Service,
Bill Whatcott, Executive Director of the Christian Truth Activists
"

And the Gospel must first be preached to all the nations. But when they arrest you and deliver you up, do not worry beforehand, or premeditate what you will speak. But whatever is given you in that hour, speak that; for it is not you who speak, but the Holy Spirit.

"
Mark 13:10, 11