Here I am pulling up to Mindoro Island. My fever was gone, but my chest infection still bothered me and I coughed quite a bit while in transit to the island. I prayed and asked God that He would help me and not let my chest infection get in the way of the ministry. I took this picture from the deck of the ferry.
"The Lord has heard my supplication; The Lord will receive my prayer."

Psalm 6:9
Here you can see Mindoro on the map. The island is directly south of Manila and the island's western coast touches the South China Sea.
When I arrived my friend Pastor Joey (to my left) picked me up at the port of Abra De Ilog and drove me to his home in Mamburao. Here are some of the children who attend his church, which we are standing in front of.


While the western abortion and contraception mentality is taking root in large centres of the Philippines like Manila, in undeveloped areas where Christianity is alive and well children are still welcomed. I was asked to share with the young people a message about Christmas. I shared from Luke chapter 2, how I find it to be neat that Almighty God came into our world to free us from death as a seemingly defenseless infant.

I believe western evangelicals have to more critically examine the moral implications of using artificial contraception in their marriages. I believe the contraceptive mentality is contrary to God's design for marriage and has played a role in the west's high divorce, promiscuity and abortion rates. The often repeated mantra (even by some Christians) that easy access to contraception reduces abortion is not true. Contraception is also a reason why so many churches in North America are sterile and childless. Many Godless North Americans will see this above picture of poor but well loved children standing in front of a church as a tragedy. The reality is while these folks are poor, the children they have bring joy and there is life and vitality here that the west lacks.
"

God blessed them, and God said to them, 'Be fruitful and multiply; fill the earth and subdue it; have dominion over the fish of the sea, over the birds of the air, and over every living thing that moves on the earth.'

"
Genesis 1:28
The next morning Pastor Joey and I left early to go to the Mamburao Provincial Jail to minister to the inmates. There were 160 male inmates and 15 female inmates in the prison. Some inmates are held on remand for years at the Mamburao Jail, others are sentenced and serving long sentences, as in sentences lasting more than a decade.
Pastor Joey praying for the inmates
Youtube video of my sermon at the Mamburao Provincial Jail on 1 Peter 2:11-25. If you don't understand Tagalog you can save 3 1/2 minutes time by skipping 3:25 - 7:00, as Pastor Joey is simply reading the Scripture in Tagolog that that you already heard me read in English. God was very good. I did not cough once during my time of ministry in the jail.
Inmates participating in prayer and worship songs before I delivered my sermon.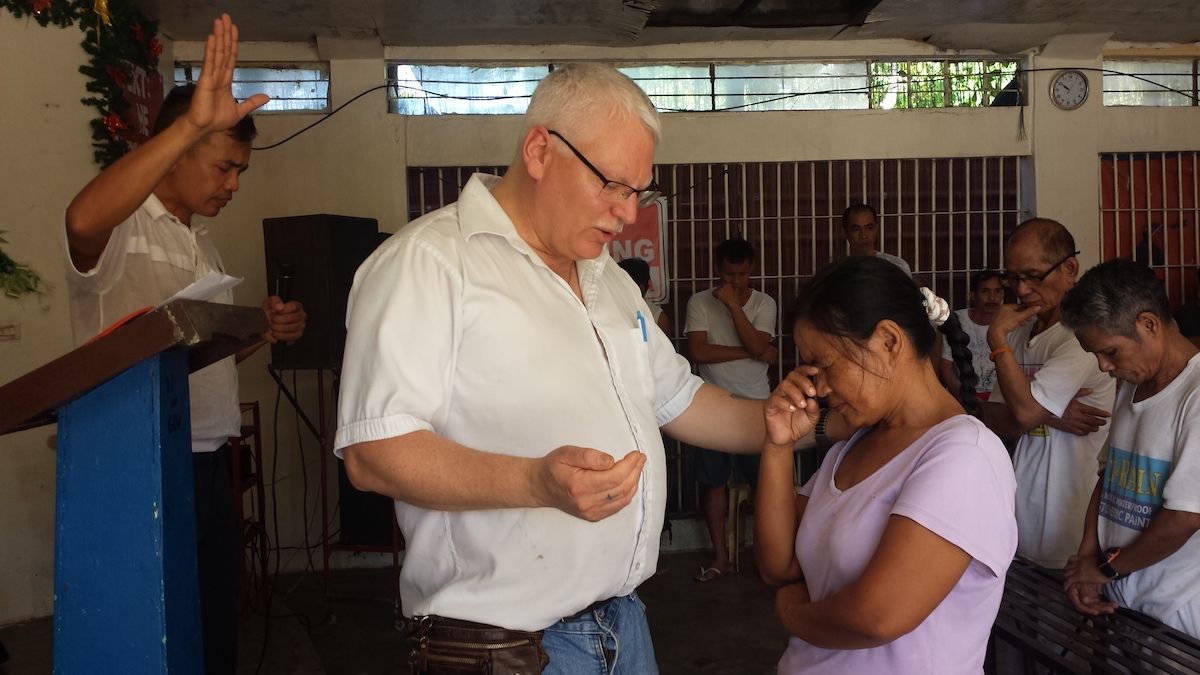 This woman came to the alter broken after I delivered my sermon which was heavy with Law and Gospel. I prayed for her and asked God to comfort her and draw her closer to Himself, while she has to remain in prison.
"Blessed be the God and Father of our Lord Jesus Christ, the Father of mercies and God of all comfort, who comforts us in all our affliction, so that we may be able to comfort those who are in any affliction, with the comfort with which we ourselves are comforted by God."


2 Corinthians 1:3, 4
These two men are long term inmates at the prison. The older man with the glasses has been incarcerated in the Mamburao Provincial Jail for 12 years.
Here are two interesting looking characters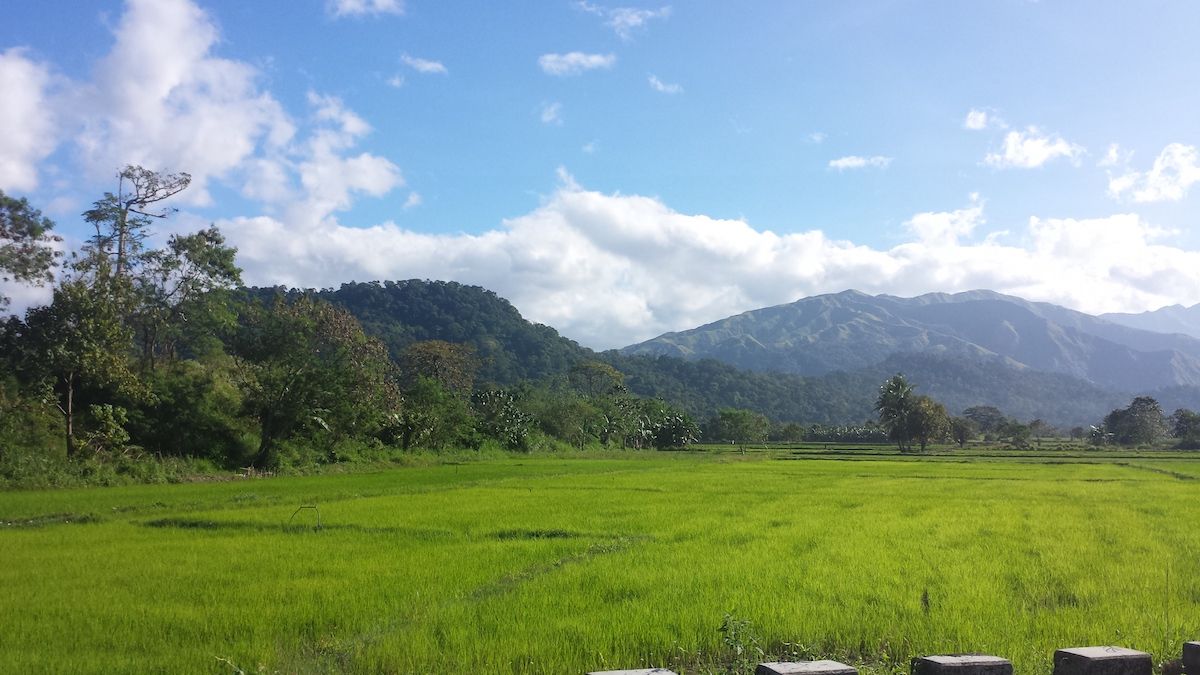 The following morning Pastor Joey and I headed to Sablayan Prison and Penal Colony. In this picture we are 5 minutes from the grounds of this massive 40,000 acre prison farm, that houses 3,000 inmates serving sentences ranging from a minimum of 3 years to a maximum sentence of natural life without parole.
Me sitting on the back of a Che Guevara stickered tricycle heading to the Sablayan Penal Colony to preach the Gospel to
the inmates
In this video I decide to educate my tricycle driver about the fanatical, communist, mass murderer Che Guevara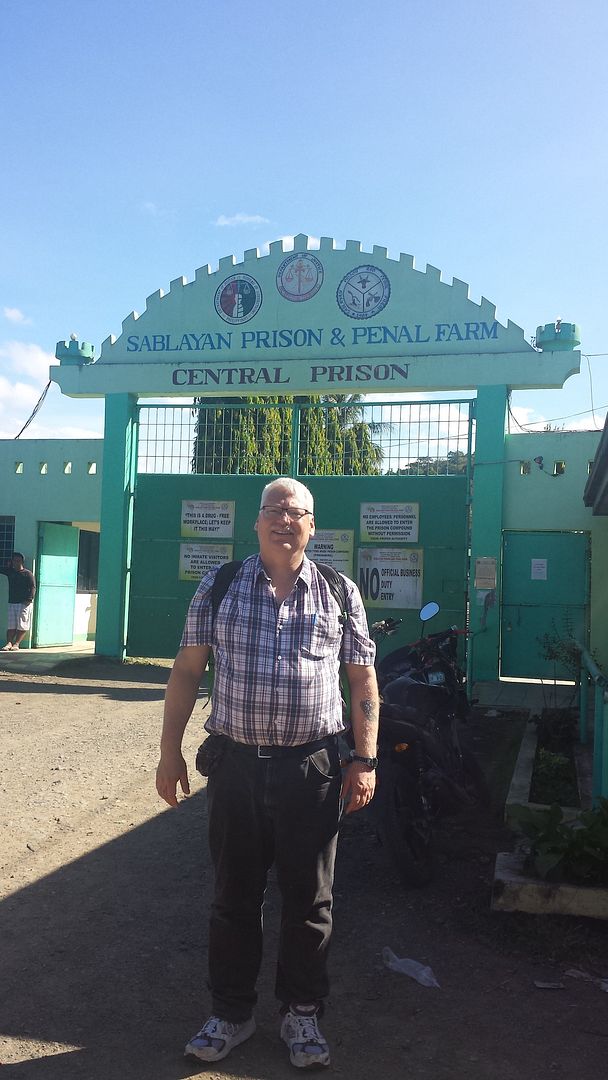 Here I am at the gate that leads to the medium and maximum security sections of the penal colony. Unfortunately, unkown to Pastor Joey, security screening requirements at Sablayan Penal Colony have tightened up since Filipino President Duterte declared his war on drugs and I had to be "pre-approved" by the Bureau of Prisons in Manila before I could be allowed in to see the higher level of security inmates in the prison. While it was unfortunate that I travelled four hours one way to be able to preach to the inmates to no avail, I will note that in six months of Duterte's war on drugs and corruption that he has accomplished more in terms of success on both fronts with way less in terms of resources than Canada or the United States accomplished spending billions of tax dollars over a period of forty years.
I did get to meet this fellow though while I wandered around the minimum security prison farm section. I found him interesting
as he is a long term inmate who has lived in the penal colony for decades. The prison made him a trustee and gave him a club
to keep order amongst the inmates.
On to other news. So far a kind Priest in Ottawa gave me a $100 donation for my transportation needs in Toronto during my upcoming February 8 & 9 hearing. I still have a need for some more donations as I will have to rent a car for the week that I am there and I will be close to broke after I return from the Philippines. The cost of living here is low, but I have multiple people here to feed. The work I do here with the inmates and poor has a great heavenly retirment plan, but no actual wage for this life. I note left wing, unionized, poverty pimps, of the sort that infest Vancouver's East Side; allegedly helping the poor with government funded programs providing everything from subsidized, drug user friendly housing to free needles and condoms are no where to be seen here. It is good they are not around, as guys like me who are happy to work for free with no threats of going on strike for taxpayer funded pay raises can fill the void in a much more cost effective and morally coherent manner than those sorts who monopolize and pollute the poor.
As for the February hearing and planned (not by me) prophetic witness, please continue to keep these things in your prayers. I can't go into too much detail, but it seems Satan and the sodomites in Toronto are quite angry and they have been lashing out in rather nasty ways the last few days.
Finally, I pray all my friends and enemies will have a blessed and Christ filled Christmas. Remember Jesus is the reason for this Season....
"For unto you is born this day in the city of David a Savior, who is Christ the Lord. And this will be a sign for you: you will find a baby wrapped in swaddling cloths and lying in a manger." And suddenly there was with the angel a multitude of the heavenly host praising God and saying, "Glory to God in the highest, and on earth peace among those with whom he is pleased!"


Luke 2:11-14