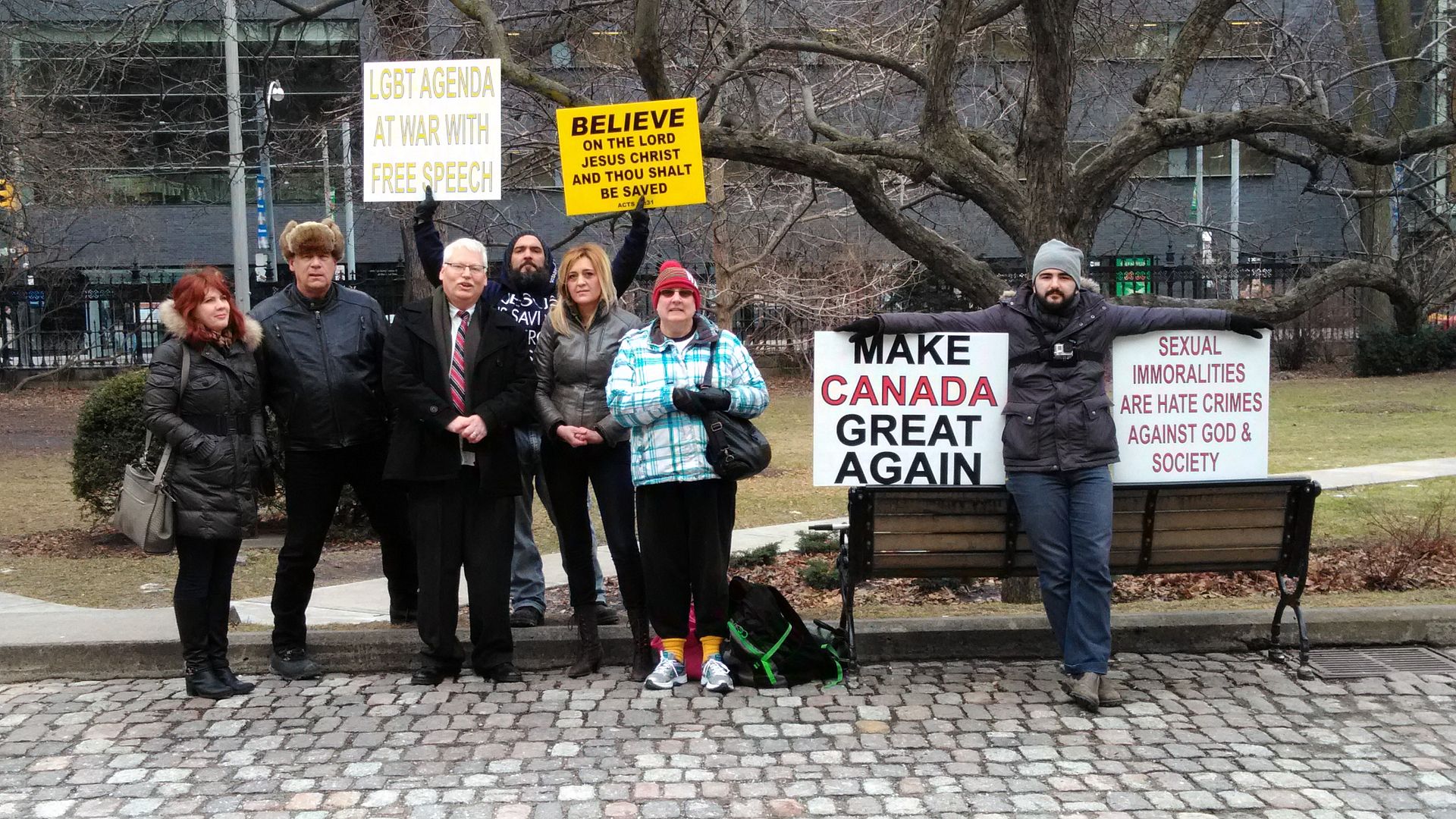 Faithful friends witnessing outside of the Osgoode Hall Superior Courthouse. I would not have gotten to know these friends so well if it wasn't for the homofascists suing me. If there is one good thing that came out of this lawsuit it is the privilege of getting to know every single person in this photo.
Dear Friends,
Here are is one news story and two commentaries regarding the Feb 8 & 9, $104 million lawsuit. It seems to me the mainstream media decided to put a blackout on this hearing, but Lifesite sent a reporter to cover the hearing.

No grounds for $104 million suit against 'gay zombies' at Pride Parade: lawyers ask for case to be dropped
Leanne Laurence, LifeSite News
Tue Feb 14, 2017 - 9:22 am EST
https://www.lifesitenews.com/news/no-gr ... de-lawyers
TORONTO, February 14, 2017 (LifeSiteNews) – An Ontario judge reserved judgment after a motions hearing last week on the $104 million lawsuit against Bill Whatcott and others who marched in the 2016 Toronto Pride Parade disguised as "gay zombies" to distribute fliers on the spiritual and physical dangers of homosexuality.
Whatcott's lawyers, Charles Lugosi and John Findlay, argued in front of Ontario Superior Court Justice Paul Perell on February 8-9 that the lawsuit is a "SLAPP" or "strategic lawsuit against public participation," which has no legal merit, is an abuse of process and should be dismissed.
To read more:
https://www.lifesitenews.com/news/no-gr ... de-lawyers
----------------------------------------------------
Jannet Mefferd Today Podcast
Janet Mefferd interviews Bill Whatcott after his two day hearing
https://soundcloud.com/janetmefferdtoda ... ferd-today
-----------------------------------------------
Cry-Bully Smitherman vs. Apostle Whatcott
February 5, 2017Uncategorized
By John McKellar
Hopenow2004
I've had personal contact with both Bill Whatcott and George Smitherman.
In 1998, Bill Whatcott interviewed me at his home for a feature article in the Interim
https://www.theinterim.com/issues/socie ... e-baptist/
. Prior to that, Bill and I participated in some protests and a number of events which were of mutual interest. Notwithstanding that I am openly gay and that Mr. Whatcott is allegedly homophobic, I always found him to be compassionate, welcoming and non judgemental. Further evidence of his tolerance and humility can be found in various media interviews he has conducted throughout the years. Bill's equanimity always surprises the hosts who are expecting a belligerent, spiteful Fred Phelps persona.
As a result of the piece in the Interim, I received a request from CITY TV to appear as a guest on a panel which included George Smitherman. The host, Colin Vaughan, tried to inject some levity into the tension in the room by noting that both George and I were single and wondering if there was any chance we might hook up. George was childishly hostile to that suggestion and sneered that he would never consider such a liaison with a hateful person like me. I tried to lighten atmosphere by suggesting that if Colin showed him my photo, he might change his mind. But poor George continued to scowl.
And Smitherman's humourless demeanour and condescending arrogance continues to this day. He is truly a preeminent cry-bully and censorship warrior in the LGBT community. His antagonistic attitude does more harm to gay culture than a dozen Bill Whatcotts ever could. Pursuing legal action against someone who distributes contrarian flyers at the Pride Parade is futile, fascistic and serves only to feed Smitherman's bloated ego.
To read more:
https://hopenow2004.wordpress.com/2017/ ... -whatcott/
------------------------------------------------------------------------
Gaystapo Hit Pranksters with $106 million Nuisance Suit
Henry Makow
February 12, 2017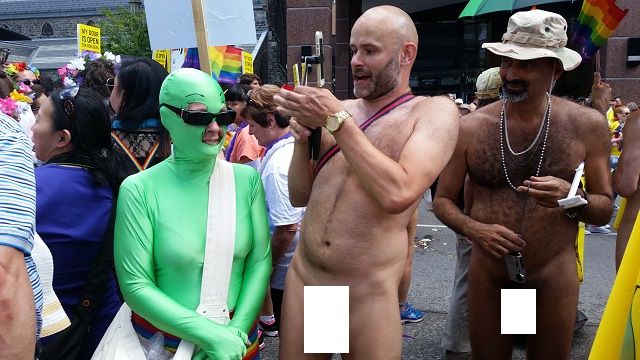 (Acts of gross indecency are ignored because, as agents of societal dissolution, gays are a protected class.)
TOTAL MEDIA BLACKOUT of TRIAL LAST WEEK
Last summer, Bill Whatcott and a few fellow "Zombies" infiltrated the 'Gay Pride' parade in Toronto, disguised in green body suits. They handed out thousands of Christian tracts, disguised as "condoms". They managed to get away with it, and get out of there, before any trouble started
A few months ago, gay activists George Smitherman and Douglas Elliott sued Bill Whatcott and "John Doe /Jane Doe" for $104 million in a class action lawsuit, claiming that everyone in that parade - including Justin Trudeau in his capacity as Prime Minister of Canada - suffered "mental harm" by the actions of Bill Whatcott and his band of merry pranksters. The first stage went ahead last week ... submissions by Elliott and Smitherman as to why it ought to be certified as a class action. Gordon, a reader, says, "The thing is laughable from the first instance, the very definition of "frivolous and vexations" .. yet ... in this absurd political climate, it is ominous that it got this far."
To read more:
https://www.henrymakow.com/2017/02/gays ... pWHtn.dpuf
"In this is love, not that we loved God, but that He loved us and sent His Son to be the propitiation for our sins."


1 John 4:10