Me and my friend Pastor Gerhard Wilch went to the Franklin Graham Festival of Hope crusade to show our support!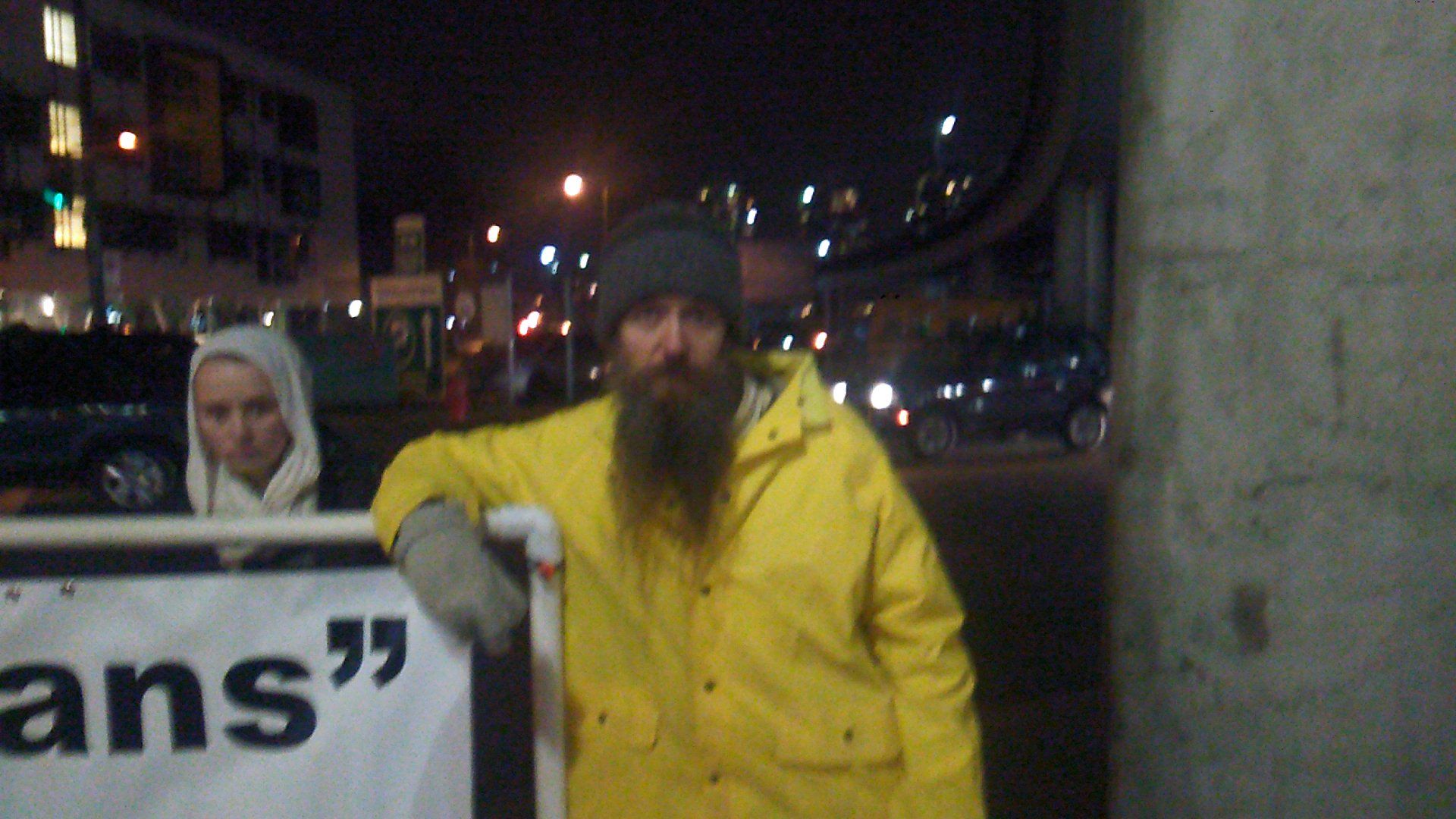 I looked for protesters. I went out the main entrance with my friend Pastor Gerhard and we found these two Christians sort of protesting with a sign. The leftists that were to be whipped up by the media were a small number and by the time Gerhardt and I went out to meet them (15 minutes into the crusade) they were nowhere to be found!
In spite of widespread media and liberal church opposition that seemed mostly bigoted, pompous, and devoid of real substance, Roger's Arena was absolutely packed for the Franklin Graham Festival of Hope Crusade!
A bunch of liberal ministers cobbled together an open letter that can be seen here:
https://vancouveropenletter.wixsite.com ... lin-graham
Some of the signatories belong to the United Church of Canada, who do not have a history of being either "loving" or "tolerant" towards Christians who hold to Biblically orthodox positions on human sexuality. In fact the United Church of Canada intervened in the
Whatcott
case when it went before the Supreme Court of Canada and their lawyers strongly argued in support of so-called "hate speech" laws, knowing full well such laws will be used to prosecute Christians who speak on issues such as homosexuality and Islam. The United Church's signatories in the above letter condemn Franklin Graham for "mixing politics with religion," but what of their own church? The religious left mixes politics and religion all the time, mostly to further the secular agenda to the detriment of orthodox Christian believers!
Sadly, a dozen or so other churches, not to mention the Vancouver Roman Catholic Diocese decided to publicly ridicule the Franklin Graham (their letter claims they are not, but of course that is what they are doing) and put their signatures beside the signatures of United Church Ministers who hold extreme anti-Christian views.
Bill Whatcott talks to two professed Christians who are witnessing at the Franklin Graham crusade. These two Christians witnessing with a sign at the front entrance of Roger's arena seemed to believe we could reach sinless perfection in this lifetime, that we should give away all of our possessions to be truly saved, and that middle class Canada is not God's will for those who follow Jesus.
In 1999 I met, photographed, and interviewed, a United Church Minister named Cheri DiNovo for the Interim Pro-Life newspaper. Today DiNovo is an Ontario MPP for the hard left NDP. As a politician the United Church Minister is a tireless advocate for homosexuality, transgenderism and abortion. DiNovo also championed a bill outlawing therapy for minors struggling with unwanted same sex attraction. It is generally Christian therapists who understand correctly that sexual behaviour, including homosexual behaviour, can be changed and indeed it is psychologically and physically beneficial for one to successfully overcome homosexual attraction. However, for DiNovo (a United Church Minister) such a faith based, common sense, perspective is not only wrong, it has to be illegal.
I met Cheri DiNovo during a protest against a pro-life conference hosted by Human life International. While DiNovo herself was not violent, she came to the protest with a pro-abortion sign and wearing her United Church clerical garb and stood with homosexual activists, feminists, and anarchists, who fought with police and who held hideously hateful signs like "Virgin Mary please abort Jesus" and "F--K the Christian Right."
I protested with a friend in front of DiNovo's Church the following Sunday and brought her church the evidence of the vile behaviour that went on at the anti-HLI protest and their minister standing in the protest in full solidarity while expressing no concerns about the blasphemy, hate speech, and violence going on around her. Her United Church congregation and husband (who was also a United Church minister) was fine with her behaviour, and had nothing really to say about hate speech directed against pro-life Christians by DiNovo's fellow protesters. But the United Church has problems with Franklin Graham?
The other signators, so-called Baptists, Anglicans, Mennonites, Vineyard, etc... have a problem with Franklin Graham because he does not want his country flooded with unvetted Muslim migrants like Europe, which is now suffering a crime wave and semi regular terrorist attacks and because Graham affirms the Biblical position on sexuality; but they can put their signatures beside the signatures of United Church leaders who have no problem with their leadership denying the resurrection of Christ, engaging in political activism to promote homosexuality and silence orthodox Christian dissent, and who can engage in "hate speech" with feminists, homosexual activists and anarchists. The United Church leadership is full of hippocrites with serious bigotry problems of their own. The other "church leaders" strike me as "useful idiots," who didn't do their homework at best, and possibly unprincipled cowards, hippocrites, and bigots themselves. The Church leaders who chose "unity" with the United Church and who condemned Franklin Graham are definitely not actual leaders (in the Godly sense) at all.
The various Church leaders who penned the above letter criticizing Franklin had no actual theological argument against Graham and their concerns were more hippocritical than substantive in nature. The Vancouver church "leaders" wrote of Franklin Graham's public comments in support of Donald Trump,
"Such blending of politics and religion is dangerous. First, it comes close to aligning the power of the church with the power of the state. Second, it does so by seeming to develop a false religious narrative to support an exalted and troubling American nationalism."
Then a mere two sentences later they write,
"we are concerned that some of the policies of the Trump administration have introduced unprecedented structural shifts that put the most vulnerable in our world at risk of greater harm."
So, according to Vancouver's left wing "Church Leadership" it is ok to be partisan, so long as you are opposed to Donald Trump like them, but it is not ok to be partisan if you support Donald Trump like Franklin Graham.
Anyways, the "religious left's" public positions on uncontrolled Muslim migration and homosexuality are putting vulnerable people in the west at risk of harm and their leaders should be called out for engaging in such harmful political activism. It is also worth noting the worst violence is suffered by Christians living in the Middle East and the perpetrators are always Muslims. However the leadership of the religious left, including Vancouver's religious left, has done no advocacy to address the Canadian government's reluctance to help Christian refugees. I note Donald Trump's administration is making the plight of persecuted Christians in the Islamic world a priority (unlike the Vancouver "church leaders"):
https://www.gatestoneinstitute.org/9574 ... bove-cross
At best these so-called "leaders" are moral and theological cowards who are quite simply on the wrong side of truth and ultimately will be on the wrong side of history.
Here are some excerpts from the crusade that I recorded that you can see for yourself.
Franklin Graham was gracious, but he did not shy away from letting us know we have a sin problem. (March 3, 2017, at Vancouver's Roger's arena)
Franklin Graham spoke at the Vancouver Festival of Hope, and defended God's intention of sex being reserved for life long heterosexual marriage in the midst of controversy and opposition by those who hate the truth.
2,000 people were reported to have responded to Franklin Graham's altar call to give their lives to Jesus Christ during the Festival of Hope crusade
While I want to be on record as being publicly supportive of the Franklin Graham Festival of Hope crusade, I will offer one critique here of a very important doctrinal defference between myself and Baptists like Franklin Graham.
I am not a huge fan of "decision theology." I know Lutherans and Catholics who have loved and served God from childhood and who confess Jesus Christ as their Lord.
"

If you confess with your mouth that Jesus is Lord and believe in your heart that God raised him from the dead, you will be saved.

"
Romans 10:9
Unlike Franklin Graham and many of my Evangelical friends, I believe infant Baptism and baptismal regeneration are correct, Biblical doctrines. The Anabaptist doctrine of so-called "Beliver's baptism" is a severe error and misunderstanding of both Scripture and historic church teaching in regards to God's sacramental gift of Baptism.
"

Whoever believes and is baptized will be saved, but whoever does not believe will be condemned.

"
Mark 16:16
Those who support Baptism only after a verbal profession of faith often incorrectly assume children can't believe. In actual fact apart from the grace of God adults are unable to believe and children seem to be able to come to a saving faith easier than adults.
"

Let the little children come to Me, and do not forbid them; for of such is the kingdom of God. Assuredly, I say to you, whoever does not receive the kingdom of God as a little child will by no means enter it.

"
Mark 10:14,15
"

Corresponding to that, baptism now saves you—not the removal of dirt from the flesh, but an appeal to God for a good conscience—through the resurrection of Jesus Christ.

"
1 Peter 3:21
It is clear from the story of the thief on the cross that God has not confined Himself to only working through Baptism. The sincere faith and repentance of the thief at the hour of his death was sufficient for Christ to forgive the now ex-thief and bring him into heaven, (see Luke 23:39-43). However, the above passages from Sacred Scripture make it clear Baptism is much more than a mere ordinance and public profession of faith. While Baptism is indeed commanded by God and is public, it is more than that; Baptism is also a sacrament that God works through and is indeed linked to our very salvation.
As the universal Catholic Church has always taught from the beginning of Christianity until now:
"

Unless a man be born again of water and the Holy Spirit he cannot enter the kingdom of God. No one is excepted, not even the infant.

"
St. Ambrose, 387 AD
Now having critiqued the incorrect doctrine, espoused by Frankin Graham on Baptism and while I believe Franklin Graham's methodology of bringing the lost to the Kingdom of God (altar calls) is ok, but not the be all of evangalism; I will say I have no doubt at least some of these folks coming forward to answer Franklin Graham's altar call in the above video truly gave their lives to Jesus Christ, and for this I rejoice and am truly grateful for Franklin Graham coming to Vancouver to bring us the Festival of Hope!
"

He told them this parable, saying, "What man among you, if he has a hundred sheep and has lost one of them, does not leave the ninety-nine in the open pasture and go after the one which is lost until he finds it? When he has found it, he lays it on his shoulders, rejoicing. And when he comes home, he calls together his friends and his neighbors, saying to them, 'Rejoice with me, for I have found my sheep which was lost!' I tell you that in the same way, there will be more joy in heaven over one sinner who repents than over ninety-nine righteous persons who need no repentance.

"
Luke 15:3-7
In Christ's Service
Bill Whatcott