Dear Friends,
I had a very useful telephone conference today with my legal team Mr. Findlay and Dr. Lugosi.
Over the weekend I decided to let my lawyers go (partially for their own good) when I looked at the size of my current legal bill ($250,000) and the potential expense of proceeding wih the appeal (tens of thousands more dollars). Part of my thinking is the courts have to be corrupted by homosexual activism and perhaps even a self interest in perpetuating their industry for it to be even possible to run this sort of legal bill up for this kind of stunt/hate crime/noble work of mercy, depending how you look at it.
Here is the "hate crime" (according to "gay" lawyer Doug Elliot and Satan), "noble work of mercy" (according to Bill Whatcott and Jesus):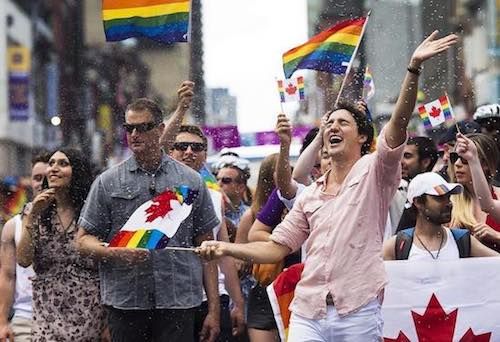 Homosexual activist lawyer Doug Elliot, and Ontario Superior Court Justice Paul Perell believe the naked sodomites (picture left) have suffered sufficiently from being exposed to Bill's crack Christian commandos (disguised as gay zombies) and reading his Gospel message (disguised as a "Zombie Safe Sex" package) that they merited being part of a $104 million class action lawsuit. Prime Minister Selfie Zoolander (picture right) is a party to this lawsuit and is entitled to seek damages in the joinder action suggested by Justice Perell too, because Bill called Selfie a "chronic attendee of homosexual shame parades" and correctly accused the Liberal Party of Canada of being tolerant of and complicit in the homosexual abuse of children.
The little package that pushed the Toronto Sun columnist Michele Mandel to call Bill Whatcott a "hate monger," led to a $104 million class action lawsuit, led to a press conference on Parliament Hill where Bill Whatcott was demonized by Doug Elliot as "Canada's most notorious homophobe," "a wicked man," and led lawyer Joan Kasozi to become emotional as she compared Bill's "Zombie Safe Sex" packages to the murder of David Kato in her native Uganda. Poor Joan carrying on the "gay" tradition of being big on emotion and light on facts mistakenly believes Kato was murdered by Christian homophobes. In actual fact Kato was murdered by a homosexual prostitute who he refused to pay after indulging in his services.
Paragraph 34 of Justice Perrel's judgement throwing out the class action and still ordering Bill Whatcott to identify his friends so they can be sued by the naked guys above reads the agreed upon facts as:

"wearing green costumes and face paint that obscured their identities, Mr. Whatcott and his Gay Zombies attended the Pride Toronto Parade, where they distributed 3,000 leaflets packaged as a "Zombie Safe Sex Package." The leaflets had the headline "Gay Zombies want you to practice safe sex." The messages in the leaflets warned of the health risks and moral depravity of sexual conduct engaged in by gay men and encouraged gay men to repent and accept the Christian faith."

..... Taking Perell's comments at face value; is that really worth a Paliament Hill press conference, untold hours of court time, a $104 million inappropriately filed class action lawsuit, an order that everyone who ever helped Bill in any way be named so they can be sued and have their lives ruined, and now a judge assisted (because the homosexual lawyers were too incompetent to get it right the first time) joinder defamation action? (And that is assuming the naked guys want to show up with Selfie Zoolander to tell the courts how reading the Zombie Safe Sex package ruined their lives. )
To read Justice Perell's biased decision go here:
https://drive.google.com/file/d/0B_Ol-X ... sp=sharing
To read our appeal of Justice Perell's biased decision go here:
https://drive.google.com/file/d/0B_Ol-X ... sp=sharing
Anyways, the homosexual activist side is moving ahead with their lawsuit and using judicial intimidation in an effort to try and find out who helped Bill infiltrate their shame parade with truthful, redemptive, and potentially lifesaving information.
Anyways, contemplating the above realities, the judicial bias and the massive expense of fighting for justice, I concluded this weekend that sustaining the robust legal defense that I had for the past seven months was no longer possible. I concluded my supporters should no longer be burdened with this lawsuit, that my lawyers should go back to working on cases that are actually able to pay (Perell denied my lawyers costs, even though my lawyers won and had the class action thrown out) and that maybe God was now calling me move to Ontario to conduct my own legal defense where I would be free to speak the truth as I see it, and assuming the judges would reject the truth and refuse to renounce their homosexual activism, I would likely get martyred on some level (massive judgment, jail for contempt) in the final judgment.
Christians have refused to participate in corrupt legal proceedings before. St. Paul against advice went to Jerusalem to face his martyrdom. Over the winter I've read the accounts of Christian dissidents in the former Soviet Union, Poland, Romania, Cuba, North Korea, etc... who were unable to have proper legal counsel under communism and were only able to testify to the truth and pay the price for it. I don't rule out that this is becoming more of a judicial reality in Canada as our nation turns its back on God and embraces sexual libertinism as its new idol. Indeed, a judge helping the losing party to refile its claim and ordering the winning party to reveal the identities of friends and helpers to the losers so the helpers of the winning side can be sued is unheard of in property, divorce, criminal, or injury cases. Only in a case involving homosexual activism where the homosexual activists are seeking to silence the voice of Christians could such a deviation from established legal norms be contemplated.
Anyways, after an hour or so discussion of the costs of representation vs the risk posed to myself and my friends if I self represent (probably minimal to my friends but more hazardous to me), my lawyers persuaded me to let them continue with the appeal. I was clear it was not reasonable that my friends who helped with my zombie ministry would be expected to contribute thousands or go into debt to help the legal defense. Those who helped in most cases helped in small ways, maybe an hour making "Zombie Safe Sex" packages, or maybe $100 to help a Zombie crack Christian commando make it to Toronto. They didn't sign up through those benign acts of charity to be the subjects of homofascist revenge lawfare.
Anyways, my lawyers believe they are legally entitled to costs from the other side and only asked that I help raise disbursements from my friends so they are not physically out of pocket representing me. They believe it is in my interests and my friend's interests I continue to have proper legal representation. While I have first hand experience with the courts being corrupt and maliciously pro-homosexual, Mr. Findlay continues to have faith the court system will rule on the law during the next appeal, so I deferred to his judgment.
Covering disbursements without the additional burden of legal fees will cost my side $10,000. A lawyer friend and a friend working on Site C dam have mailed $1500 towards the fight already. Three other friends pledged donations on the phone already that are likely going to total more than $5000. That leaves approximately $3500 left to cover the appeal. For those who value religious liberty, the impartial rule of law and the freedom to be able to speak truthfully to all moral issues without fear of persecution your "widow's mite" can make all the difference now.
In Christ's Service
Bill Whatcott
"

A friend loves at all times, and a brother is born for adversity.

"
Proverbs 17:17