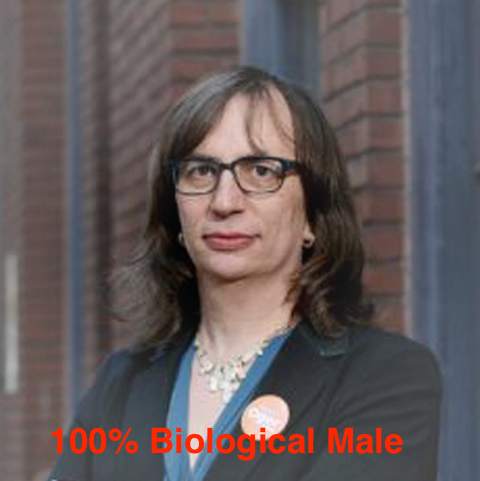 Ronan (calls himself Morgane) Oger, NDP candidate for Vancouver-False Creek, loses by 500 votes after Bill Whatcott delivered 1500 truthful flyers warning voters of the health and social risks associated with the LGBT lifestyle and proclaiming the truth that God does not approve of homosexual and transvestite activism. The CBC and 980 CKRM anticipated a "historic victory" for Ronan and both media outlets excitedly claimed Ronan would be the "first transgender woman" to win a seat in the provincial legislature. Bill Whatcott went right to the riding and spoke the truth that Ronan was in fact a gender confused biological male and that he was not suitable to represent Vancouver False Creek in the legislature. Those truthful flyers may have made the difference in preventing the riding from falling into the hands of the NDP and their star transvestite activist.
We Christians need to speak the truth in the public square courageously and unashamedly!
"Do your best to present yourself to God as one approved, a worker who has no need to be ashamed, rightly handling the word of truth."


2 Timothy 2:15
Morgane Oger fails in bid to become first elected transgender politician in Canada
Nail-biter race to finish line in Vancouver-False Creek saw Morgane Oge, come inches from victory, in a riding that's been solidly B.C. Liberal for decades.
By: David P. Ball,
Metro, Published on Wed May 10 2017
http://www.metronews.ca/news/vancouver/ ... livan.html
Morgane Oger's election campaign was historic — even if it didn't quite make Canadian history as she'd hoped.
The outspoken public education advocate, LGBTQ activist and — most recently, B.C. New Democrat candidate — came inches from becoming the first openly transgender person elected to any level of government in Canada, narrowly losing at the last moment to the B.C. Liberal incumbent, former Vancouver mayor Sam Sullivan.
But though she didn't succeed in toppling Sullivan, she gave him a serious battle on Tuesday night in a riding that he'd won easily in 2013, when he led by more than 3,000 ballots, a commanding 15 per cent lead.
For the previous two elections the B.C. Liberals have come nowhere close to fighting for their seats. In 2009, they won by nearly 5,000 ballots or 29 per cent of the vote.
This time, Oger came within a mere few hundred votes of the former mayor in one of the most tightly fought races of the entire British Columbia election campaign.
But the results in Vancouver-False Creek riding remained extremely narrow several hours after the start of the vote count, with her leading by mere dozens of ballots late into the night, and falling behind by a few hundred around 11:30 p.m.
The riding will likely play a pivotal role as a must-have seat in what's expected to be a minority government in which every single MLA is a indispensible.
Oger was instrumental in helping draft the B.C. New Democrats transgender rights policy, tabled by Chandra Herbert, that was adopted last year by the governing B.C. Liberals to widespread acclaim. The policy explicitly added gender identity and expression to the Human Rights Code.
Her campaign was targeted with transphobic flyers attacking and questioning her gender identity. At the time she told Metro she had expected some potential attacks, but nothing so extreme. The flyers were condemned by rivals from both B.C. Liberals and Greens.
But ultimately, she has said she wants to continue focusing on the issues for which she ran for politics in the first place — education, equality and affordability. She was formerly the chair of a district parent advisory council, and has long fought for increased funding for public education.
Sullivan, a backbencher since being elected as MLA in 2013, has a long legacy from his time in city politics, notable for his role in supporting harm reduction and addiction treatment measures, and a civic staff labour strike under his watch.