Dear Friends,
Yesterday and today I got some interesting responses from my anti-BCHRT (British Columbia Human Rights Tribunal) tyranny ministry. I started my latest truth assault in Burnaby on (June 24th), Saturday morning. I put out 200 flyers in the vicinity of the Metrotown mall:
Bill Whatcott delivering the truthful and morally coherent

"Open Letter to Walter Rilkoff"

to a needy mail slot
To see Walter Rilkoff's letter threatening Bill Whatcott with legal sanctions if he continues to address Ronan, the biological male NDP candidate for Vancouver-False Creek riding with male pronouns go here:
viewtopic.php?f=16&t=10640
To see Bill Whatcott's response

"The Open Letter to Walter Rilkoff"

go here:
viewtopic.php?f=16&t=10641
Anyways, later in the morning Kari Simpson phoned me up and invited me to attend her town hall meeting at the Bonsor Recreation Centre in Burnaby so I could sell some of my books
"Born in a Graveyard"
and let people know about the $104 Million dollar lawsuit I am facing for my covert, Christ centred, educational initiative at the Toronto Shame Parade. Kari also wanted me to tell people about the Human Rights complaint I am now facing for truthfully exposing the NDP's Vancouver-False Creek candidate Ronan Oger (both he and the media like to refer to him as "Morgane Oger") as a man in a dress.
Kari Simpson and Pastor Paul address the crowd on the imposition of sexual perversion on school children and society as a whole
Kari Simpson recounted how she and our mutual friend Sissy Von Dehn went to a high school and dropped in on a program called
"Sex at Lunch."
The program consisted of filthy jokes and highly inappropriate sexually oriented questions, such as "what song does Cindi Lauper sing on masturbation?" A woman on the stage played teachers and high school students off against each other in asking sexually charged trivia questions and then handed out bottles of sex lubricant as prizes.
The
"Sex at Lunch"
activity clearly had no academic or educational value. Any education that could have been had on the consequences of irresponsible sexual activity, ie unwanted pregnancy, sexually transmitted diseases, HIV, etc.... was missing. All the activity did was reduce human sexuality to the lowest common denominator, and give the students (through staff example) the impression that promiscuous and aberrant sexual behaviour was normal. Students were explicitly told not to record the activities. Parents were deliberately kept in the dark. Kari Simpson found out the
"Sex at Lunch"
activities were deliberately kept off student calendars, but were on staff calendars.
Pastor Paul spoke on Bill C-16, the so-called "transgender rights" bill. Pastor Paul noted his group has recorded 255 sexual assaults related to men using so-called transgender provisions to access women's private spaces, such as women's shelters, bathrooms and change rooms. Pastor Paul also noted the mainstream media is homogenous in its silence on the issue of biological women being victimized by transvestite male predators.
Bill Whatcott addresses Kari Simpson with a question on the provincial government's habit of snatching children from traditional families and on whether socially conservative parents need to form coalitions to resist the police and social workers when they show up to snatch children from loving homes for questionable ideological reasons.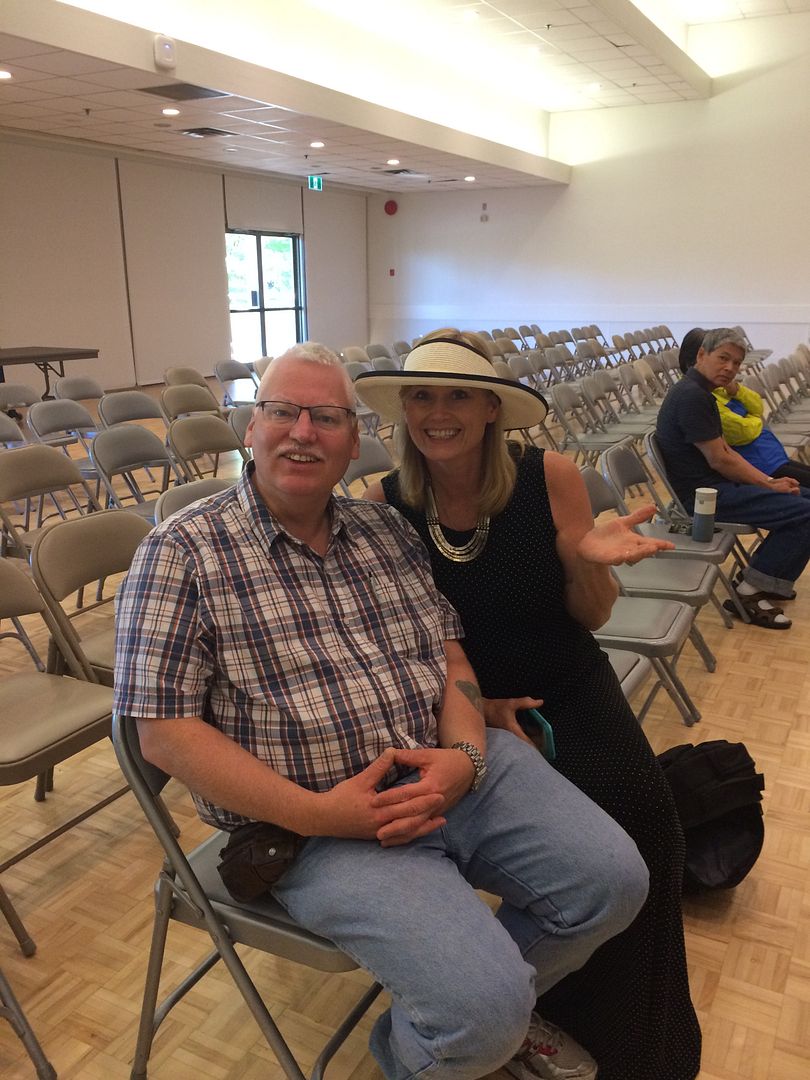 Judi Vankovich (The Manners Lady) gives Bill a warm hug and gets a picture taken with him. Judi comments she couldn't put Bill's book

Born in a Graveyard

down when she started reading it.
After the town hall meeting some Chinese Christian parents rights activists invite Bill Whatcott and Kari Simpson to join them for supper.
The following day (Sunday, June 25th), I started truth bombing Surrey south of the Fraser Highway and west of 156 St with my
"Open Letter to Walter Rilkoff"
after church. For the first hour my leafletting was pretty quiet. About an hour into it a man came running out of his house and demanded to know if I put my flyer into his mail slot. I affirmed that I did. The guy then pointed to the picture of Ronan on my flyer and asked "What's that?" I replied "That's Ronan Oger, a man in a dress who ran as a transvestite NDP candidate in our provincial election." To my pleasant surprise the guy started ranting "I'm sick of queer propaganda being rammed down my throat."
I spent a few minutes with the fellow explaining the harm homosexual activism and transvestite propaganda is causing children in our schools and the threat these agendas are posing to Canadian liberty. After a few minutes of chatting I went on my way and the fellow shouted "thanks for dropping by, we need more guys like you around here."
Anyways, for another half hour or so I went door to door delivering my
"Open Letter to Walter Rilkoff"
and the day was quite hot and the neighbourhood was quiet. I sort of lost myself in daydreams about Jesus and other matters when all of a sudden multiple shots rang out and even though I didn't see anything, I knew the gunfire was awfully close to me. My first thought as the gunfire shocked me out of my daze was that some homosexual or leftist finally decided to dispatch me and I immediately made a run for one last mailbox and as I hit the porch the gunfire ended as quickly as it started and everything went back to quiet. As I stood for a second on the porch looking around everything was quiet and I just put my flyer in the mailbox and concluded I didn't hear gunfire after all. I went back to my daydreams and bounced door to door delivering my life and liberty saving truth bombs.
Police officer tells Bill Whatcott to keep away from crime scene where two men were shot just metres away from where Whatcott was delivering his truthful, life and liberty saving flyers minutes earlier
Within three minutes or so I realized that in fact I did hear gunfire after all, and it all went down within metres of where I was delivering my flyers. Police poured into the neighbourhood and then some people came out of their homes. I was told two men in a pickup truck opened fire on a car and then both the car and the pickup truck sped away. I didn't see any of that, but in retrospect running for the mailbox, while maybe not the best idea had someone actually been shooting at me, might have saved me as I could have been in the line of fire when the shooting started had I stayed on the sidewalk.
Within minutes of the shooting, police are on the scene and have a portion of the block taped off, where Whatcott was delivering the life and liberty saving

"Open Letter to Walter Rilkoff."
Anyways, the shooters probably had absolutely no interest in either me or my flyers. It looks most likely that it was a targeted gang shooting, which unfortunately is now a common occurance in Surrey. I spoke with some of the locals as police secured the area and they started coming out of their homes. I gave a few of them my flyer and told them the scourge of drug traffickers shooting at eachother in their neighbourhood and their communities being lost to addiction could be reversed if we would only force our politicians and judges to end so-called Charter protections for traffickers and start executing them. We would also have to end so called harm reduction programs and treat drug abuse as a criminal offence with consequences, rather than our current flawed approach of treating drug addiction as a medical issue with no moral culpability.
Anyways, the two men in the car were shot but they are alive as they drove themselves to a hospital. I went on my way delivering another fifty flyers or so before heading home myself. Clearly Canada is sinking fast in a moral and cultural decline. Our real rights, such as freedom of speech, the right to live safely in our communities, the right to enjoy our property, and the right to freedom of conscience are being stripped away and replaced with fake rights such as convicted drug dealers having a fake right to not be punished excessively for their crimes, or to be searched in a manner that leads a leftist judge to think they are being racially profiled, or Ronan having a fake right to force everyone to refer to him with a female pronoun.
Some Canadians today that I talked to sort of agreed with me that real rights are being lost and replaced with fake rights. As I went home the question I pondered was, is things getting bad enough yet for Canadians to start waking up, and if they are waking up will they find enough courage and conviction to do what it takes to get their country back?
"When you were slaves to sin, you were free from the control of righteousness. What benefit did you reap at that time from the things you are now ashamed of? Those things result in death!"


Romans 6:20, 21