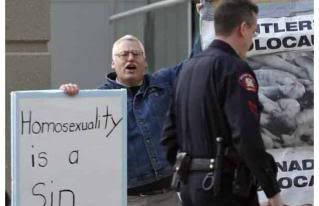 Dear Friends
The above photo was taken at the entrance of the Calgary Courthouse, Friday morning, March 27/ 2009. My lawyer Dale Fedorchuk was fully prepared and ready to go but unfortunately my case got moved to a different court and it looks like I won't be able to go to trial for this charge until the first week of December.
My two Holy Spirit inspired guerilla fighters took the day off work and in spite of no trial happening we did make good use of the opportunity to engage in truth telling to the passerby. The responses were quite mixed. We certainly got some thumbs up, some questions, some polite disagreements and some profanity and middle fingers. One lady holding a young child in her arms stopped and told me God has no problem with "gay people" or women who "need abortions" but that I would go to hell for showing aborted fetuses and signs calling homosexuality a sin.
After two hours of picketing, preaching and debating in front of the court house my guerilla team and I went for lunch and then launched an attack on the University of Calgary and an adjacent neighbourhood. Five hundred copies of my hard hitting flyer
"Sodomites and University Academia"
found their way into mailboxes, car windshields, and the hands of truth starved students.
To see my truth packed flyer go here:
viewtopic.php?f=16&t=4244
One lady who sounded liberal Catholic, Anglican or Lutheran to me phoned me up and started squawking Christ would never put such a flyer into Calgary mailboxes and told me I made her embarrassed to be a Christian. She then went on to call my flyer "hateful and untrue." I asked her which part of my flyer is truly hateful or inaccurate and offered to change that part which could be proved as such. She offered nothing to prove any part of my flyer was false and pretty much condemned any unambiguous condemnation of homosexuality as hateful. I fear the lady if she followed her own logic would find the Bible hateful though she denied it.
On to other news:
Here is the update on my
"Violating Community Standards"
charge. This charge is related to the Calgary police attempt to muzzle my
"Sodomites and University Academia"
flyer assault on Friday, Feb 13th, 2009. On Wednesday, March 25th, a fine Baptist missionary went to the Justice of the Peace to plead not guilty on my behalf. Here is the news he returned with from the courthouse:
Hello Bill,

I went down again this afternoon, and they found your ticket. However there
was a note attached to it saying it had been made out incorrectly, so is
invalid for now. The issuing police officer has 2 years time from the issue
date to reissue it correctly and send it to you. Until then, it is in limbo.
Soooo, you are off the hook for now at least.

I'm just off to a Bible study so must run.

Jerry XXXXXXX
As for my lawyer Mr. Dale Fedorchuk:
It looks like my last batch of donations to him have long gotten used up in the legal research and court appearances already made on my behalf. Mr. Fedorchuk believes the University of Calgary lawyers are going to vigorously defend their perceived right to keep unwanted Christian activists off their publicly funded and left wing dominated campus. However Mr. Fedorchuk also believes my case is strong that the Charter does apply to University Campuses. If we can get this established in Alberta as my other lawyer Tom Schuck and I have gotten it established in Saskatchewan, we will go a long way towards assisting those who care enough about influencing our future decision makers to have the freedom to share the conservative, Judeau Christian, worldview with students on campus.
If this ministry appears worthy to you please don't send anything to me, send it to Mr. Fedorchuk! He is the most important soldier now. Mr. Fedorchuk is the one who is doing the most important work and is running low in the fight and I actually can't afford to give him anything out of my resources at the moment.
Here is my lawyer's address:
Mr. Dale Fedorchuk, LLB
c/o Bill Whatcott Legal Defense Fund
811, 104-743
Railway Ave, Canmore, AB
Canada
T1W-1P2
Thank you and God Bless
Bill Whatcott, Christian Activist
----------------------------------------------------------------------------------------------------------------------------------------------------------------------------
Man to fight trespassing charges for giving out anti-gay slips at U of C
By Daryl Slade, Calgary Herald
March 27, 2009
Comments (11)
http://www.calgaryherald.com/news/fight ... tory.html#
A man who was charged with trespassing at the University of Calgary after he was distributing anti-gay pamphlets last summer will fight the charge in court.
Dale Fedorchuk, lawyer for Bill Whatcott, said on Friday he will file notice next month that his client's freedom of speech was violated under the Charter of Rights and Freedoms.
Whatcott was arrested last July 25, after campus security was alerted to his activites.
Fedorchuk said the case will eventually be tried around the same time as a trial for eight students charged with trespassing for displaying anti-abortion material at the unversity.
dslade@theherald.canwest.com
-----------------------------------------------------------------------------------------------------------------------------------------------------------------------------------
LOL! I see in the comments section of the Calgary Herald the police were sending PACT messages to people in the U of C neighbourhood warning them about my flyers!!!!! According to Calgary Police website PACT is generally used for criminal acts in progress or missing children.....
And now, Lord, what do I wait for?
My hope is in You.
Deliver me from all my transgressions;
Do not make me the reproach of the foolish.
Psalm 39:7, 8