Dear Friends:
My first month at school has been pretty interesting. Things were Godless in the 1990's when I got my nursing diploma, I guess little changed except maybe we are a little farther down the road of Godlessness now.
Here is my first day at school. This is orientation. Part of the orientation was a "Circle of Rhythm" ceremony. Too bad my cell phone camera doesn't pick it up too clearly. At the far right corner at the front of the auditorium and a little to the right of the dude wearing a ball cap is a young lady in a hijab banging away on an aboriginal sacred drum. My guess is she is Arabic and her parents would be practicing Muslims. My first thought was only in Canada would you find a Muslim lady in conservative dress banging away on a an aboriginal drum, in a New Age spiritual ceremony, on the first day of your post secondary education. Anyways the Circle of Rhythm "educator" eventually got all the students to start banging plastic sticks of their own and go into primal screams.
I refused to participate and started praying to the one true God and my Lord and Saviour Jesus Christ.....
"

You worship what you do not know; we know what we worship, for salvation is of the Jews. But the hour is coming, and now is, when the true worshipers will worship the Father in spirit and truth; for the Father is seeking such to worship Him. God is Spirit, and those who worship Him must worship in spirit and truth

."
John 4:22-24
Two or three speakers at the front let the students know we could get free condoms at our student association office and if the condoms didn't work "pregnancy counselling." I guess the assumption at this school is students attaining "higher education" are destined to behave something like moose in heat.....
The next day while heading to one of my classes I got to see this cute little display....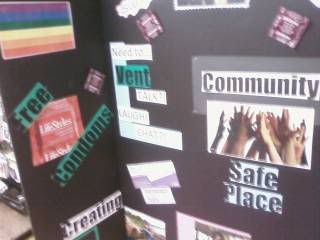 Sorry I couldn't find any Canadian flags on my campus. There were no Ukrainian or Irish ones either. American ones certainly not! Even though George Bush is long gone some of my teachers are still warning us students about "American style" this and that. But yup homosexual "pride" flags like this one above and a few decorative condoms to boot along with a smattering of pro-homosexual propaganda is certainly deemed to be in order when one embarks on the journey of "higher education."
Ok, now for the real important stuff...
On my first day of class, my very first teacher asked the class if he could say "f--k" in it. All of the students kept silent and I really didn't want to get in a war on my first day of class, but seeing as he asked, I decided to open my mouth. I said "I mind" and I guess the teacher really didn't want my opinion that much as he tried to stare me down and told me to get use to the F--- word. Indeed I am well use to the word as I used it plenty my self when I am angry, when working in the oil patch and indeed I believe I was acquainted with it by kindergarten. Anyways I guess my teacher with a Masters in something has decided it is a necessary word for a post secondary learning environment and has been happily using it since.......
Now on to more important stuff......
No classroom with the F--- word is complete without also some free rape defense.....
No, not this sort of defense.....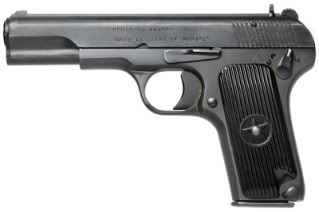 That's "American style" (at least pre-Obama) defense and thats bad........
Here this is more "Canadian"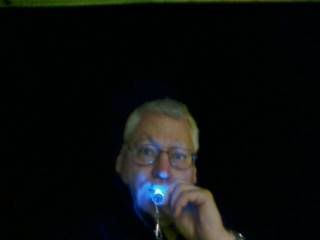 Yup, thats Bill Whatcott with his new rape defense, given to him and everyone else in his class by the teacher who likes the F--- word.
Everyone knows Bill Whatcott is an open minded kind of guy. While historically if someone like Ted Bundy was going to abduct and rape my daughter, I would rather my daughter had "American style" rape defense, so she could put a hole in Bundy and stop him; I decided to be fair and go to a parking lot and try my "Canadian Style" rape defense out before casting judgement on it's efficacy.....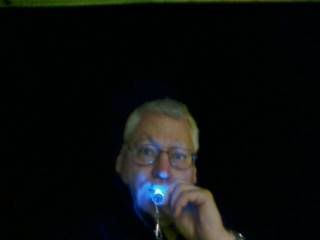 Well I am one minute into it now. I think the theory is the noise and glow in the dark would scare my attacker off and alert the authorities to come to my rescue......
Ok two minutes passed and no one has come to rescue me.......
Let me try harder.......
Three minutes have passed and no one came to my rescue. I guess the cops are busy with their coffee and donuts.....
I assume if I was a five foot two inch college girl and Bundy was actually trying to rape me, he would have rammed my glow in the dark whistle down my throat by now and got on with his business....
I dunno, I'll stick with the hand gun.....
Why a teacher would mass hand out such a dumb invention is beyond me, except maybe it feeds the myth of some deluded feminist working in the administration that hoards of men are prone to becoming violent sexual predators and women need these kooky glow in the dark whistles to be safe at school. Your tax dollars and my tuition at work.....
My second teacher had us all introduce ourselves, give a little personal history and tell the class why we were in the program.
When my turn came I said I was "Bill Whatcott" and I was in the program through the "grace of God" as I was formerly a drug addicted criminal who found Jesus Christ and I believe God is calling me here.
The teacher stared at me and the class went kind of silent.....
"

I became a servant of this gospel by the gift of God's grace given me through the working of his power. Although I am less than the least of all God's people, this grace was given me: to preach to the Gentiles the unsearchable riches of Christ.

"
Ephesians 3:7,8
Anyways I doubt much Gospel is shared at my school. Back in my Humber College days things were dark, but we did have a little oasis called "Intervarsity Christian Fellowship" operating on our campus.
Not so at my school now. There is no Christian group on campus at all....
But we are free to attend Ashtanga Yoga classes......
Please pray for God to protect and prosper my studies. I wish there was a Christian group on campus, but praise God I have a Lutheran church with about 30 old people (age 60 and up) where I can hear the Gospel and fellowship with cookies and tea after the service for a little Sunday refreshment......
Abortion came up in one class. I was already excoriated for calling the Canadian Charter of Rights "communist" as it deliberately left out property rights, so I stayed quiet, gritted my teeth and prayed while the teacher went on about women being in his office after using coat hangers and bleach to abort their fetuses.
I can't prove it one way or the other, but I am skeptical of the guy's story. I know for certain contrary to pro-abortion propaganda, Canada did not have an epidemic of women coat hangering themselves when abortion was illegal in the 1960's. According to my mother more women actually remained virgins until marriage in the early 1960's, or if they did get pregnant at a young age they usually "went away" to a maternity home for a little while and then put the kid up for adoption. I also know leftists frequently make up stories to promote questionable causes such as child killing and sodomy. In fact I actually trust used car salesmen to tell me the truth more than I trust left wing academics.....
Anyways I will just ask for prayer that God gives me grace and favour while I study and attend classes. Pray that I will know when to speak, ask questions and keep my mouth shut. Pray that I am a light and good example to my class mates. I have been blessed to share with a few of them the reason for the hope that is within me.
As for activist needs....
On December 4th, I will be standing trial for my trespassing charge at University of Calgary for delivering pro-life and anti-homosexual Gospel flyers on the campus there.
I would be very grateful if I could get a couple guerrilla fighters to join me in Calgary on Friday, December 4th/2009 to bombard the neighbourhoods around the University of Calgary campus with much needed truth on the rampant homosexual activism and academic bias at this publicly funded institution.
My flyers will also share the hope the students could find by turning from their sin and towards the living, resurrected Christ.....
I can't say too much in the way of details about my flyer right now, but I hope to have it done in a few weeks and for those who are interested I will share it with them.
In Christ's Service
Bill Whatcott
(780) 885-7866