Dear Friends,
I have been very busy this past few weeks. I have moved to Weyburn, Saskatchewan and am now driving fuel truck here.
Here is a picture of a truck that is nearly identical to the one I drive
I drive mostly to rigs, oil field generators and farms, delivering diesel and gasoline. I like the job as it has me going all over rural Saskatchewan. Please pray that God blesses the work of my hands. The nice thing about Weyburn and the rural areas around here, is most folks I meet actually agree with my views. I have also met my MP, Ed Komarnicki, and am pleased to say he is pro-life and pro-family.
Today, I posted a flyer on my website, I delivered around Edmonton and the University of Saskatchewan 6 years ago. Normally, I don't go back to my old stuff, as there is always new stuff to tackle, but this flyer keeps popping up even though it is several years old and was not even close to my largest flyer run. This is my only flyer, I ever delivered on Islam. I believe I put out 1500 in Edmonton and maybe 500 on and around the University of Saskatchewan Campus. The flyer generated a few negative and positive responses at the time and then dropped from my radar screen for nearly 2 years. A couple years later, an academic named Marie Line Gentes got upset at my flyer criticizing Islam, so she filed a human rights complaint about it. After receiving some criticism from the conservative blogosphere, Gentes withdrew her complaint, but my flyer was already in the national media, thanks to the not very tenacious academic.
My flyer caused considerable controversy at Free Dominion and a gang of detractors who regularly post at Free Dominion ferociously attacked me over it, and eventually I was banned from posting there. After my banning, I pretty much forgot about the flyer again, until this past week. I found out on Friday, from my lawyer Dan Mol, Detective, Steve Camp, from the Edmonton Hate Crimes unit actually went to the Crown Prosecutor and attempted to have me criminally charged with a hate crime for distributing this flyer.
For the life of me I can't see anything hateful in what I wrote:
viewtopic.php?f=16&t=9020
I would suggest Camp's education/ brainwashing at the University of Alberta had something to with him actually coming to the conclusion my flyer on Islam is a criminal code offence.....
On Thursday, I was blessed to attend the March for Life in Regina
Here are some nice pictures from the Regina March for Life
Here are some of the marchers standing on the steps of the Saskatchewan Legislature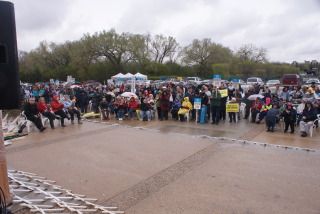 Here is a shot of the crowd during the speeches. Approximately 460 pro-lifers attended the event, many of them young people under the age of 20
I am standing beside Bob Waldigger, President of Regina Pro-life. Bob and another fellow are showing graphic signs of children murdered by abortion
Here is a picture of me with John Sidlosky, President of Weyburn Pro-life. I drove him and his wife Beatrice to the event
Here is one of my favourite priests, Father Jeffrey Stephaniuk of the Ukrainian Catholic Church
Here are two friends and long time supporters of mine Aimee and Cathy
This morning I received a call from a journalist who works in Ottawa and who was present in the press gallery during my Supreme Court hearing last year in October. The fellow has remained in touch with me over the past year and he seems to like to get my opinion on a variety of topics, when they pop up in the media. Anyways, I sent the journalist a copy of my not quite completed autobiography on my conversion to Christ and journey to the Supreme Court of Canada. The fellow tends to write for very liberal media outlets, however he was sufficiently impressed with my writing and story, that he wants to help me get the book done and published. As a result of his motivation, I have decided to put aside all distractions and work on getting this book done as soon as possible. I will not be reading any e-mails this month, and will be trying to limit phone calls as much as possible, until my book is done. Please pray for this book and I will specifically ask for prayers that God helps me to remain disciplined and focused enough to get this job done. Please also pray that my book remains true to its mission and that God gets the glory.
In Christ's Service
Bill Whatcott
"Great are the works of the Lord;
they are pondered by all who delight in them.
Glorious and majestic are his deeds,
and his righteousness endures forever.
He has caused his wonders to be remembered;
the Lord is gracious and compassionate."
Psalm 111:2-4