Effeminized Canadian Forces Personnel at CFB Edmonton pose for the media in women's shoes allegedly
to voice their opposition to "Violence against Women."
Sodomite Canadian Forces personnel celebrating the military's participation in the Toronto shame parade
Canadian Forces deploys a light armoured truck and personnel to march in the Toronto homosexual pride parade.
A topless lesbian runs in front of them.
Cpl. Natalie Murray, of the Canadian Armed Forces got his "sex change" operation paid for by the military and now
spends his time telling the media and new recruits that he is a woman and that they have to accept him as such if
they don't want to be labelled "transphobic." While Natalie's genital mutilation, psychological counselling, and hormone
treatments have cost Canadian taxpayer's literally hundreds of thousands of dollars, experts agree Canada's military
is badly underfunded and that Canada is completely incapable of launching any serious military action on its own.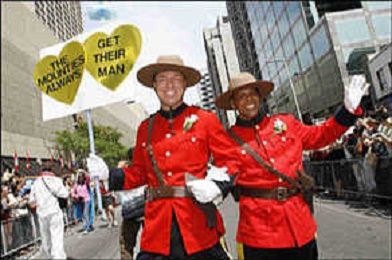 Two "married" RCMP officers flaunt their open homosexuality on the parade route. The RCMP have not sent any
normal heterosexual cops to march and flaunt their heterosexual sexual preference on any parade routes yet.
Senior police officers lead the rank and file male cops on a walk in female high heel shoes allegedly to fight violence against
women. I am sure the violent criminals who prey on women (but more often on men, as men are more apt to be victims
of homicide than women) were terrified by this display.
Lesbians (one in uniform) flaunt their open homosexuality on the Toronto Shame Parade Route
This cop claims he is fighting "homophobia and bullying" by dying his hair pink
Police arrest Bill Whatcott when he tries to "come out" as an open heterosexual Christian on the
University of Regina campus
The police accept Bill Whatcott when he buries his heterosexual Christian orientation and presents himself as a "gay"
Flying Spaghetti Monster cult leader at the Vancouver Shame Parade
"
Although they knew God, they did not honor him as God or give thanks to him, but they became futile in their thinking, and their foolish hearts were darkened. Claiming to be wise, they became fools.

"
Romans 1:21, 22