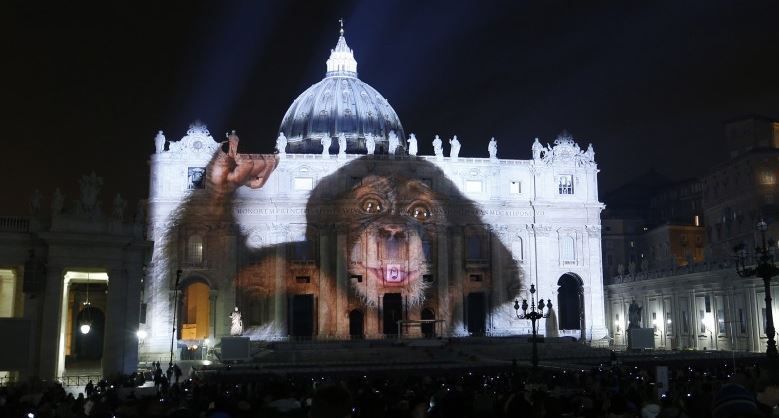 The Vatican wasting power, declaring war on God created plant food and acting like a bunch of monkeys on December 8, 2015
allegedly celebrating the so-called Paris Climate Accord with a light show which will fail to alter the earth's temperature a single
degree, but whose underlying ideology has already knocked Canada's unemployment rate up a couple notches.
Dear Friends,
The Vatican in co-operation with various Malthusian people hating groups has turned out their lights for an hour as if to say using God's gift of hydroelectricty is a bad thing. I decided to celebrate God's gifts of oil, gas, hydro by turning on my lights for an hour.
Indeed hydrocarbons when used and developed properly do not destroy the environment, they enhance human quality of life, create good jobs, and even some left leaning climate scientists who are hired to promote climate change fear know they don't cause so-called global warming. (Serveral left leaning scientists promoting this scam were caught falsifying their data in the Climate Gate Scandal at East Alnglia University's Climate Research Institute, but this little tidbit of disurbing information doesn't matter to Pope Francis and his cohort of internationalists who are using this manufactured crises to harm western free market economies and economic freedom).
I, Bill Whatcott proclaim in celebration of Earth Day, a day in which Christians and all people of good will should give thanks for the gift of oil, gas, hydroelectricity, and indeed that vital ingredient CO2,
an ingedient that makes plants grow
, we should all turn on our lights and for one hour....
In Christ's Service
Bill Whatcott
"

The earth is the Lord's, and all its fullness, The world and those who dwell therein

."
Psalm 24:1
Vatican's fools will turn out the lights; I will turn all mine on including Christmas lights at 8PM EDT just to spite them!
St. Peter's to participate in Earth Hour 2016
http://voxcantor.blogspot.ca/2016/03/va ... l?spref=fb
(Vatican Radio) The lights of the Cupola atop St. Peter's Basilica are to go dark on the evening of Saturday, March 19th, along with those that illumine Bernini's colonnade embracing St. Peter's Square. From 8:30 PM to 9:30 PM in the evening, the lights shall remain dark on the occasion of the 2016 iteration of Earth Hour – an initiative promoted by the World Wildlife Fund International, in which the Vatican City State is participating.
The lights illuminating the two fountains in the Square and the four candelabra surrounding the central obelisk will remain shining, however, along with those that light the two "arms" stretching from either side of the Basilica's narthex and signed by the two great equestrian statues of Constantine and Charlemagne, north and south, respectively.