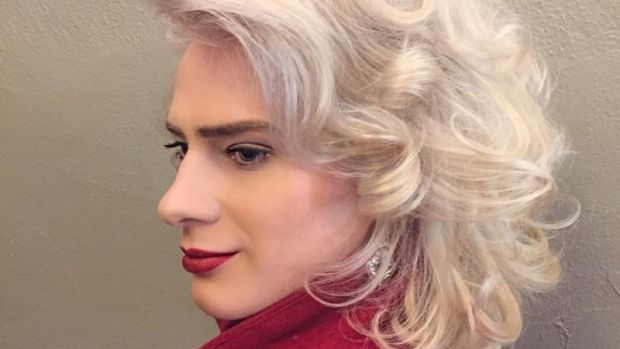 Dillon Hargreaves, a transvestite who was born a male was presented by the corrupt Alberta NDP government as a
woman to allegedly celebrate 100 years of woman's suffrage is whining about a police officer in Lethbridge who correctly
noted he is a male and that presenting him as a female makes a mockery of women's issues. Indeed Hargreave is a really
poor choice for the NDP to present as a "spokeswoman" on the issue of women's suffrage. It should be pointed out to the NDP
and any police disciplinary body that will seek to punish Mr. Scott for stating the obvious, that had Mr. Hargreaves been
born 100 years ago, he would not have had any problem voting as he was born male.
Lethbridge trans woman says police member comments 'unsettling'
Police launch investigation after member takes to social media with anti-transgender comments
By David Bell,
CBC News Posted: Apr 23, 2016
http://www.cbc.ca/news/canada/calgary/l ... -1.3550093
Dillon Hargreaves was on Cloud 9 earlier this week when Stephanie McLean, Minister Responsible for the Status of Women, invited her to the Alberta Legislature to help celebrate 100 years of women's suffrage in the province.
Hargreaves is a trans woman who lives in Lethbridge.
(actually he is a gender confused man who lives in Lethbridge
) BW
"It was an honour to be invited because it was a form of recognition that trans women are women," Hargreaves tells CBC News.
That feeling of pride, however, was quickly tarnished when friends began to show Hargreaves social media comments that followed.
Facebook user Chad Scott commented on a video posted by Phillips, stating "Ladies — NDP MLA introduces a transgender male as a guest representing 100-years of women's suffrage. I think Dillon is very brave, however, I believe this makes a mockery of important women's issues."
To Hargreaves, a trans woman, being referred to as a male is discriminatory.
"I am in a position where unfortunately I am used to comments like that," she said.
"Since finding out about those comments though, I did discover that the individual, who was using an alias on Facebook, was actually a member of the Lethbridge Police Service (LPS)."
Lethbridge police were quick to distance themselves from the comments in a statement on Friday, but did not identify the member by name or online alias.
"LPS received a formal complaint under the Alberta Police Act regarding the employee's alleged conduct," the statement reads.
"The Chief of Police reviewed the complaint this morning and has subsequently directed an investigation."
Symptom of a larger problem
Hargreaves said knowing a member made the statements is unsettling to her.
"It makes me question my own safety dealing with police officers and I know there are a lot of other trans people who already feel uncomfortable dealing with the police, so messages like this do make that even more of a concern for these people," Hargreaves said.
She said an investigation is a step in the right direction, but the incident is a symptom of a larger problem.
"Staff already undergo sensitivity training but based on this situation I think it stands that there is a lot more that needs to be learned about not only how to respond to trans people but how to translate that into your everyday life as a member of the police community."
Police say beyond the investigation they have taken specific actions to improve relations with marginalized community members.
"We are very fortunate to work closely and have strong partnerships with community groups that recognize and celebrate diversity and inclusivity in the City of Lethbridge. We will continue to work with these organizations to foster awareness and greater understanding of diversity issues," said the statement.
http://i655.photobucket.com/albums/uu27 ... eun8jl.jpg
Dillon Hargreaves addresses the Lethbridge School District No. 51, promoting the acceptance of transvestitism and homosexuality in Alberta's public schools
Hargreaves said while the incident has been an eye-opener, there has also been some good come from it.
"I have seen an incredible amount of support," she said.