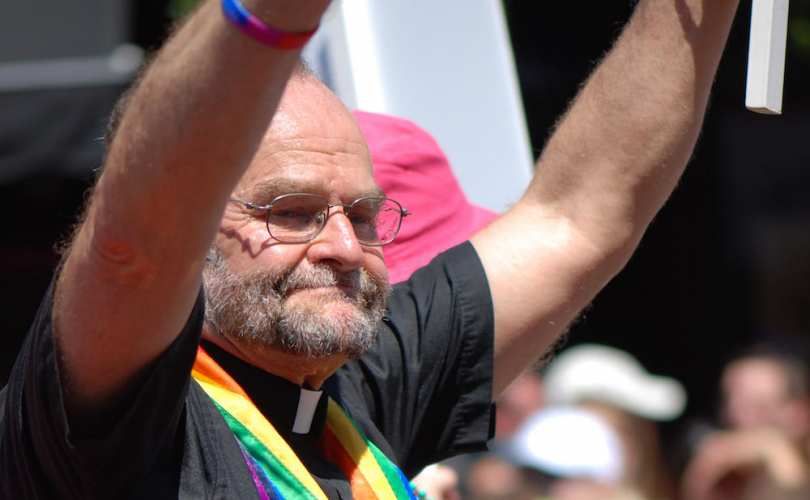 Sodomite activist "Rev." Brent Hawkes
I ran against this guy in the Ontario provincial election in 1999. During that time I went to his "church" and while I was battle hardened and well familiar with homosexual depravity already "Rev." Hawkes managed on shocking me eith what he thought was good taste for his church.
I remember a big box of free condoms for his parashioners at the entrance way leading into his so-called sanctuary. I also remember looking in shock and disgust at a leather BDSM display in his church basement.
Basically the guy's "church" did not even really have the pretense of being a church once you get inside the doors. What it was and still is, is a homosexual pick up spot where the "Pastor" gives some sort of pseudo theological justification for some of the most depraved and dangerous sexual behaviours known to humanity.
Sadly, I am not at all surprised this guy is named in a boy abuse case....
Bill Whatcott
"

For this reason God gave them up to vile passions. For even their women exchanged the natural use for what is against nature. Likewise also the men, leaving the natural use of the woman, burned in their lust for one another, men with men committing what is shameful, and receiving in themselves the penalty of their error which was due.

"
Romans 1:26, 27
Witness testifies he saw leading gay activist minister sexually abusing boy
Lifesite News
Pete Baklinski
Mon Nov 14, 2016
https://www.lifesitenews.com/news/it-wa ... t-minister
KENTVILLE, Nova Scotia, November 14, 2016 (LifeSiteNews) — Rev. Brent Hawkes, Canada's most celebrated homosexual activist minister, is in court for allegedly sexually abusing a 16-year-old boy in the 1970s.
The Court in Kentville heard the first witness testify that he saw Hawkes performing oral-genital actions on a teenage male at the pastor's Nova Scotia home about 40 years ago.
Witness Douglas Aylward said he was 16 years old when a group of friends returned to Hawkes' home after drinking at a local tavern. At one point, the minister pulled the teenager inside a small bathroom, told him he had been watching him and was "80 percent sure I was gay."
"It was pretty uncomfortable," the witness said.
It was when they returned to the living room that Aylward said he looked over to see Hawkes sexually abusing his friend.
"I couldn't believe it," the witness testified.
Hawkes, a senior pastor at Metropolitan Community Church of Toronto who lives with his male "husband," has become a major icon of homosexual activism in Canada.
He famously flouted Canadian law by illegally "marrying" a homosexual couple in his Toronto church in 2001. When the Canadian government would not recognize it, he took the government to court. Subsequently, the Ontario Superior Court of Justice recognized the "marriage" as legal, beginning a process of judicial activism that eventually culminated in the legalization of homosexual "marriage" by Canada's Parliament in 2005.
For his "lifetime of distinguished service" in promoting homosexual 'rights' and 'equality,' Hawkes received Canada's highest civilian award — the Order of Canada — in 2007. In 2014, the WorldPride Parade in Toronto honored Hawkes by making him grand marshal of the event.
Hawkes has pleaded not guilty to the charges.
He is being represented by civil rights lawyer Clayton Ruby, known for his work in defending abortionist Henry Morgentaler and convicted child pornographer Benjamin Levin, as well as for bringing legal action against the British Columbia government for approving a Christian-based school of law with its Christian code-of-conduct governing sex.
Ruby challenged the witness during the morning's proceedings on his ability to remember an event from 40 years ago.
"It's not what I remember, sir. It's what I cannot forget," the witness said, adding: "After 40 years, I'm trying to forget everything I can about that night."
A number of witnesses are lined up to testify against Hawkes during the trial that is expected to last the rest of the week.