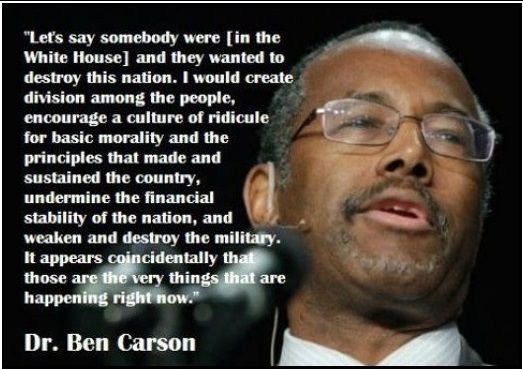 In an ideal world there would be no murdered babies to experiment on and morally speaking Christians should not participate in any way with the abortion industry and that includes using the victims of abortion for research after the crime has taken place.
Now having said the above, based on Dr. Carson comments I don't believe he would do research on these babies today. Dr. Carson pointed out he participated in the research more than 2 decades ago. I would prefer that Dr. Carson would be straightforward and say his research was wrong. However, we all grow and at the time he may have mistakenly believed that he might as well have tried to bring some good from a tragic situation. Dr Carson's comments more recent comments on Planned Parenthood targeting minorities for abortion and his defense of children who are the products of rape are the strongest comments in the defense of fetal rights of any politician on the Republican field to date. These comments are the most relevant to me when assessing Dr. Carson's suitability as someone worthy of pro-life support.
I also believe we can learn a lesson from the left. They seldom or never throw their stars under the bus when dirt is dug up on them, (Bill Graham abusing underage boy, Jack Layton caught in hooker house, Obama snorting coke and having oral sex with Larry Sinclair, Eric Holder's overseeing the trafficking of 2200 assault rifles to Mexican cartels and a thousand dead Mexicans and 2 dead Americans linked to those guns, and more....). Of course in all of the above the media was either silent or at least much less aggressive than when a pro-life conservative get caught committing an "indiscretion."
On the homosexual"rights" issue Dr. Carson has been pilloried as well. Dr. Carson is not as strong as I would like, but for the post modern west his position is almost heroic. After the Supreme Court ruling affirming that states have to allow sodomites the right to "marry" each other Dr. Carson is quoted as saying, ""I call on Congress to make sure deeply held religious views are respected and protected. The government must never force Christians to violate their religious beliefs." Maybe I would have said something better. Had the reporter asked me, I would have called homosexuality an abomination and would have affirmed that the behaviour should be criminalized. But then again that's why I usually placed in the one percent range when I ran in Canadian elections and that is why I wound up broke here in the Philippines, having been dragged through more court battles than I could count and having had my nursing career and carpet cleaning business destroyed. It's a true saying, prophets aren't welcome in their home towns. Dr. Carson on the other hand (unlike myself) is a politician with a remote shot at the White House and from the point of view of protecting unborn human rights and religious liberty, I believe Dr. Carson is as good as it gets.
Dr Carson in the final analysis falls short of perfection as most of us do. Dr. Carson has also proven over the years that he is a true and consistent friend of the pro-life community and is a staunch defender of religious liberty and conservative principals. Keeping in mind the "whistle-blower" is a pro-abort and the media interest in this story has more to do with destroying another pro-family politician, rather than the welfare of the aborted baby that was used as a research specimen, and looking at what Dr. Carson says and does today, it is my position that I don't think the pro-life/ pro-family movement should throw Dr Carson under the bus.
Bill Whatcott
"

If you were of the world, the world would love you as its own; but because you are not of the world, but I chose you out of the world, therefore the world hates you.

"
1 John 15:9
Ben Carson responds amid revelations he experimented on aborted babies' tissue
Ben Johnson, Lifesite News
Aug 13, 2015
https://www.lifesitenews.com/news/synod ... -says-voic
August 13, 2015 (LifeSiteNews) - Dr. Ben Carson is defending himself from revelations that the pro-life Republican presidential hopeful once conducted experiments using babies aborted as late as 17 weeks into pregnancy.
Dr. Carson published a paper in the November 1992 Human Pathology Journal detailing his use of cells taken from two aborted babies.
"Human choroid plexus ependyma and nasal mucosa were obtained from two fetuses aborted in the ninth and 17th week of gestation," the paper, which Carson co-authored, reads.
The discovery was made and posted online by Dr. Jen Gunter, an OB/GYN and outspoken defender of abortion-on-demand.
"There is absolutely no contradiction between the research I worked on in 1992 and my pro-life views," Carson responded today.
"The issue of fetal tissue has everything to do with how the tissue is acquired," he told MSNBC. "Killing babies and harvesting tissue for sale is very different than taking a dead specimen and keeping a record of it, which is exactly the source of the tissue used in our research."
Carson previously told The Washington Post, "You have to look at the intent."
"When pathologists receive specimen, their job is to prepare the specimen. They have no job opining on where the tissue came from," he said.
A declaration by the Pontifical Academy for Life asked, "Is it morally licit to use [embryonic stem] cells, and the differentiated cells obtained from them, which are supplied by other researchers or are commercially obtainable?" "The answer is negative," it concluded.
Such an action would represent "a proximate material cooperation" in an immoral action.
Dr. Carson noted that he has not used aborted babies' tissue in the intervening 22 years.
The retired Johns Hopkins physician has recently and repeatedly dismissed embryonic stem cell research, which scientists recognize failed to live up to its proponents' promises, saying that ESCR has produced "nothing that can't be done without fetal tissue."
He has also brought the realities of fetal development to bear on the abortion debate.
"At 17 weeks, you've got a nice little nose and little fingers and hands and the heart's beating. It can respond to environmental stimulus," Carson has said on Fox News. "How can you believe that that's just an irrelevant mass of cells?"
"That's what they want you to believe, when in fact it is a human being," Carson said.
The timing of the experiments would overlap with Carson's brief participation in an ad encouraging voters to oppose a Maryland referendum that liberalized state abortion law. The doctor appeared in an ad for the Vote kNOw Coalition, which opposed the Maryland Abortion Law Revision Amendment (Question 6 on the 1992 ballot). He later said he did not understand that he was taking part in a campaign commercial.
In a new CNN poll, Carson tied as the candidate Iowa Republicans most trust on the issue of abortion, with former Arkansas Gov. Mike Huckabee.