Deborah Drever an icon of NDP talent and integrity
Michael Connolly another icon of NDP talent and integrity
Dear Friends,
You might recall I reported on Michael Connolly, the homosexual NDP MLA for Calgary-Hawkwood, a few weeks ago. Connolly compared North American Christian gun owners to Hamas terrorists and then posted on his Facebook page he was suicidal after he got criticized for his bigotry. Well, I recently did an internet search of this newsworthy event and I note, hardly a trace of this outburst can be found anywhere, except on my site....
It is certainly not on Mr. Connolly's Wikipedia profile, which actually has him looking pretty normal and well adjusted.
CBC seems to like him too, and they have no desire to let the public know this elected representative seems to have an irrational prejudice against Albertan gun owning Christians and that he threatens suicide when criticized over public statements he makes on this topic.
Well now another winner showed up in the NDP caucus and her name is Deborah Drever!
While the lamestream media scoured conservative social media profiles during the weeks leading up to Alberta's latest election and whipped up hysteria over a rural conservative politician named Rick Strankman advertising a "Bring Your Wife's Pie" pie event (apparently it was sexist), quoting a bunch of tweets posted by left wing media and political hack's expressing "outrage" as if the media indeed found something outrageous to inform the public about, they seemed to miss these social media posts by our NDP darling Deborah Drever, at least until now.....
Here is a fine picture of of our new NDP Member of the Legislative Assembly for Calgary-Bow, Deborah Drever posing with a heavy
metal band called "Gatekrashor." One of the band members appears to be poised to stick a whisky bottle into Deborah's crotch.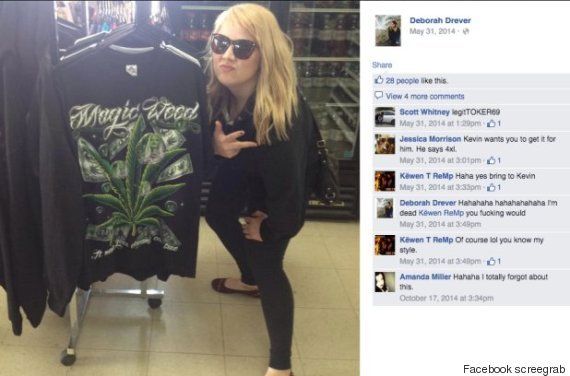 Here is another picture of Deborah posing by a marijuana t-shirt with a pot sign and posting vulgar language to the right. I find
it incredulous that Drever would post pictures like this on her Facebook, and pose in lewd acts on heavy metal albums and then claim
to the media she doesn't actually smoke marijuana. Her social media habits and what her social media communicates about her lifestyle
puts her in a category of being a likely substance abuser and I don't put a lot of faith in her having the capacity to be honest.
Here is another Facebook posting by Drever with a stupid (actually unintelligible) comment to the right. She claims the picture is not of her
giving the middle finger to Canada's flag. Even if it wasn't her, it doesn't really matter, given it is on her Facebook and she offers no criticism of this
act of disrespect to her country. Mind you the hand looks to belong to a large Caucasian women and like I said I don't trust Deborah to even
be capable of telling the truth about anything much.
When confronted by the media about her new MLA Deborah Drever's online behaviour, Rachel Notley told Global
"I don't really see it as a big problem, I see it as an opportunity
."
The media thought that response from Alberta's new Premier was fine and with that an army of online trolls got to work demonizing anyone online who suggested Deborah should step down. Several academics and media talking heads suggested Deborah was young and needed to grow into her position of MLA and hence the people of Alberta should cut her some slack, after all public pictures of a far left elected representative getting a bottle rammed into her crotch, other photos with vulgar comments and poses glorifying drug use, and of course vulgar gestures at the national flag are all no big deal.
Many of Deborah's own constituents disagreed with the Premier and media apologists and have started a petition calling for her resignation:
http://www.ipetitions.com/petition/resi ... rah-drever
Strangely the media that has demanded the resignation of socially conservative MLAs for single acts of lesser offenses seem to think Deborah should stay on and collect a $100,000 year salary as an MLA representing a riding in Alberta's largest city in the legislature:
Here is but one story criticizing the citizen's petition asking this wing-nut to resign.
Petition to remove Calgary MLA Deborah Drever not how this works — now let's get down to business, Alberta
http://www.calgarysun.com/2015/05/19/pe ... rk-alberta
Some leftist apologists have suggested the people of Calgary-Bow voted for Deborah Drever and its their fault they didn't know about her social media behaviours. Well, if the media wasn't spending endless hours scouring conservative social media accounts and settling for "Bring Your Wife's Pie" as the premier scandal of the election, and if they did their job honestly and let voters know who Deborah was, Calgary-Bow probably would not have voted for her.
At any rate an employer can fire their employees for unbecoming social media conduct, as we saw with the firing of Shawn Simoes by Ontario's Hydro One for making one rude comment that roughly equals in disgracefulness any of the three poor posts posted by our new Calgary-Bow MLA. In my mind Simeos was an engineer, not a public figure, if anything there should be a higher standard of conduct expected of an MLA and a lower threshold for removal for MLA's when the standards of conduct are not met.
To see the seriousness of this double standard in our media we can look at one other "scandal" that resulted in a conservative candidate being removed from running for his riding.
Russ Kuykendall was supposed to represent the Wild Rose Party in Calgary-Varsity until the media found an obscure 8 year old blog post he made on homosexual activists misrepresenting themselves and renting a church hall for their gay pride brunch. Because of this single online comment that was critical of homosexual activists misrepresenting themselves and using Catholic church space to celebrate a gay pride event that Catholics would tend to not be comfortable celebrating, a media firestorm erupted and Wild Rose Party leader Brian Jean seeking to quiet the media wrath before it effected the election promptly removed Kuykendall from running for the party.
We can see from the three social media posts above what Deborah did and what merited a fairly forgiving response from both the media and Premier. What did Russ Kuykendall say that could be so bad that he had to be immediately removed from running in Calgary-Varsity? What was the difference between Russ Kuykendall and Deborah Deyer that all the same media that called for understanding for Deborah, praised Brian Jean for quickly removing Kuykendall from the race?
Well here is the "anti-gay" and "offensive" comments that cost Kuykendall his potential political career.
"The message that appears to be sent to Catholic Christians who don't accept this "lifestyle" as acceptable is that "equality" means that gay activists can take their agenda not just to your front door, but inside the door to places that are consecrated to the Catholic faith, with uniformed police officers (!) exercising state coercion to defend that right!"
To read the comment in its full context go here:
http://westernstandard.blogs.com/shotgu ... ayors.html
Russ Kuykendall was politely and intelligently expressing his concern about the erosion of religious liberty and property rights for the Catholic Church, due to questionable and dishonest tactics by gay activists. Rather than give the public an honest accounting of Russ Kuykendall's post or even better yet make a story of Deborah Drever's more outrageous behaviour, the media was silent on Drever and made a firestorm calling Kuykendall's post "anti-gay" and "offensive." All of the major media outlets suggested Kuykendall was not suitable to run for public office and that his presence in the Wild Rose Party was going to hurt the party's chances in the election. Wild Rose leader Brian Jean knowing where the media manufactured controversy was heading, dutifully removed Kuykendall and promised the Wild Rose Party would uphold rigorous speech restrictions against criticizing homosexual activism and the otherwise conservative party would insure their candidates are obedient when it came to pandering to homosexuality.
Now in my mind Kuykendall's blog post is not anywhere remotely close to as offensive or concerning as Drever's posts. In fact Kuykendall's post would probably not offend most Albertans and many would agree with his argument. In fact unlike Drever's online posts that lack any argument and simply show stupid and anti-social behaviour, Kuykendall made a fairly legitimate argument that was not homophobic, and in actual fact expressed a legitimate concern. Still for the media Drever was a leftist, Kuykendall was a social conservative. All of Alberta's major media outlets made a decision to ignore Drever's online behaviour and destroy Kuykendall for his "anti-gay" post. This is the sad state of the major media in Canada and it is an almost insurmountable challenge for social conservatives to overcome if they want to effectively participate in what is supposed to be Canadian democracy.
Strangely Premier Rachel Notley finally did get around to suspending Drever, but not for any of the pro-drug use, sexually lewd, or for showing vulgar contempt towards Canada's national emblem sort of behaviour.
Drever was finally suspended for a "homophobic tweet."
Drever posted this childish partisan tweet calling defeated Tory opponents Ric McIver and Jim Prentice "Gay Boyz"
Even now Notley says she is open to returning the disgraced Deborah Deyer back to the NDP caucus in a year or so, so long as Deborah shows she "rehabilitated" herself by reaching out to women's groups and gay groups it seems.
I have always marveled at how the left refuses to throw away their own no matter how bad they are, and how conservatives are programmed to throw their own under the bus, no matter how good the person being tossed under the bus is.
"

If you were of the world, the world would love you as its own; but because you are not of the world, but I chose you out of the world, therefore the world hates you.

"
John 15:8