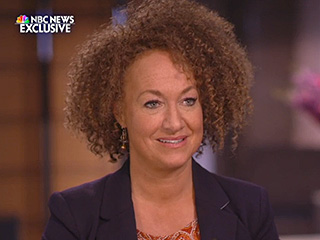 '
Rachel Dolezal may have a problem telling the truth when she assassinates her parent's and ex-husband's character or
when she chronically calls the police to report "hate crimes." She may not be believable when she claims to be black.
None the less, I actually believe her when she claims to be bisexual....
Rachel's candid admission that she dates men and women just doesn't surprise me. This woman has very deep psychological and spiritual problems. Her morality seems nonexistent or at best she can only operate on a basis of "what works for me." Hence, lacking sexual morals goes with the territory. Her only hope is repentance and begging for God's mercy. On the other hand she is a good poster child for the LGBT, narcissism, lack of integrity, etc....
"

The time is fulfilled, and the kingdom of God is at hand. Repent, and believe in the gospel.

" Mark 1:15
Rachel Dolezal Reveals She's Bisexual
The Huffington Post
By Kim Bellware
Posted: 06/17/2015
While embattled civil rights activist Rachel Dolezal remains evasive about certain questions pertaining to her background, she was remarkably candid about other personal matters in a Wednesday interview, casually sharing with NBC's Savannah Guthrie that she is bisexual.
"Even in dating relationships -- and I'm bisexual, I've dated men and women -- I've intentionally asked, 'So, do you date light-skinned women, what's your spectrum?'" Dolezal said.
Dolezal, who has publicly identified as a black woman for more than a decade -- and continues to do so in the face of her biological parents' insistence that she is white -- also said she feels a connection to Caitlyn Jenner's story. Jenner, the former Olympian who previously presented as male under the name Bruce, shared her story of living as a transgender woman in a recent Vanity Fair feature.
"I finally had a chance to read Caitlyn Jenner's piece in the magazine and I cried. I cried," Dolezal told Guthrie. "Because I resonated with some of the themes of isolation, of being misunderstood, to not knowing if you have a conversation with somebody, will that conversation then end because they've seen you as one way?"
Dolezal's story made headlines after a local TV station reported that city officials in Spokane, Washington, were investigating whether the 37-year-old had lied about her race on an application.
After graduating from the historically black Howard University, Dolezal became a prominent civil rights activist in Spokane and served as president of the local chapter of the NAACP until stepping down Monday.
Buzzfeed reported Tuesday that the Dolezal family is in the middle of a legal fight over allegations that Rachel's brother, Joseph, sexually abused their adopted black sister in 2001 or 2002. But the Dolezal parents, Ruthanne and Larry, deny the claims and say Rachel orchestrated them in order to win custody of her adopted brother Izaiah, whom Rachel now claims as her son.
Dolezal, meanwhile, said Wednesday that she doesn't feel she has been deceptive about her race.
"I really feel like there have been moments of some level of creative nonfiction," she told Guthrie. "I have kind of had to explain or justify some of the timeline and logistics of my life in a way that made sense to others."