So-called transgender 9-Year-old adapts to school life acting like she is a boy
with homosexual activist teachers and media affirming the charade
Interestingly the quack homosexual activist therapist says "you can't make of break a child's gender identity." Tragically you can. I note in Canada this phenomenon is really quite new. When I grew up the so-called transgender kid was completely unheard of and kids were not suicidal in their preteens because they couldn't use opposite sex bathrooms and, cross dress, etc.... Here in Philippines this garbage is not promoted in public schools either. Once again, if homosexual activist therapists were correct, we should see children suiciding all over the Philippines for not beeing affirmed as queers and transgenders. It just isn't happening, in fact the suicide rate in Philippines is but a tiny fraction of what it is in North America, and the reason I would argue is because children are taught about God rather than having their poor little minds filled with gender confusion and queer propaganda.
Bill Whatcott
"As for God, his way is perfect: The Lord's word is flawless; he shields all who take refuge in him."
Psalm 18:30
Transgender 9-Year-Old Adapts to School Life as a Boy
Beth GreenfieldSenior Writer
July 6, 2015
Beth Greenfield
https://www.yahoo.com/parenting/transge ... 57667.html
Despite the recent blitz of Caitlyn Jenner media coverage, transgender issues remain difficult for much of the world to understand — even more so when it comes to the experiences of transgender children. It's what makes every trans-youth story so powerfully important — including that of a 9-year-old named Q Daily, recently told in a three-part series on NPR affiliate WNYC.
Q, of Brooklyn, who was born a girl, recently finished third grade — his first full year of school as a boy. And that, notes the story, meant the world to him. "It feels like, instead of a dead flower, a growing flower," he explained.
He began questioning his gender at around age 3 or 4, said his parents, and he began making his outward gender transition during second grade — by dressing in boys' clothes, asking to be identified with the pronoun "he," and using Q instead of his given name of Qwanaia.
"Occasionally, there are still kids that will say 'Qwanaia,'" said Katherine Sorel, his teacher at the public Brooklyn New School. "And still occasionally, they'll say, 'She … I mean he.'" Sorel said Q was not the only transgender kid in his class, but one of two, making it even easier for his peers to accept. "I don't know what their experience is going to be, and I imagine it's going to become more difficult for them," Sorel said. "But right now it's not really difficult. Right now it's sort of irrelevant."
An even bigger issue than the decidedly nonchalant reaction of Q's friends was whether he could use the boys' bathroom while at school. And, according to school principal Anna Allanbrook, who told WNYC that she looked into the legal angles, "It is not the place of the school to tell the child which bathroom to use." She explained that, according to New York City's transgender-student guidelines, students should be free to use the bathroom that best aligns with their gender identity.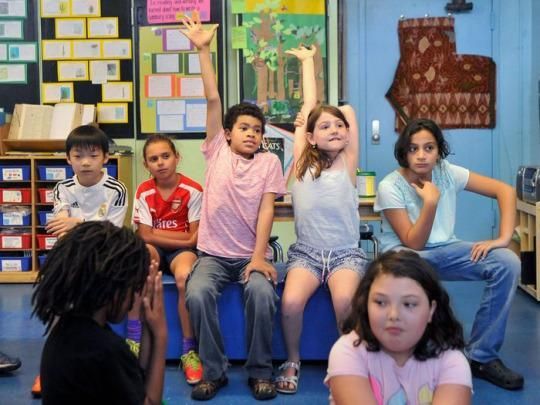 Media claims Q's fake gender transition has been readily accepted by her peers. Of course the kids have not been
presented with any of the sordid realities of transgenderism, such as much higher than average suicide rate for post surgical
transvestites, rampant HIV infection and drug addiction amongst transvestites, etc.... Nor will these kids ever hear of the many
testimonies of men and women who have chemically and surgically altered themselves and then changed their minds afterwards
and decided to go back to their natural born genders. If a child ever spoke up against this falsehood being inflicted on them, they
would be ostracized by peers and staff alike and probably expelled if they were too outspoken. (Photo: Brad Horrigan/WNYC)
But Q has also had freedom where it's most important — at home, where mom Francisca Montana and dad Avery Daily (who are separated) have been fully supportive, though they admit it hasn't always been easy. "For me, in the beginning, I was finding it hard to accept," Daily said, recalling that he kept thinking, "This is my girl" at the beginning of his child's process. But he soon understood it was not a phase. "This is something deep inside of him," Daily told NPR. "I was like, this is his soul."
Intensely personal stories about transgender children have been in the public eye more and more lately — including that of 5-year-old Jacob, born Mia, who was profiled on NBC Nightly News in April, as well as Ryland Whittington, a California 7-year-old born female who transitioned to male with parental support, and whose video story went viral last year. Also, there's the story of celebrity-activist-author teen Jazz Jennings, and, just last week, that of Desmond Napoles, the 8-year-old boy who vogued his way down Fifth Avenue in a rainbow tutu in the New York City Pride March, his supportive parents right alongside him.
"These stories are very helpful," psychotherapist Jean Malpas, director of the Gender and Family Project at the Ackerman Institute for the Family in New York City, tells Yahoo Parenting. Malpas, who helps oversee support groups, trainings, and therapy sessions for schools and families dealing with gender-variant issues, says he's received an influx of calls from parents who see stories of others and realize they're not alone.
"As transgender children become more visible, there is less shame and stigma, and parents can call up feeling more legitimized in asking for help," Malpas says. Also because of so many families going public, he notes, "the tone [of the issue] is changing: Visibility is empowering."
That empowerment has serious reach, too — not only within families but throughout schools and communities. And when all are in sync to do what's best to help a transgender young person, he says, that can be a powerful message of support — as evidenced in the story of Q and the largely blasé response of his peers.
"On the one hand, that [response is] not surprising, because what we're seeing is that if children get proper explanations, and if adults are supportive and affirming and explain that there is a difference between biological sex and gender identity … then the kids understand it really easily," says Malpas (also interviewed by WNYC, though he's had no direct connection with Q or his family). "However, on the other hand, it seems like this particular situation with Q was almost ideal, and I don't think we should underestimate the potential risks."
There are plenty of examples, he stresses, of administrators, teachers, and parents in the community at large not supporting transgender students, which can lead to teasing and bullying. So it's important for schools not only to educate their staffs about how to best support a gender-questioning child but to provide a space for parents to discuss all their concerns. "They need to be able to ask, 'Will this impact my child?' and 'Is it contagious?'" says Malpas. "No, it's not contagious — you can't make or break your child's gender identity. But it's important that parents have the space to ask," and for schools to reach out for help and coaching when needed, either through the Ackerman Institute website or through support and education organizations such as GLSEN (Gay, Lesbian & Straight Education Network) or Gender Spectrum.
Luckily for Q, his Brooklyn community has been providing him with what he emotionally needs. He said it feels like "55 years ago" that he was a girl — and that he feels like crying when he hears his former name, Qwanaia, because "that tells me that they don't believe that I'm a boy."
Please follow @YahooParenting on Facebook
"
I have witnessed a great deal of damage from sex-reassignment. The children transformed from their male constitution into female roles suffered prolonged distress and misery as they sensed their natural attitudes. Their parents usually lived with guilt over their decisions—second-guessing themselves and somewhat ashamed of the fabrication, both surgical and social, they had imposed on their sons. As for the adults who came to us claiming to have discovered their "true" sexual identity and to have heard about sex-change operations, we psychiatrists have been distracted from studying the causes and natures of their mental misdirections by preparing them for surgery and for a life in the other sex. We have wasted scientific and technical resources and damaged our professional credibility by collaborating with madness rather than trying to study, cure, and ultimately prevent it.
"
Dr. Paul McHugh, University Distinguished Service Professor of Psychiatry at Johns Hopkins University.