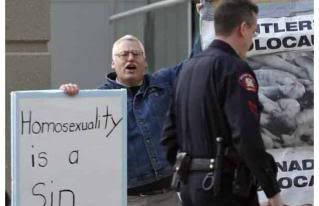 Whatcott preaching in front of Calgary Courthouse
Dear Friends:
As of June 21/2010, it appears the Supreme Court justices are considering whether or not to hear the appeal launched by the Saskatchewan Human Rights Commission to overturn the ruling in favour of liberty handed down by the Saskatchewan Court of Appeals affirming Christians have the right to criticize the behaviour of practicing homosexuals.
To see how my case is progressing in the Supreme Court of Canada you can go here:
Docket No# 33676
Saskatchewan Human Rights Commission v. William Whatcott
http://scc-csc.gc.ca/case-dossier/cms-s ... ?cas=33676
One can see from the news article below, the homosexuals are not too happy the courts affirmed I have the right to distribute flyers critical of homosexual behaviour on the streets and in the nation's mailboxes. The homosexual activists are appalled I can share accurate moral, spiritual and medical information on homosexuality with the people of Canada.
The homosexual, Guy Taylor, who has called me a "spiritualist terrorist" is a public school "educator." Such is the quality of homosexual public school educators, that a flyer disagreeing with unhealthy and unhygienic practices and offering the hope of a way out through the power of Calvary is equated with suicide bombings and beheadings.....
FREE TO SPREAD HATE
Perceptions, March 10/ 2010
(Regina) The Saskatchewan Court of Appeals has overturned the human rights
tribunal that found Bill Whatcott guilty of exposing queer people to hatred.
Whatcott has made a crusade of distributing pamphlets throughout Saskatchewan
and Alberta painting queer people as sodomites out to recruit and pervert
children.

The pamphlets had titillating titles like:"Keep Homosexuality out of Saskatoon 's
Public Schools!", "Sodomites in our Public Schools," and "Saskatchewan's largest
gay magazine allows ads for men seeking boys!" Four individuals filed
complaints against Whatcott after his pamphlets showed up in their mailboxes
in Regina or Saskatoon in 2001 and 2002. Kathy Hamre and Brendan' Wallace of
Regina and James Komar and Guy Taylor of Saskatoon said they believed the pamphlets
promoted 'hatred against them in violation ofi-fihe Saskatchewan Human
Rights Code.

A human rights tribunal ruled that Whatcott had indeed promoted hatred
against queer people and ordered Whatcott to pay $17,500 to the four complainants.
Whatcott appealed that decision to the Court of Queen's Bench who
upheld the tribunal's ruling.

Whatcott once again appealed that decision to the Court of Appeals where he
was joined by the Canadian Civil Liberties Union and The Canadian Constitution
Foundation who intervened in support of Whatcott and his right to freedom
of speech.

Whatcott and the intervenors used the specious argument that the pamphlets
spoke about behaviour rather than addressing sexual orientation. However, one
could only conclude from the four pamphlets cited that Whatcott was talking
about queer people as a whole.

"Context is of particular importance when considering complaints based on sexual
orientation and the impact on freedom of expression," Justice J.A. Hunter wrote in
the decision. "Most often, underlying these complaints are issues relating to
matters of morality. It is acceptable, in a democracy, for individuals to comment
on the morality of another's behaviour. For this reason there will be a relatively
high degree of tolerance for the language used in debates about moral issues, subject,
of course, to limitations. Anything that limits debate on the morality of behaviour
is an intrusion on the right to freedom of expression."

Taylor said he was disappointed by the decision of the Court of Appeal. "I had
hoped that this case would test the limits of free speech and Whatcott won." Taylor
said Whatcott was a "spiritualist terrorist."

"I think the decision is horrible," Hamre said. "It gives him license to continue, to
spread more of his hateful materials. It seems like the people who are way out
there are free to say whatever they like while those of us who are marginalized
have to live with being subjected to hate."

This is certainly not the first time that human rights tribunal rulings on hate
speech directed at queers have been overturned by higher courts citing freedom of
speech and freedom of religion. Human rights commissions may become reluctant
to take on similar cases of hate speech being directed at queers.

Hamre says she hopes that the Saskatchewan Human Rights Commission will
appeal the decision although no decision has yet been made on an appeal.
*******************************************
As for my lawsuit against the Calgary police, I will be filing it at 1:00 PM today at the Court of Queen's Bench. Much thanks to my Edmonton social conservative lawyer who prepared the lawsuit for me.....
To read how the Calgary police used massive firepower to pull over my car, tore my car apart trying to get me on a firearms charge and then when they did not find anything to charge me with, lied and maliciously charged me with a seat belt infraction go here:
viewtopic.php?f=16&t=3495
***********************************************************************************
I have no news yet on the outcome of the hearing for a misconduct charge I am facing for giving out the truth on abortion and homosexuality at the Grant MacEwan University residence. I was told decisions on misconducts are usually rendered within 72 hours. I was told my decision will come in August. Not sure why my case is so difficult. I freely admit to distributing 500 copies of this flyer in residence and another 200 or so on campus. As one can see the flyer is pretty straightforward:
viewtopic.php?f=16&t=6970
**************************************************************************************
A film crew from New York traveled to Edmonton to do a documentary on my court battles, activism and interesting life. They said the documentary will likely be ready in about 2 months or so. They did interviews with people in a number of different cities. Pray that God blesses the documentary and that it does some good. I spent about 3 days with them.
In Christ's service,
Bill Whatcott
"

Am I now trying to win the approval of men, or of God? Or am I trying to please men? If I were still trying to please men, I would not be a servant of Christ

." Galatians 1:10