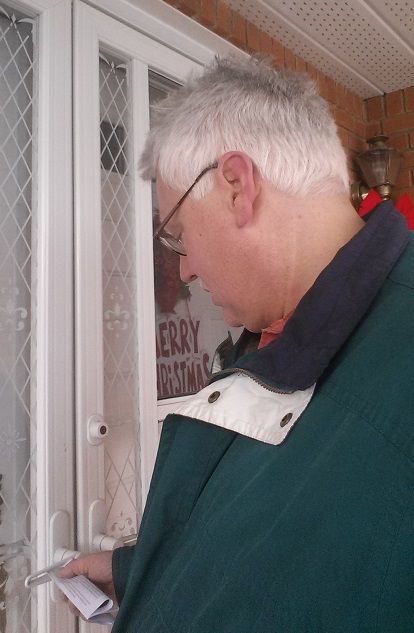 Bill doing what he likes to do and blessing people with the priceless gift of truth on Christmas Day.
Dear Friends,
I had a rather blessed and challenging Christmas today. I spent it with my mom here in Calgary. My faithful Edmonton Guerrilla fighter called me this morning to inform me his step dad (who is also a faithful friend and supporter of mine) is in the palliative stage of a battle with cancer. He is a Godly man who is quite elderly and has had a full and useful life. Given they don't trust the Alberta government much they asked me if I could help with the step father's home care. Well seeing as they are like family to me and I do have a background in home care (albeit 15 years ago) I agreed. So, I will be moving back to Edmonton in 2 weeks or so to help look after my friend. Please pray for this somewhat unexpected transition in my life. Mind you it isn't really a sacrifice. I can't think of a finer Christian to help look after.
Today was a sunny and warm day in Calgary. The temperature was close to zero (32 F) and the sidewalks were snow free (rare for Calgary at this time of year). Given it was such a lovely day for flyers and I felt like blessing Calgary for Christmas, I decided to launch the Glorious Gospel Jihad against homosexual activism in Calgary's schools 2 days early and delivered 300 or so flyers to mailboxes in Jim Prentice's riding today.
So far I got two e-mails from shocked residents in Prentice's riding. Neither appreciated my flyer, but I told them my flyer might have been the most important (albeit unsolicited) Christmas gift they got this year and they should appreciate and seriously think about it.
Here is the Christmas gift educational flyer the two shocked e-mailers and 3000 other homes will get this year in Calgary:
https://docs.google.com/document/d/1VOm ... sp=sharing
For those who like to lift me up in prayer please pray for the Glorious Gospel Jihad here in Calgary and my move in the next couple of weeks to Edmonton. We will see how the Lord works things out in the coming New Year.
In Christ's Service
Bill Whatcott
"Now there was a man in Jerusalem, whose name was Simeon, and this man was righteous and devout, waiting for the consolation of Israel, and the Holy Spirit was upon him. And it had been revealed to him by the Holy Spirit that he would not see death before he had seen the Lord's Christ. And he came in the Spirit into the temple, and when the parents brought in the child Jesus, to do for him according to the custom of the Law, he took him up in his arms and blessed God and said,

"Lord, now you are letting your servant depart in peace,
according to your word;
for my eyes have seen your salvation
that you have prepared in the presence of all peoples,
a light for revelation to the Gentiles,
and for glory to your people Israel."
Luke 2:25-32